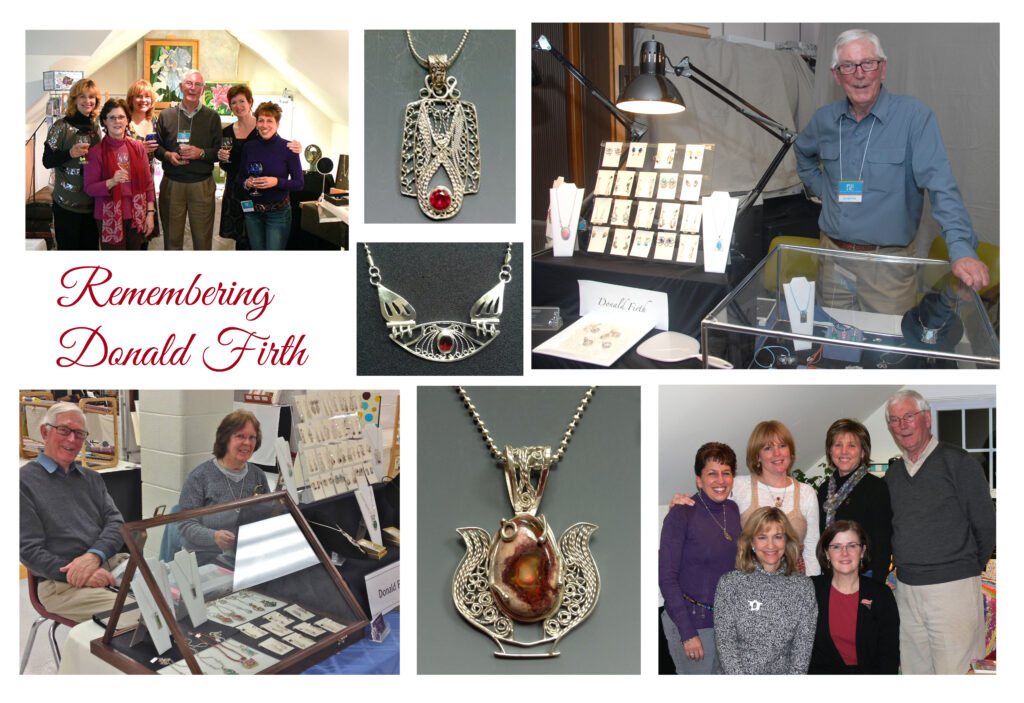 We recently learned of the passing of our dear friend,  HGC Member and Master Metalsmith, Donald Firth in December of 2021.
This from Donald's obituary: "Donald was born on July 23, 1932 in Hull, England. He is survived in England by beloved sisters Enid and Avril, son Andrew, daughter Helen and grandchildren Cameron, Conor and Anne.
In 1984 he emigrated to the US. He married Sally (Scherr, Borzell). In the US he was a much loved husband to Sally and a much loved stepfather to Tim (Shannon), Lisa (Jim) and Scott (Kathy). He was a much loved grandfather to Michael, Christopher, Collin, Abby and Lauren.
In England, he worked for many years as a personnel manager at ICI. When in the US, he briefly worked part time at the Vanguard Group."
To us, he was a Jewelry Artist. Donald created beautiful custom, fine crafted jewelry using sterling and fine silver, gold, semi precious stones, and employing his signature filigree technique. Donald was a long time esteemed member and officer of the Pennsylvania Guild of Craftsmen, as well as a PGC Master Artist. He joined the Haverford Guild and took part in many of our shows over the years.  He also volunteered as a docent at the Wharton Esherick Museum. In fact, he gave the HGC a guided tour there on one of our early field trips. 'Gentleman' is the word that springs to mind when thinking of Donald. We will fondly remember his lovely soft-spoken British accent, his kind, gentle manner, his friendship, and his artistry.