Our November Meeting is on Thursday, November 14th at 7PM.
Pre-Show Meeting!
This is the pre-show meeting, the perfect opportunity to ask questions and pull together final details. If you are participating in our November show, then you should definitely attend! If you are interested in helping out or would like to learn more about how our guild runs craft shows, you are also welcome!
We will also have time for a show and tell, so if you'd like to bring something you have been working on, or if there is a piece you would like some feedback on, contact us here so we can put you on the agenda for a 5-minute presentation.
Everyone is welcome! You do not have to be a member to attend our meetings! We love having visitors and friends of the guild. For directions to St. Georges, click here! 
---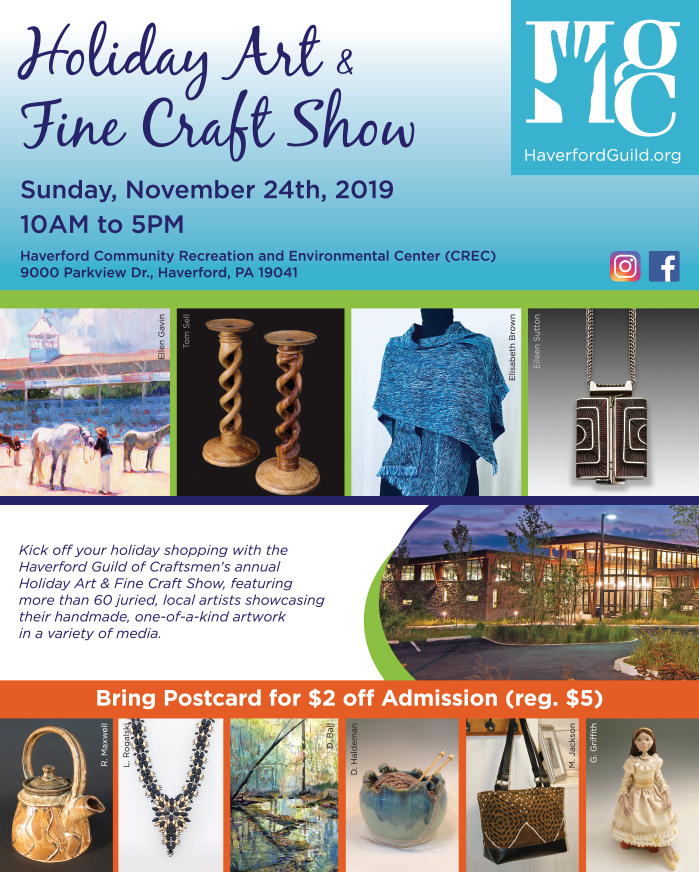 On November 24th we are having our annual Holiday Art & Fine Craft show at the CREC (Haverford Community Recreation and Environmental Center). This will be the perfect opportunity to get some holiday shopping done. And with over 60 amazing artists you can be sure to find unique gifts for yourself and others!
We are still looking for volunteers! If you would like to volunteer (or if you know someone who is not a member who would like to volunteer) you can sign up on Signup Genius here.