The Haverford Guild of Craftsmen Have a New Online Store!
We are excited to announce the launch of our new online store! All of the Artists who are represented on the Haverford Guild of Craftsmen Online Store are all members of the Haverford Guild of Craftsmen and have undergone a jurying process to ensure quality and craftsmenship.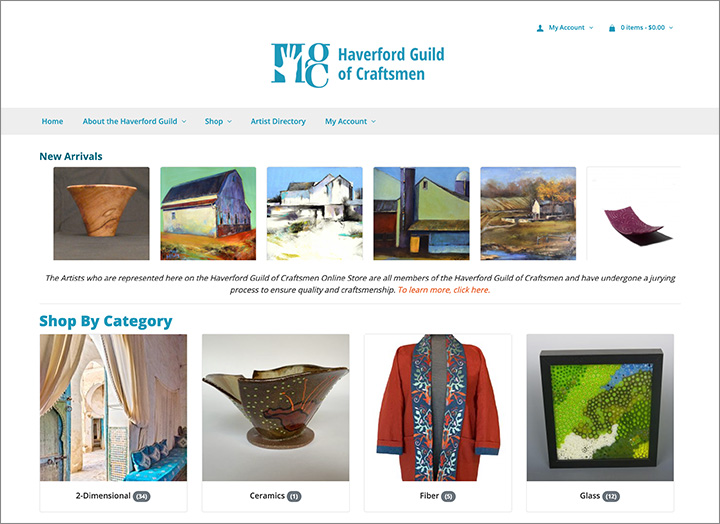 ---
Please note: Due to the concerns with the COVID-19 virus, our meetings are now taking place via Zoom. If you would like to join us, please contact us here for the login information. We will post updates here and on Facebook as we have them. 
November 12th @7PM Meeting – Presenting the PA Guild Store with Burd Kerchner
For our November meeting we will have a guest speaker, Burd Kerchner. Burd is the manager of PA Guild of Craftsmen's store. She will be presenting on the store, its history, how its doing now in spite of COVID-19 and how any of our members can apply to have their work be in it. See you on Thursday, November 12th at 7PM via Zoom!
Contact us here if you would like the login information.
Or Join us on Zoom here:
Meeting ID: 893 2725 5969
Passcode: 700607
---
Wow – it's October.
You'd think that I'd not be that impressed that we've made it to the 10th month of 2020 … but hey – congrats everyone! We made it to October.
Weirdly, we actually had quite a bit happen in September.
There was a socially-distanced Peer Review/Master Artisan session. (Big thanks to Robin Flynn for jumping through hoops and making it all work and our jurors who made it happen!) Lenny was Peer Reviewed, and you can read his experiences here. As for me, I attempted to get Master Artisan. It didn't work out for me (although I was close). That said, it was a good experience, and incredibly valuable feedback.
It's hard to understand on the surface, because obviously no one enjoys being told that "your not good enough" (yet). But to grow as an artist and as a person you have to learn where you can be better. That's why peer reviews (and Master Artisan reviews) are so useful. And it's worth saying that it was a very good experience, even though the outcome wasn't what I hoped it would be.
And for the record, it wasn't mean. If you've been to art school, you've already done something very similar in class. Where you and your fellow students evaluate and give constructive criticism to each other. No insults are hurled, no "burns" – just useful information on both your strengths and weaknesses. If you haven't been to art school and gone through this, it might be a little jarring at first, but when you realize that nothing said is meant to tear you down, it gets easier to see what you haven't seen because you were far to close to your own work to realize what you were missing. (And bonus, you get compliments too – it's not all "just the bad stuff.")
Will I try again? Absolutely. Should you give it a try? Sure! Even if you don't want to get Master Artisan, a Peer Review is a great way to "get unstuck" and figure out what direction to grow as an artist.
What else is going on?
The online store is up and running. We are getting started with promoting it and we'd like your help! If/when you see our Facebook posts, please like and share. We will also be posting PDFs and JPGS on the haverfordguild.org website that you can print out and pass around or share to people you know. The more we get the word out, the better this will work for everyone.
This does not mean that the door has closed to new artists on the site! Unlike a show, we can welcome new artists and new products at any time. So if you would still like to be a part of the site, or if you would like to add more work, go ahead and do so. If you have not gotten into or applied for the show, or if you've never been reviewed by our jurors, we do have another special electronic Peer Review open now. (https://www.entrythingy.com/d=haverfordguild.org)
We are also having a Show-N-Tell for our next meeting, Sunday October 11th. We'd love to see your workspace, and if that's not doable, then show us what you've been working on, in progress or completed. This is a fun way to get to see everyone's art and get to know each other better.
Also, keep an eye out because as we start to plan for next year, we will be sending out a survey for meeting topics and speakers. Even while we anticipate needing to keep things remote for a while, there is still plenty we can do. So let us know if you'd like to see a particular artist present their craft, a topic you'd like to learn more about or have been wrestling with, and if we can figure out how to swing it, we'd even consider a virtual workshop!
As always, thank you for being a part of this amazing guild!
Christine Wright, President
---
We have a new Facebook group just for HGC Members!
This is a private group for the Artist Members of the Haverford Guild of Craftsmen to meet and discuss their work, marketing tactics and to give and receive general business and artwork advice. To join us, please go to: https://www.facebook.com/groups/hgcartistmembers/
---
We're have a new Guild Gazette Publisher!
A big thank you and shout out to Julie Martini who has stepped up to be our new Gazette Publisher! If you would like to contribute an article, have an event or a big announcement, you can send that over to gazette(@)haverfordguild.org.
---
Did you miss the newsletter? Click here to see our October Issue