Save the Date For Our 2022 Holiday Art & Fine Craft Show!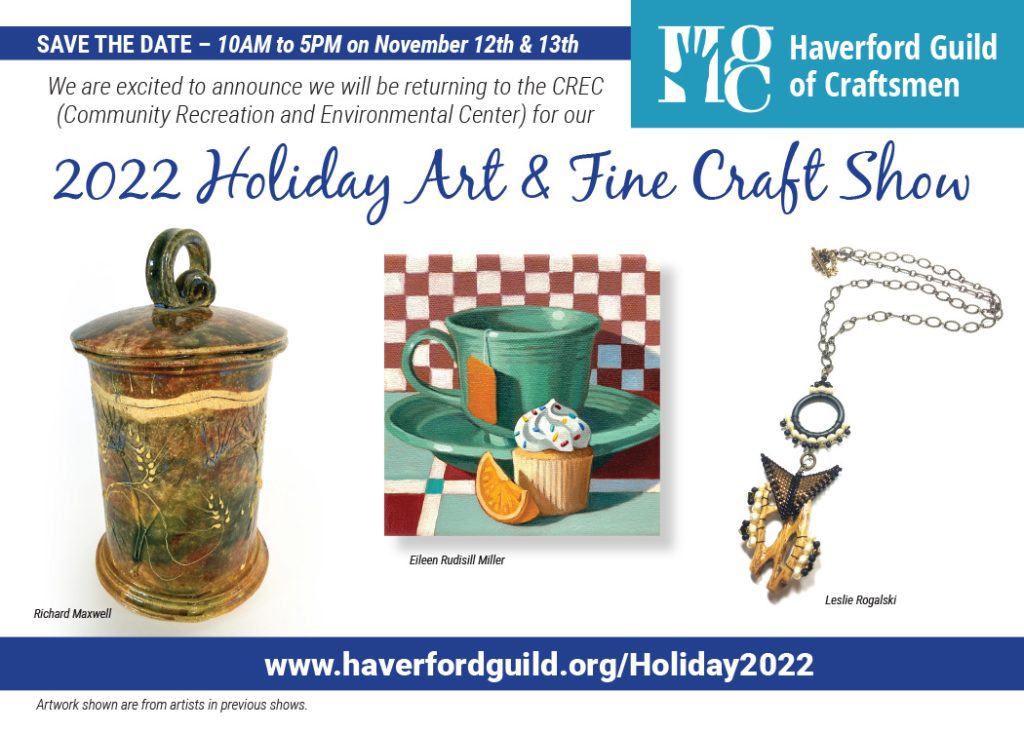 ---
August Updates
August already and its hard to believe it, but summer will soon be ending. Personally, I'm not going to miss the heatwaves, and honestly, fall is one of my favorite seasons. Even so, Summer is not quite over yet! Because there are still a lot of people on vacation, the board and I decided to shuffle the meeting calendar around a bit. Instead of doing our usual "Birthday" Potluck picnic in August, we'll be moving that to September.
Instead, our next meeting will be this Sunday (August 14th) on Zoom. Our topic will be "What is it Like to Chase?" where some of our member who were there can report back on what it was like, lessons learned and overall – what is it like to do a PGC Fine Craft Fair. This will be a Zoom-only meeting and the information to join is:
Meeting ID: 881 3661 7301
Passcode: 540538
Then it's time to get cooking! (Or at least know a great place to get food) because on September 11th at 4PM we will be having our annual "Birthday" potluck! We will be back at Robin Flynn's house at 336 Echo Valley Ln, Newtown Square, PA.
Everyone is welcome to join us! To sign up to bring something, click here: https://www.signupgenius.com/go/10C0D4BA4A729A2F94-hgcpotluck
We're looking forward to getting back together in person more regularly, but unfortunately, we still have to be careful! I finally caught COVID this June and am still dealing with the aftermath, and some other members have had their turn with it as well. So please, if you're not feeling well, stay home and get tested. Stay safe, and we'll all see each other again –in person– soon!
And yes! Some great news! Applications have closed for our 2022 Holiday Art & Fine Craft Show, and we have filled the CREC! That's right … we are at capacity, and we have a waitlist. This means that we are definitely going to need as much help as we can get! Please consider volunteering at our Holiday show here: https://www.signupgenius.com/go/10C0D4BA4A729A2F94-20223
See you at the next meeting!
Christine Wright, President
---
We have a Facebook group just for HGC Members!
This is a private group for the Artist Members of the Haverford Guild of Craftsmen to meet and discuss their work, marketing tactics and to give and receive general business and artwork advice. To join us, please go to: https://www.facebook.com/groups/hgcartistmembers/