Save the Date – And Artists it's time to apply for our 2022 Holiday Art & Fine Craft Show!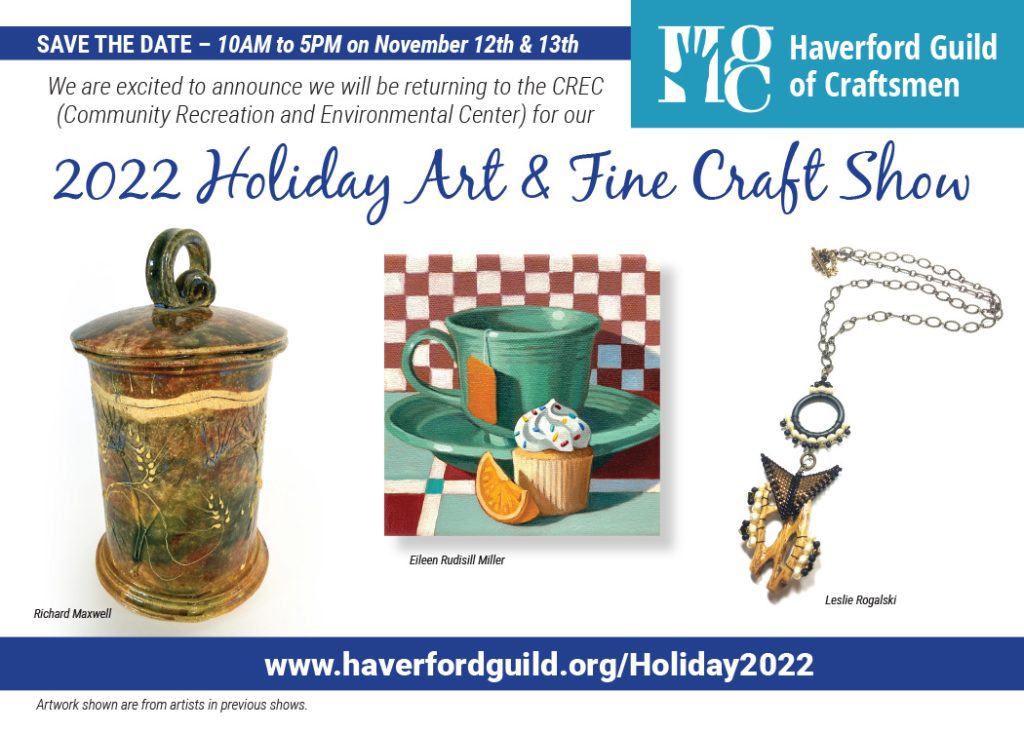 ---
May Updates
The show season is finally in full swing!
It was good to be back at the CREC for our Spring Art & Fine Craft show – our first official spring show since 2018! As we do each show at the CREC, it runs smoother and smoother, and this time we were excited to welcome our new Assistant Show Coordinator, Sheldon Marks. We also got some amazing help from the Kimberton Waldorf School where they arranged to have some 10th graders come down and help us with set-up as well as the first part of load-in. Many hands truly make for much, much lighter work and I am incredibly grateful for all the people who stepped up to help us out – both our long-time veterans as well as some new friends!
So thank you –THANK YOU– to absolutely everyone who helped out with the show. We truly could not do it without you!
Our next meeting is on Sunday, May 15th – We will be sharing how the show went from our perspective and we also would love to hear from those of you who were a participating artist, volunteer or guest!
We also need to congratulate our newest Master Artisans!
Hali MacLaren, Deanna Haldeman and Jo-Anne Frazier all juried in as HGC Master Artisans this past March! Congratulations and well done!
Don't forget… the application for our Holiday show on November 12-13! 
That's right – and you can submit your application on EntryThingy here. We will be accepting applications until June 21st. So while there is plenty of time, don't wait too long!
Keep reading for more information including upcoming shows that are still looking for applications!
See you soon!
Christine Wright, President
---
We have a new Facebook group just for HGC Members!
This is a private group for the Artist Members of the Haverford Guild of Craftsmen to meet and discuss their work, marketing tactics and to give and receive general business and artwork advice. To join us, please go to: https://www.facebook.com/groups/hgcartistmembers/