---
Thank you for a fabulous 2021 Holiday Show!
It was great to be back at the CREC! After a long pause thanks to COVID-19, it was so nice to be back in person at the CREC. And even better, we will be returning for another show in the spring on April 30th & May1st!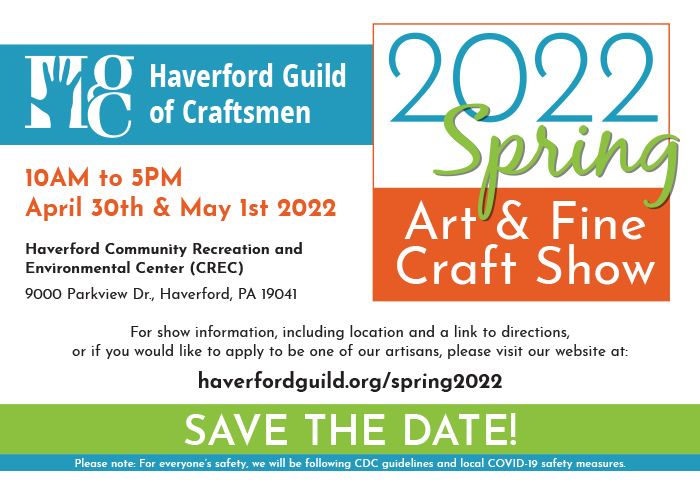 ---
December Updates
Thank you to everyone for all your help, your patronage and for taking part in our show!
It was so nice to be back at the CREC for our 2021 Holiday Art & Fine Craft show! We received great feedback from our artists, guests and volunteers for what was overall, a very positive experience.
I especially want to thank EVERYONE who volunteered to help out with the show! There is no way we could not do any of our Art & Fine Craft show without the small army of volunteers made up of artists, friends and family of the artists, and friends of our guild who help out both before and during the course of the show. Thank you, thank you, THANK YOU!
So what's next? 
Our December meeting is coming up on December 12th at 7PM. With COVID getting in the way again, the board still has to decided that it's best to meet via Zoom. So bring along your favorite beverage, deck yourself in your favorite ugly holiday sweater or self-decoration of choice, and we'll have a fun and relaxing virtual get-together where everyone will get a chance to share what they're working on, what they've been up to or their favorite holiday memory or tradition.
We're already planning our Spring Art & Fine Craft Show! Applications are open … click here to apply.
Elections! Click here to vote for the 2022 Board!
Topics for next year! We want to hear what you think! Naturally, the plan is to eventually get back together in person, and include Zoom as an option for those who find travel challenging. However, we will only return in person when feel it is safe to do so, and when our host is equally ready. To answer our survey, please click here.
It's been a crazy couple of years, but we are still here and I am so grateful! Thanks to all of you continuing to participate in meetings, shows, pop-shows and displays, as well as chatting on social media – we are still a vibrant chapter! My hope for the next year is that in 2022 we can start talking Workshops, Make-n-Takes as well as a more-normal show season.
Thank you all and have a wonderful holiday season and a great New Year!
Christine Wright, President
---
We have a new Facebook group just for HGC Members!
This is a private group for the Artist Members of the Haverford Guild of Craftsmen to meet and discuss their work, marketing tactics and to give and receive general business and artwork advice. To join us, please go to: https://www.facebook.com/groups/hgcartistmembers/