Our September Meeting is on Sunday, September 15th at 7PM.
Please note that the meeting date has been moved from Thursday the 12th to Sunday the 15th. We will be back at St. George's for our next meeting, and this is a "don't miss" topic for anyone who is already doing craft shows, or considering doing craft shows in the future…
A Peak Behind the Curtain: The Jurying Process
This month our topic and speakers are some of our own jurors lead by Robin Flynn our VP of Standards. We will learn, and have the opportunity to ask questions, about the jurying process. How it works, what the jurors are looking for and what is the difference between jurying for a show verses jurying for Master Artisan. So join us on Thursday, September 12 at 7PM at St. George's for an enlightening presentation and Q&A session!
Everyone is welcome! You do not have to be a member to attend our meetings! We love having visitors and friends of the guild. For directions to St. Georges, click here! 
---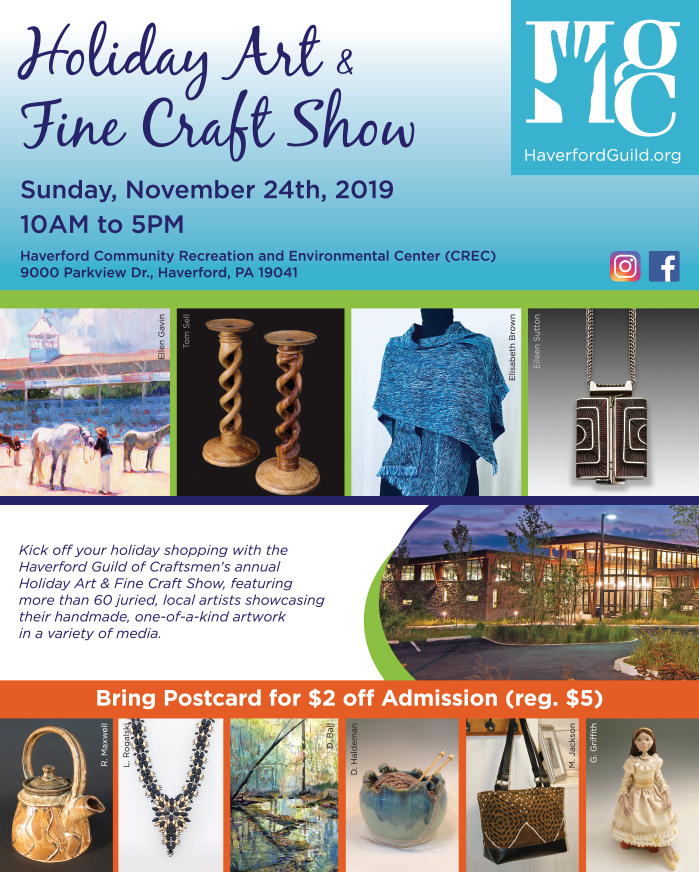 On November 24th we are having our annual Holiday Art & Fine Craft show at the CREC (Haverford Community Recreation and Environmental Center). This will be the perfect opportunity to get some holiday shopping done. And with over 60 amazing artists you can be sure to find unique gifts for yourself and others!
We are still looking for volunteers! If you would like to volunteer (or if you know someone who is not a member who would like to volunteer) you can sign up on Signup Genius here.
We are also looking for sponsors. If you have a business that you would like to promote, you can purchase an ad space in our booklet that will be distributed to everyone who attends the event, as well as exposure on this website. If you are interested, you can fill out the sponsorship form here.
---
Here is an opportunity to get to know more people in the PA Guild of Craftsmen:
Fall Rittenhouse will be held on October 11 – 13 and volunteers are needed for Oct 10 – 13. Volunteers who sign up for 4 hours or more will be given $30 to help offset transportation and parking expenses! Click here to sign up!