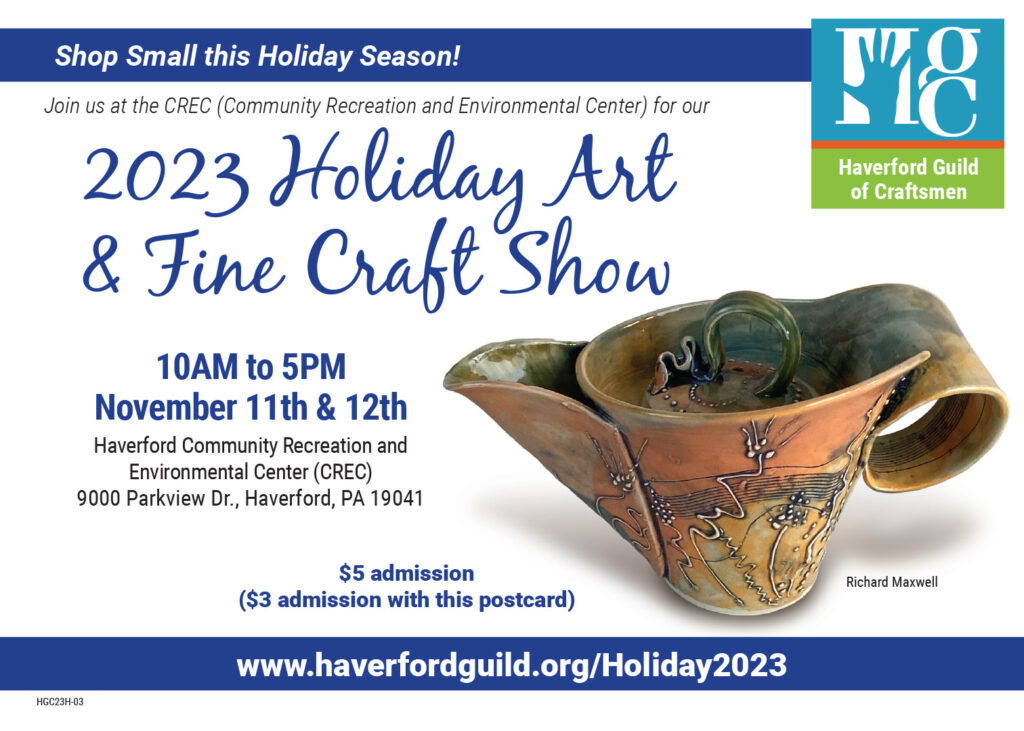 ---
September Updates
September is here and it's time to say Happy Birthday to us!
Okay… technically, our birthday was last month. But August turned out to be one of those months where a lot of people are still away on vacation, so we hold our annual birthday picnic in September now.
Our chapter, still considered one of the "younger" chapters in the PGC is now 14 years old. It all started thanks to Cathy Hetznecker and Rudy Miller who at lunch, discussed ways that they could gather local artists together to show, and sell their work and to network and inspire each other. Knowing that Havertown was loaded with local artists who might be interested in the idea, the Havertown Guild of Craftsmen was chartered with the Pennsylvania Guild of Craftsmen in August of 2009.
The little chapter in Havertown has grown significantly in the past 14 years. We now have members from well beyond Havertown's borders (including yours truly), and thanks to technology, we can remain a community even if we don't always have the ability to see each other in person! Beyond shows, we have workshops, make-n-takes, artist talks, potlucks and show-n-tells. We meet in person, via zoom, and connect on social media. And this month, we have a picnic hosted at Rich Maxwell's house!
We will be meeting a Rich Maxwell's for our annual picnic. A huge thank you to Robin for all the years she generously hosted our picnic, and another huge thank you to Rich for offering to host this year's picnic!
Date: Sunday, September 17th
Time: 4:00pm
Location: Rich Maxwell's – 17 West Hillcrest Ave., Havertown, PA 19083
(Note: you will need to park on the street.)
To sign up to bring something, please visit our SignUp Genius here: https://www.signupgenius.com/go/10C0D4BA4A729A2F94-hgcpotluck5
We're also getting ready for our fall show! We're looking for people willing to put out some yard signs to advertise our show (you do not have to live in Haverford!), as well as people willing to volunteer for our show. You can get more info and sign up here.
It has been a joy being your president for the past 5 years, and I continue to be at least for the next year or two as long as you will have me! But that said, we always need people willing to step up and be an active part of keeping this organization alive and well. Our annual election will be in December, but we're looking for people to help us out both on and off the board! Please let me know if you might be interested!
See you soon!
Christine Wright, President
---
We have a Facebook group just for HGC Members!
This is a private group for the Artist Members of the Haverford Guild of Craftsmen to meet and discuss their work, marketing tactics and to give and receive general business and artwork advice. To join us, please go to: https://www.facebook.com/groups/hgcartistmembers/