The Haverford Guild of Craftsmen Have a New Online Store!
We are excited to announce the launch of our new online store! All of the Artists who are represented on the Haverford Guild of Craftsmen Online Store are all members of the Haverford Guild of Craftsmen and have undergone a jurying process to ensure quality and craftsmenship.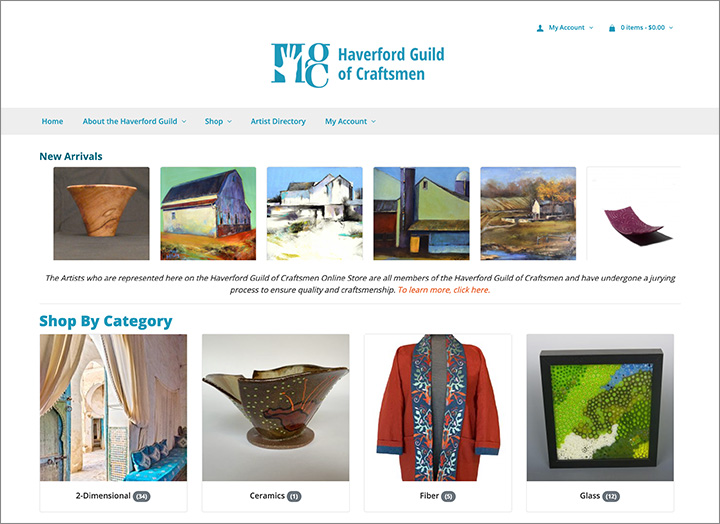 ---
Please note: Due to the concerns with the COVID-19 virus, our meetings are now taking place via Zoom. If you would like to join us, please contact us here for the login information. We will post updates here and on Facebook as we have them. 
September 17th @7PM Meeting – Store Tour!
We are so close to launch… After months of hard work, the committee is just about ready to launch online store to all of HGC. Join us on September 17th at 7PM via Zoom for a tour of the store. You'll get to see it from both the customer's point of view as well as the backend. This is the perfect chance to see what it looks like, how it will work and get any questions you might have answered.
Contact us here if you would like the login information.
Or Join us on Zoom here:
Meeting ID: 839 1403 8830
Passcode: 477819
---
And just like that… it's September! 
I'm having a hard time deciding if I should congratulate myself for making it to September, or if I should be annoyed that it's Fall and my craft show season is suffering from a pretty severe case of anemia.
So let's look on the bright side. I'm not going to annoy anyone this month about signing up to volunteer at our next show. I've only gotten one sunburn this year (which – given that I'm only half a shade darker than snow is an actual accomplishment). And I might not even have to pay for the emissions test on my car this year!
But the really, really good news… we are thisclose to doing a full launch on the Haverford Guild of Craftsmen shop site! We are currently in our beta testing phase, and we are aiming to open up registration to all of our members by the end of the month!
So what do you need to know now????
1. There are 2 qualifications to to sell on this site. First, you must be a member of the Haverford Guild of Craftsmen. If you have let your membership lapse, no worries, just renew it at the pacrafts.org website here. (Just make sure the Haverford is either your "home" chapter or your extra chapter.) The second qualification is that you have to have been reviewed by our jurors. Either by being a a Master Artisan –OR— have juried successfully into a show within the past 3 years. (If you juried into the Spring show that we had to cancel, that still counts!) The third way you could be reviewed is by taking part in a Peer Review session.
If you have not been reviewed by our jurors yet, don't worry! We do realize that not everyone has not had those opportunities. The store committee and the board are working on a way to have you reviewed if you want to be so that you can also be a part of the store. Hang tight for details on that, as soon as I have them, I'll let you know.
2. We are working on a marketing plan for the site. "Build it and they will come." Only works for Kevin Costner when he wants to play baseball. So we're working on some limited print advertising and online ads to promote the site. But let's not also forget the power of word of mouth! You can all help us out by letting people know about the shop site and liking and sharing our social media posts!
3. We'll be doing an online tour of the site at our September meeting! That's right, on Thursday, September 17th at 7PM I'll give everyone a guided tour of the site. You'll see what the customers will see, but I will also show you what you will see when you sell on the website. This will also be a perfect opportunity to have your questions answered about the site. So please come out and have a look-see!
Once again, thank you! This is a great Guild, because of all of you and all that you do to help keep us going! I look forward to seeing you on the 17th!
Christine Wright, President
---
We have a new Facebook group just for HGC Members!
This is a private group for the Artist Members of the Haverford Guild of Craftsmen to meet and discuss their work, marketing tactics and to give and receive general business and artwork advice. To join us, please go to: https://www.facebook.com/groups/hgcartistmembers/
---
We're looking for a new Guild Gazette Publisher!
After faithfully helping us out month after month with our Gazette, Phyllis Aaron has decided to take a well-deserved break. We are so grateful for all her help, but this also means that we need a new publisher for our monthly newsletter. This individual would be responsible for collecting the content for the regular issues of the Gazette and putting them in the template. You would work with the president/board each month – and don't worry! We'll train you if you are not already familiar with MailChimp.