Time to apply for our Spring Show!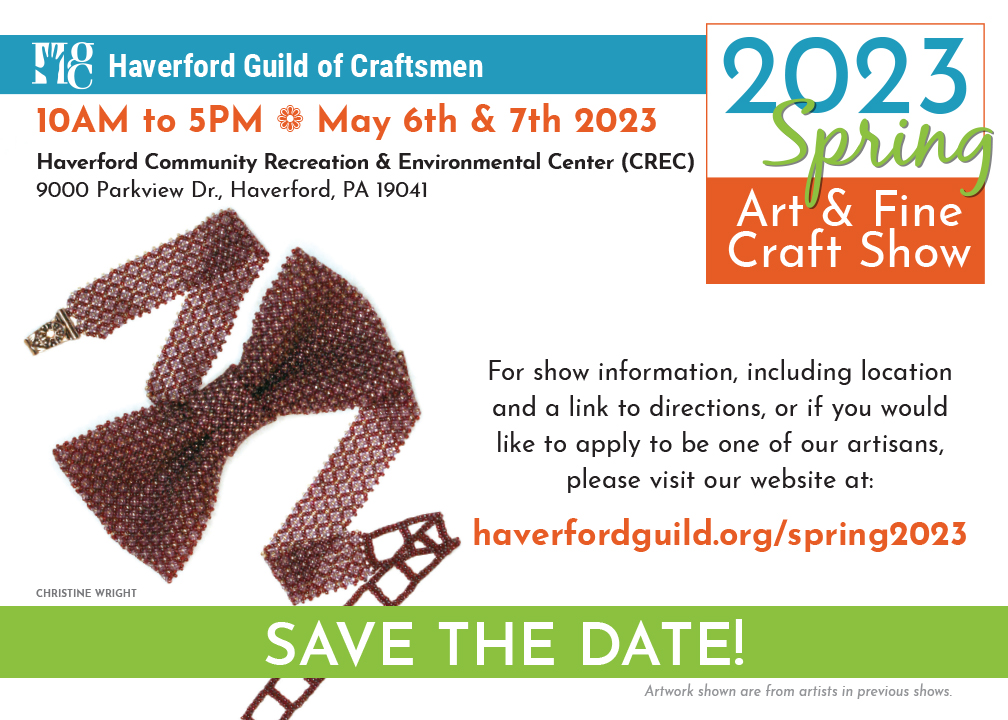 Applications are currently being juried!
---
February Updates
Happy February everyone, regardless of what a lousy critter in Punxsutawney says. (I'm thinking spring will be here soon!)
Thank you to everyone who came out to our Art Supply Swap! We had a great time both seeing everyone and all the cool stuff. We were able to make donations to both Cradles to Crayons as well as to some local art centers. We're planning on making it a regular thing each January, so you have 11 months to use that as your excuse to hoard craft supplies!
The jury is now reviewing the submissions for this year's spring show and the Holiday show application should be going up on EntryThingy this week.
If you missed the spring application, we now have a late application that will be opening up for a limited time. This application will be open to all categories except jewelry (for both metal and non-metal). If you would like to apply, please contact us at shows@haverfordguild.org.
Also – mark your calendars for April 16th – we will be doing a Booth Layout Workshop. Booth displays for even the most seasoned artists are ever-evolving and always presents a challenge. For newer artists, figuring out a booth display can be a daunting prospect! For our April meeting, we will present on what works and what does not work in booth displays, what juries look for in a booth shot and what to consider when designing your layout. Then we will break into groups and play with spaces and furniture to give a hands-on idea of how different booth displays can work for different people!
We are asking people to RSVP so that we can plan ahead, and you can do so on SignUp Genius here: https://www.signupgenius.com/go/10c0d4ba4a729a2f94-20232#/
See you soon,
Christine Wright, President
---
We have a Facebook group just for HGC Members!
This is a private group for the Artist Members of the Haverford Guild of Craftsmen to meet and discuss their work, marketing tactics and to give and receive general business and artwork advice. To join us, please go to: https://www.facebook.com/groups/hgcartistmembers/