Save the Date – And Artists it's time to apply for our 2022 Holiday Art & Fine Craft Show!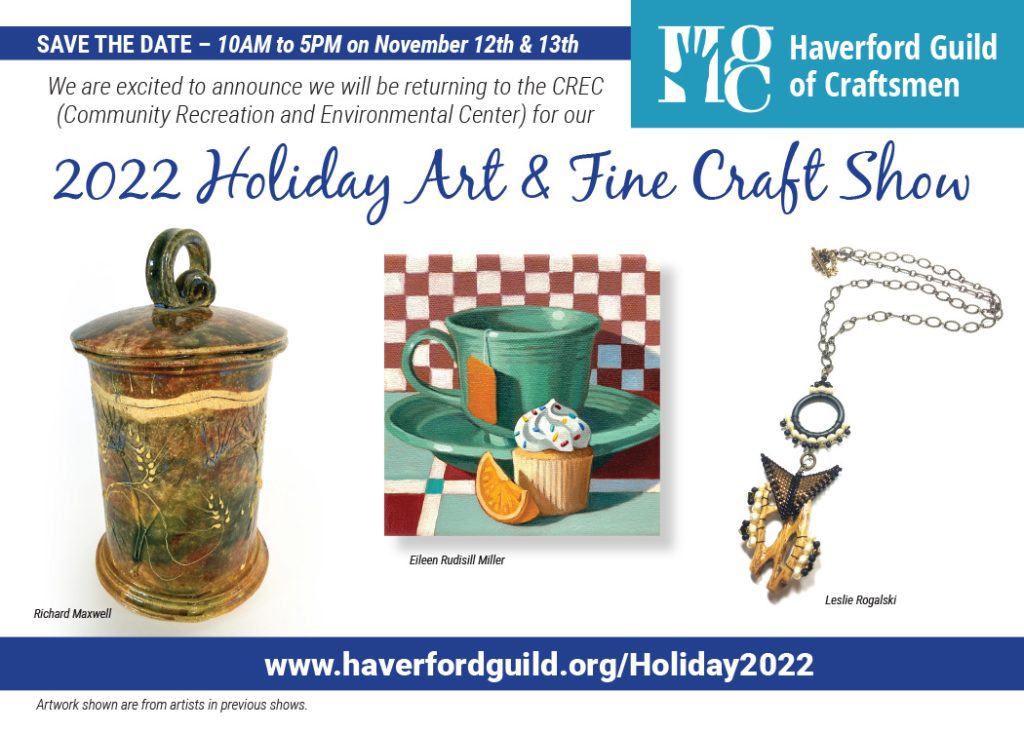 ---
June Updates
June is here and deadline to apply to our Holiday Show is almost upon us! It's hard to believe, but yes! Pretty soon we'll be in full show planning mode. Our show will be on November 12 & 13 at the CREC in Haverford. We are offering 5×10, 10×10 and 10×20 booths and you don't have to be a member to be a part of our show!
Submit your application on EntryThingy here. We will be accepting applications until June 21st. So while there is plenty of time, don't wait too long!
Our next meeting is this Thursday (June 16th) in-person and on Zoom! This will be our first attempt at a hybrid meeting, so please tune in if you can't make it in person.
We will be doing an Artist Spotlight on Rudy Miller. She will present "My Life as a Commercial Artist". The talk focuses on Rudy's three separate, but overlapping careers as a Fashion Illustrator, Product Designer and Paper Doll Artist.
Keep reading for more information including upcoming shows that are still looking for applications!
And as Summer gets into full swing, don't forget to take a break every now and and again. Personally, I'm actually pretty bad at remembering that – my definition of a "break" is synonymous with a picture of a brick wall. But this summer I'm going to try and be more mindful of remembering that I have limits and that yes, I need rest and occasionally a little sun too. That's the best way to stay productive – remember to recharge the batteries!
So I will do my best to take breaks and remember to recharge – and I hope you will as well! Have a great summer!
Christine Wright, President
---
We have a new Facebook group just for HGC Members!
This is a private group for the Artist Members of the Haverford Guild of Craftsmen to meet and discuss their work, marketing tactics and to give and receive general business and artwork advice. To join us, please go to: https://www.facebook.com/groups/hgcartistmembers/