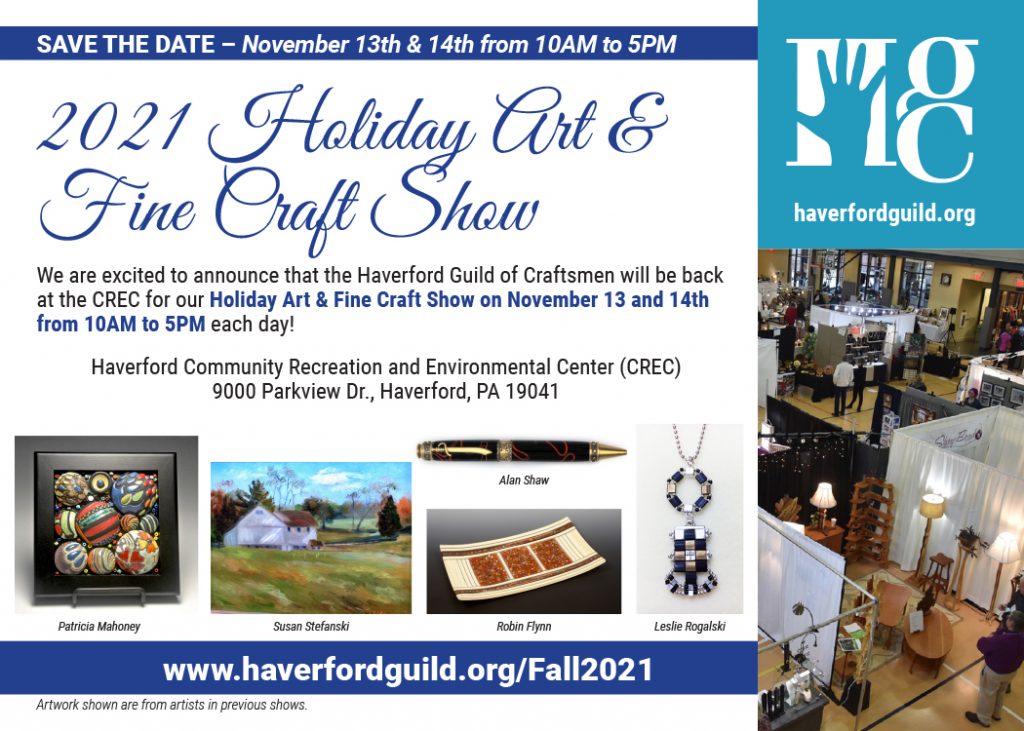 Applications are open for the 2021 Holiday Art & Fine Craft Show!
The Haverford Guild of Craftsmen Holiday Fine Art & Craft Show, a juried invitational event, is the showcase for some of the finest arts and crafts in the Philadelphia area presenting over 60+ fine arts and crafts exhibitors. HGC Fine Art & Craft Shows attract visitors from Philadelphia and its surrounding counties, New Jersey, Delaware and beyond. Our patrons represent an educated and affluent demographic with a taste for exceptional artwork and a sensibility for supporting local businesses.
For more information about applying, click here!
---
June 13th @7PM Meeting – Post Show Wrap-Up and Show-N-Tell
We'll report in on how our show went on the June 12th and give each person on the Zoom the opportunity to show off something they've been working on or their studio. Come on out for a fun and relaxing evening!
Contact us here if you would like the login information.
Meeting ID: 875 5157 3054
Passcode: 887458
The Zoom Meeting will be "opened" about half an hour early if you'd like to log on for general chat, or if you think you might need technical help!
---
June Updates
June is here, and so is our first Art & Fine Craft Show since 2019!
It's been long time, but not only are we still here and still strong as a Guild, but we're finally able to kick off our post-pandemic (mostly, we're still working on kicking COVID-19 to the curb!) show season.
We have over 30 participating artists (you can see them here), some of which are new to our little family, and even though this is a scaled-down show, there are still plenty of ways to help out! (And yes, we really do need all the help we can get.) As we move forward, we're trying to make volunteering a little easier by defining the "edges" of volunteering as much as possible.
I completely understand and respect the fact the everyone is busy, and we all have limitations on our time and energy. That's why we're going to be leaning more heavily on Entry-Thingy – we can be more specific in tasks and just how much of your time we'll be asking of you. Please consider helping out! We can't do these shows without the help of our volunteers, and many hands truly do make light work!
To sign up to help out, you can click here: https://www.signupgenius.com/go/10C0D4BA4A729A2F94-2021
But wait … there's more! 
Our next couple of meetings are going to be fun!
Our next meeting will be Sunday, June 13th where we'll be doing a Show & Tell and Post-Show Wrap Up (via Zoom). Keep reading below for the Zoom login information.
And then… In August we will be meeting in person for our annual Birthday Bash! The board decided that by then and outdoor potluck should be safe, and what a great way to finally get together once again! The SignUp Genius link is already active – and you can click here to sign up to bring something: https://www.signupgenius.com/go/10C0D4BA4A729A2F94-hgcpotluck3
We will not have a Zoom component for the potluck – but have no fear, we will be working out how to include Zoom in our regular in-person meetings once those are able to start up again. We don't know for certain yet when those will be, so stay tuned. Everything is going to be really fluid for a while so it'll take a bit for us to figure out how everything is going to work.
In the meantime, stay safe, get vaccinated if you haven't yet, and we will see each other again soon!
Christine Wright, President
---
We have a new Facebook group just for HGC Members!
This is a private group for the Artist Members of the Haverford Guild of Craftsmen to meet and discuss their work, marketing tactics and to give and receive general business and artwork advice. To join us, please go to: https://www.facebook.com/groups/hgcartistmembers/