The Haverford Guild of Craftsmen Has A New Online Store!
We are excited to announce the launch of our new online store! All of the Artists who are represented on the Haverford Guild of Craftsmen Online Store are all members of the Haverford Guild of Craftsmen and have undergone a jurying process to ensure quality and craftsmenship.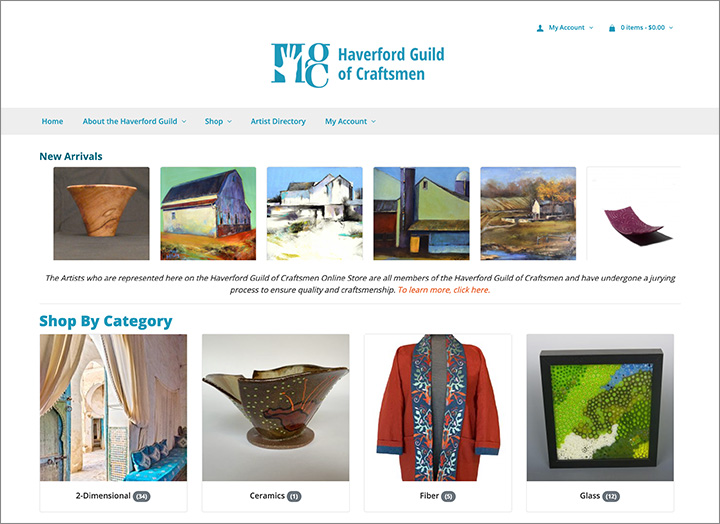 ---
Please note: Due to the concerns with the COVID-19 virus, our meetings are now taking place via Zoom. If you would like to join us, please contact us here for the login information. We will post updates here and on Facebook as we have them. 
November 12th @7PM Meeting – Presenting the PA Guild Store with Burd Kerchner
For our November meeting we will have a guest speaker, Burd Kerchner. Burd is the manager of PA Guild of Craftsmen's store. She will be presenting on the store, its history, how its doing now in spite of COVID-19 and how any of our members can apply to have their work be in it. See you on Thursday, November 12th at 7PM via Zoom!
Contact us here if you would like the login information.
Or Join us on Zoom here:
Meeting ID: 893 2725 5969
Passcode: 700607
---
Grateful for November
Wow – It's hard to believe that it's the beginning of November!  (Especially when it feels like the first week of November lasted about 2 months!)
That said, especially when you consider where we were when we had to completely readjust to this state of un-normalcy back in the spring, and where we are now. There are a couple of things to be grateful for – which is my favorite part of November.
1. We have a brand-new online store! Just launched a little over a month ago, and with some advertising underway, we have started to make some headway! We now have 27 artists selling in our store. We've made our first couple of sales (a big congratulations to Madeline Kelly for making our first ever official sale!) and we have over 250 works of art listed on the storefront – with plenty of room for more artists and products.
So much so, that I am very happy to announce that after discussing it with Robin Flynn our VP of Standards and Mary Beth Nardy our Artist Liaison, we will be continuing to open up more calls for Online Store Vendors on a monthly basis. This means that even if you have not yet had an opportunity to jury in to one of our shows, you will still have an opportunity to sell on our online store.
And don't forget, if you're nervous or aren't certain if you are ready to go through the jury process, please don't hesitate to reach out to any one of us – we'd be more than happy to answer any questions that you might have.
2. The PGC is also looking towards the future. For the last month or so, I and other officers from chapters throughout the PGC have been meeting to brainstorm ways that the PGC can grow even (and possibly especially) during this time of pause. I've nothing concrete to share right now, except that I would encourage everyone to also like and follow the PGC social media accounts on Facebook and Instagram. Also be sure to check out their workshops – some are virtual, eliminating the problem of distance.
3. We are already looking ahead to 2021. I'm putting this one in the "positive" column, not because I believe that at the stroke of midnight on December 31st that everything is magically going to be fixed. 2021 is also going to be a pretty squirrelly year where we're all going to have to continue to be patient and there will be some disappointments. However – we can still look forward. 
Let that one sink in.
We're still here. The arts are still alive. We're still a community, and even if meeting together and doing things together in person is not possible right now – we're still here even if we can only 'see' each other through the internet or over the phone.
So there are two items I'm now going to ask you to do. Don't worry, it's not like I'm bugging anyone to volunteer for a show (although that will definitely happen again in the future!)
Ask #1 – Please fill out our Survey Monkey Survey for our meeting topics for 2021. For now, at least, we're still assuming that we'll be meeting through Zoom. BUT we want those meetings to be on topics you're interested in. So to do that, we'll need your feedback.
Ask #2 – I want everyone to make an effort to connect with another member from this or any other chapter in the PGC. It doesn't matter if it's through a Zoom call (which if you need help with that, call me! I can help.) or a simple phone call. The one comment that I hear over and over again is how much people miss seeing and interacting with each other. And while our meetings have been fun, it's tough to do the usual before and after chatter where we really get a chance to get to know each other.
The next couple of months are not going to be easy on multiple levels. But that doesn't mean that we can't find things to be grateful for or ways to make things even just a little bit better. We all have a common resource – each other. So let's use it, and please reach out!  – To find each other's contact information, just log in to the member website and go through the member directory.
Thank you everyone for being such amazing people!
Christine Wright, President
---
We have a new Facebook group just for HGC Members!
This is a private group for the Artist Members of the Haverford Guild of Craftsmen to meet and discuss their work, marketing tactics and to give and receive general business and artwork advice. To join us, please go to: https://www.facebook.com/groups/hgcartistmembers/
---
We're have a new Guild Gazette Publisher!
A big thank you and shout out to Julie Martini who has stepped up to be our new Gazette Publisher! If you would like to contribute an article, have an event or a big announcement, you can send that over to gazette(@)haverfordguild.org.
---
Did you miss the newsletter? Click here to see our November Issue