---
Thank you for a fabulous 2021 Holiday Show!
It was great to be back at the CREC! After a long pause thanks to COVID-19, it was so nice to be back in person at the CREC. And even better, we will be returning for another show in the spring on April 30th & May1st!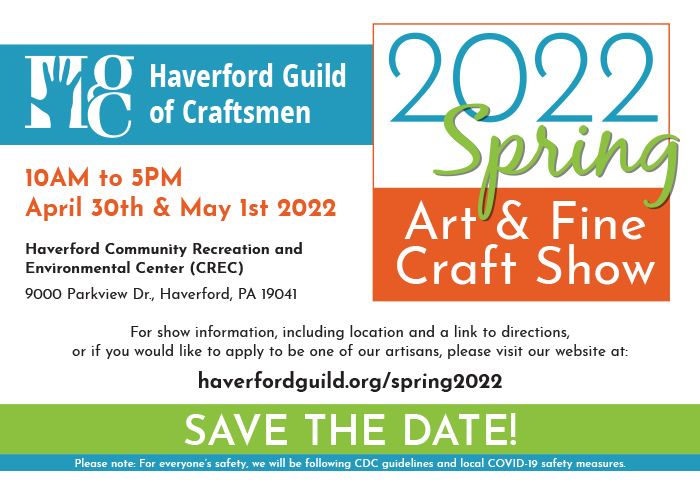 ---
January Updates
Welcome to 2022!
While 2021 still had more than a few challenges, things are slowly-but-surely getting a little better. Even though we're dealing with yet another COVID-19 surge, we have a lot more tools to deal with it, and we can plan upcoming shows with a more confidence.
Which brings me to the first item to highlight… Apply for our Spring Art & Fine Craft Show!
Applications will be open until January 31st, so don't wait! You can apply on EntryThingy here: https://www.entrythingy.com/d=haverfordguild.org#dashboard. We will be back at the CREC on the weekend of April 30th – May 1st from 10AM to 5PM. We have a limited number of 5×10 spaces available to members and non-members along with the 10×10 and 10×20 spaces.
We also have a Master Artisan/Peer Review Session coming up in March. You can use the same EntryThingy link (https://www.entrythingy.com/d=haverfordguild.org#dashboard) to get to the call. Peer reviews are a great way to get solid, honest and useful feedback on your art, and becoming a Master Artisan has benefits as well.
At our next meeting on January 9th at 7PM, we will be talking about the Peer Review/Master Artisan process. Believe me! I know how intimidating having your artwork being evaluated by another panel of artists can be. I've been through the process myself, so I can vouch for what it's like. I and a few other folks will take part in a discussion led by our Vice President of Standards, Robin Flynn, on what its like to be Peer Reviewed and/or go through the Master Artisan process. Spoiler: our Master Artisan panel is made up of really, really nice people who will not point and laugh! 
One last item, we want your feedback! Please let us know what meeting topics you would be interested in and fill out our survey! Naturally, the plan is to eventually get back together in person, and include Zoom as an option for those who find travel challenging. However, we will only return in person when feel it is safe to do so, and when our host is equally ready. To answer our survey, please click here.
Here's to making this year better than the next!
Thank you and see you soon,
Christine Wright, President
---
We have a new Facebook group just for HGC Members!
This is a private group for the Artist Members of the Haverford Guild of Craftsmen to meet and discuss their work, marketing tactics and to give and receive general business and artwork advice. To join us, please go to: https://www.facebook.com/groups/hgcartistmembers/