We are accepting applications for our Holiday Show!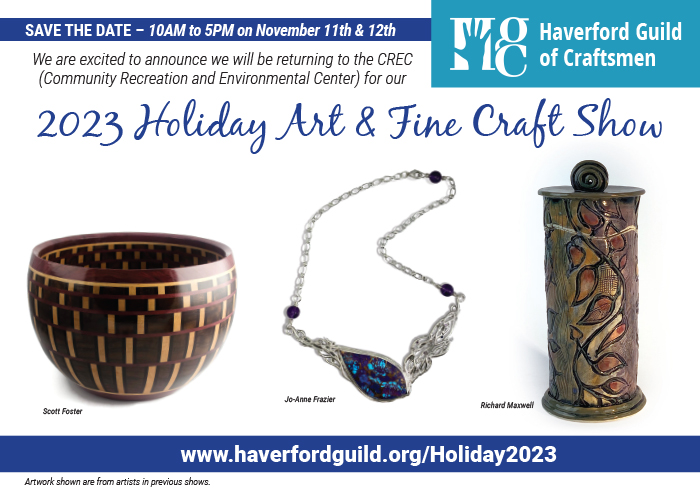 ---
June Updates
June is off to a bit of a rocky start…

I'm going to assume that at least some of you know what I'm talking about. Unfortunately, the PGC announced that the remainder of the Fine Craft Fairs have been cancelled for this year. This includes Ludwig's Corner, Chase and Fall Rittenhouse. This is a huge disappointment for everyone – artists, the PGC and including myself (I was supposed to be at both Ludwigs and Chase). 

So … why? Well, from what I can gather it's both very simple and very complicated. But it ultimately comes down to a lack of artists and a strong potential for a lack of attendees. Unlike Haverford shows, the PGC's minimums for both artists and attendees are much higher, and reaching those numbers have been getting more and more challenging. This year, it seems, the math finally didn't add up. 

Armchair quarterbacking is extremely tempting … but not appropriate. I don't have all of the info, so I'm going to avoid 'what-ifs' and 'well I woulds' because it's just not right. This situation is tough enough with out adding any fuel to the fire. 

So I will talk about information that I do have. 

1. This does NOT affect the Haverford Holiday Art & Fine Craft Show. We're a completely different show, and while we operate under the PGC as a local chapter, decisions about our shows are in no way driven by the PDC board that runs the Fine Craft Shows as a partner to the PGC. (Please note, I've recently been made aware that the decision to cancel the shows was purely the decision of the Pennsylvania Designer Board and not the Pennsylvania Guild of Craftsmen.)

2. As unfortunate as the short notice for these show cancellations was, there was no intent to make lives harder for the artists. Unlike some other organizations unrelated to the PGC that have cancelled shows (remember 2020?), all fees –including booth, application and other show-related fees are being fully refunded to all of the artists that were accepted into the show. 

3. This will not mean the end of Fine Craft Fairs forever from the PGC. I don't have any details that I can share at the moment, but I can say that the PGC is already in the process of forming a committee to figure out next steps to get things back on track. 

And now for and OPINION – and yes, this is my OPINION – COVID didn't create this situation, this announcement has probably been coming for some time. Just ask anyone who was at or did the Chase show 20 years ago. And not just Chase – a lot of the really big shows are not what they once were. But COVID did speed up the timeline. And frankly, 2020 isn't done with us yet. We're still going to see turbulence and unpredictability in many areas (not just craft shows). 

So what to we do? 

First, on the craft show front – we adapt. Fine craft shows aren't dead, they're evolving. So we stay flexible but focused, invest in advertising our shows well, and put our backs into getting the word out virally. This means all of you sharing and reposting about our shows. We let artists know that we run a well-organized show that invests heavily in advertising, and encourage them to apply. BUT we don't get greedy. It's not about how many artists – it's about the quality and the shopping experience. We don't pack people in like sardines to collect booth fees. 

Second, as a chapter – we support each other. The bright side of 2020 was that it showed that we are more than just a chapter that does shows. And now that we're less restricted (and back to doing shows), there is even more that we can do as a community. We started a new tradition of a destash/supply swap that we're going to continue on each January. We're back to doing make-n-takes, we have a picnic coming up in September, we've started a ride share program to help more members get out to our meetings and other events… and the board is still looking for more ways that we can continue to support each other. Even when circumstances are unpredictable, it helps to know that there are some people you can count on.

So can you do? It's actually pretty simple. Come out (or log on when we have a Zoom) to a meeting. Come to our picnic. Sign up to help people get a ride. Sign up if you need a ride. Volunteer for one of our shows. Sign up to be an artist in one of our shows. Join our members-only Facebook group and post.  – Just get (or stay) involved. We can't be a community without you!

Meanwhile, don't miss out on our upcoming meeting which is another Make-N-Take!

June 15th – Bob Antonishak will be leading a Pysanky Egg workshop, where we will learn how to intricately dye eggs. Bob is also going to talk a little about workshops and the PGC. Free to members! Everyone is welcome to sign up here: https://www.signupgenius.com/go/10c0d4ba4a729a2f94-june#/

Don't forget, we take a break in July, so if I don't see you soon, I'll see you in August!
Christine Wright, President
---
We have a Facebook group just for HGC Members!
This is a private group for the Artist Members of the Haverford Guild of Craftsmen to meet and discuss their work, marketing tactics and to give and receive general business and artwork advice. To join us, please go to: https://www.facebook.com/groups/hgcartistmembers/