Save the Date For Our 2022 Holiday Art & Fine Craft Show on November 12 & 13!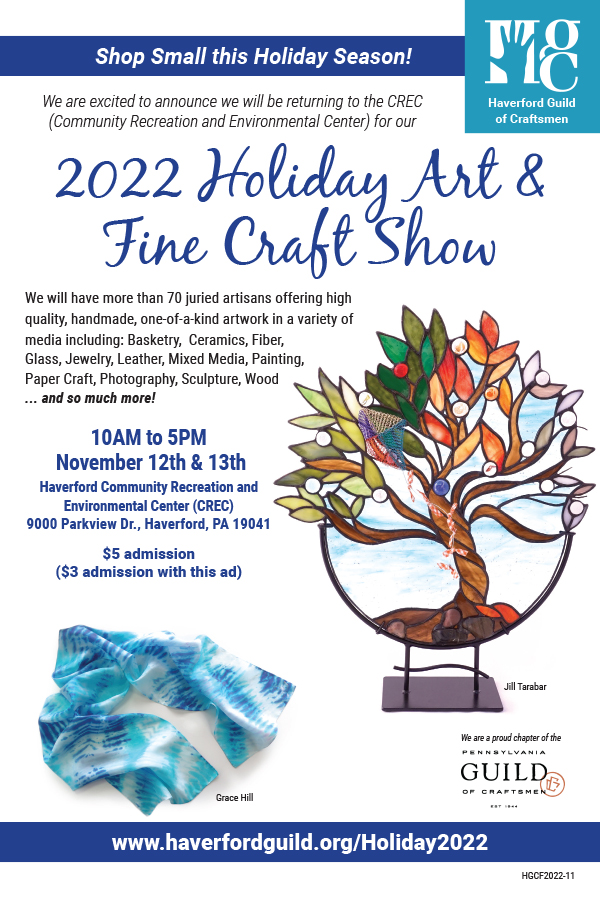 ---
November Updates
So… got any plans for next weekend??? Hard to believe that the show is practically here! And now that we're down to the wire, yes we still need helpers! ESPECIALLY for:
– Greeters
– Loading Dock
– Clean Up
– Member Table/Artist Gallery
– Booth Layout/Cords
So who can volunteer? Well, pretty much anyone. Spouses, adult children, neighbors, friends as well as our members are all welcome! To sign up to volunteer, just go to our SignUp Genuis link here: https://www.signupgenius.com/go/10C0D4BA4A729A2F94-20223. Anyone who volunteers gets in for free and it makes for a fun couple of hours that weekend, and I really am grateful for all the help we can get!
We also need our youth helpers! We will pay young adults 8th grade through college-aged $15/hr –or– if they need community service credits we can accommodate that as well. These helpers will do a variety of jobs like helping artists load in and load out, booth sit, run the iPads at check-in and fill in for other tasks as they are needed. If you know any younger people that might be interested, they can sign up here: https://www.signupgenius.com/go/10C0D4BA4A729A2F94-20224.
Also important … we are looking for some new board members! I especially need a new Vice President. (I promise, I'm easy to work with!)
We ask that board members try to attend monthly board meetings and whatever regular meetings that they can and we all pitch in to help get things done so that we can keep this guild going! If it also helps, our board meetings are either via Zoom or hybrid Zoom/In-person so if you're worried about travel, it should be a non-issue. For more information, or to be put on this year's ballot, please contact me!
As always, thank you and see you at the show!
Christine Wright, President
---
We have a Facebook group just for HGC Members!
This is a private group for the Artist Members of the Haverford Guild of Craftsmen to meet and discuss their work, marketing tactics and to give and receive general business and artwork advice. To join us, please go to: https://www.facebook.com/groups/hgcartistmembers/