Our Spring Show is just around the corner!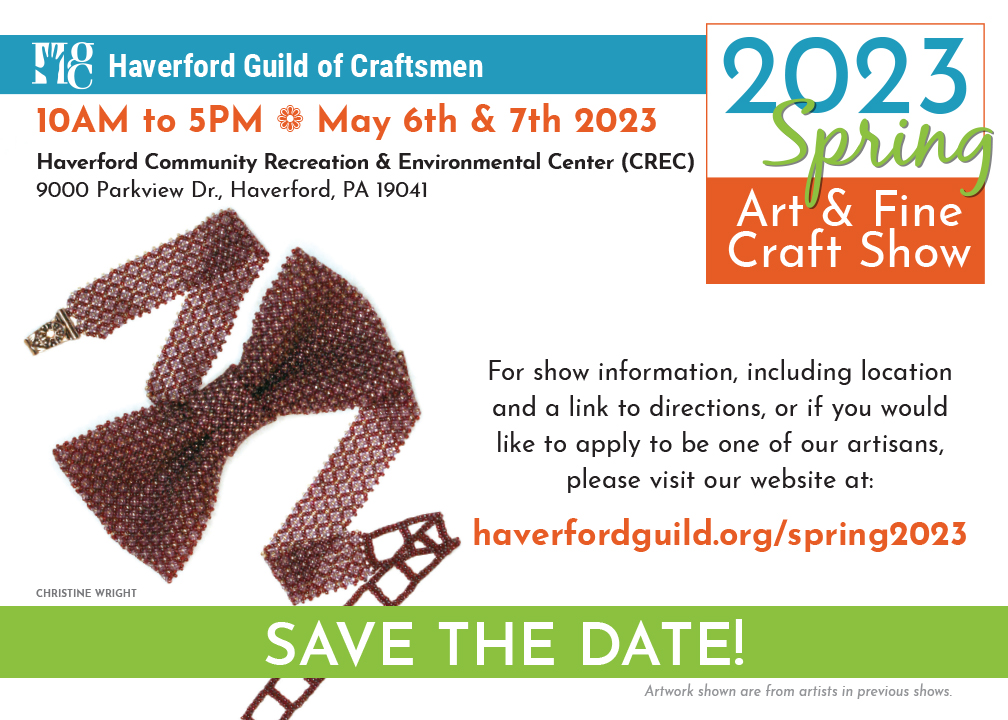 ---
March Updates
Ah March … in like a lion hopped up on catnip!
We're now getting into high-gear with planning our show in May, we've got some fun monthly meetings planned and it looks like it's going to be a busy year!
As I go through my annual routine of applying for shows (and it's nice to get back to this routine after being so rudely interrupted in 2020), it strikes me just how odd the PA Guild of Craftsmen shows are – in a good way. The shows that the local chapters run, and the PA Guild runs are very different in that they are organized by artists – for artists. The majority of fine craft events are not – and the difference is there. Improvements are often made each year, not for the sake of profitability, but for the sake of the artists.
There is a flip side to this though. Because it's an effort made by a like-minded group, and not a for-profit corporation, we do ask people to pitch in … in fact, we rely on people to pitch in. It's weird. Other shows don't ask their artists, friends, family and anyone else interested if they would donate their time and energy to help run a show. That's because other shows budget for all that. They hire the people to work the show, and only just enough, so rarely are there booth sitters, as well as helpers at both load in AND load out. And the booth fees reflect that.
So yes, I'm sure everyone is really tired and probably a little numb to my calls for volunteers, and I get it. Your time is valuable and energy is limited. I completely respect that. That is also why on our sign-ups, I try to clearly define what we're asking for and how long we expect it to take. I am grateful for both the time and the energy that every single volunteer generously gives us.
So once again, here's my ask. We're putting on a show in May, and we really need your help. So please sign up. But it's not the only show that needs volunteers, the PGC also needs your support, so if you're willing and available, please sign up on the links further down in the newsletter – and THANK YOU!
If you missed the spring application, we now have a late application that will be opening up for a limited time – but it will be closing soon! This application will be open to all categories except jewelry (for both metal and non-metal). If you would like to apply, please contact us at shows@haverfordguild.org.
Don't forget to sign up for some Workshops we have coming up!
April 16th – we will be doing a Booth Layout Workshop. Booth displays for even the most seasoned artists are ever-evolving and always presents a challenge. For newer artists, figuring out a booth display can be a daunting prospect! For our April meeting, we will present on what works and what does not work in booth displays, what juries look for in a booth shot and what to consider when designing your layout. Then we will break into groups and play with spaces and furniture to give a hands-on idea of how different booth displays can work for different people!
We are asking people to RSVP so that we can plan ahead, and you can do so on SignUp Genius here: 
https://www.signupgenius.com/go/10c0d4ba4a729a2f94-20232#/
May 18th – we will have a guest, Beckie Hynes, who will lead a Make-N-Take and teach us how to weave on small hand-held looms. Free to members! There are only 18 slots, so sign up now! 
https://www.signupgenius.com/go/10c0d4ba4a729a2f94-may2023#/
See you soon,
Christine Wright, President
---
Volunteer Opportunities!
The Pennsylvania Guild of Craftsmen and its local chapters host shows by-artists-for-artists! And as non-profits we all rely on volunteers to make these events a reality.
Volunteering not only supports us all as an organization but also local artists. In addition, volunteering for these events can be a fun way to get to know other guild members and build new friendships.
Please consider volunteering at these upcoming shows:
Haverford 2023 Spring Art & Fine Craft Show
May 6th & 7th

https://www.signupgenius.com/go/10c0d4ba4a729a2f94-20231#/
PGC Fine Craft Fair – Spring Rittenhouse
May 12th, 13th & 14th

https://www.signupgenius.com/go/8050c4eaeaf2ea3f94-spring3#/
PGC Fine Craft Fair – Ludwig's Corner
June 24th & 25th

https://www.signupgenius.com/go/8050c4eaeaf2ea3f94-summer4#/
PGC Fine Craft Fair – Chase on the Waterfront
July 29th & 30th

https://www.signupgenius.com/go/8050c4eaeaf2ea3f94-summer5#/
PGC Fine Craft Fair – Fall Rittenhouse
October 13th, 14th & 15th

https://www.signupgenius.com/go/8050c4eaeaf2ea3f94-fall2#/
If you happen to know of any other PGC or local chapter looking for volunteers at their show, please email us at gazette@haverfordguild.org.
---
We have a Facebook group just for HGC Members!
This is a private group for the Artist Members of the Haverford Guild of Craftsmen to meet and discuss their work, marketing tactics and to give and receive general business and artwork advice. To join us, please go to: https://www.facebook.com/groups/hgcartistmembers/