We will be at Haverford's Community Recreation and Environmental Center at 9000 Parkview Drive from 10AM-5PM on both Saturday and Sunday!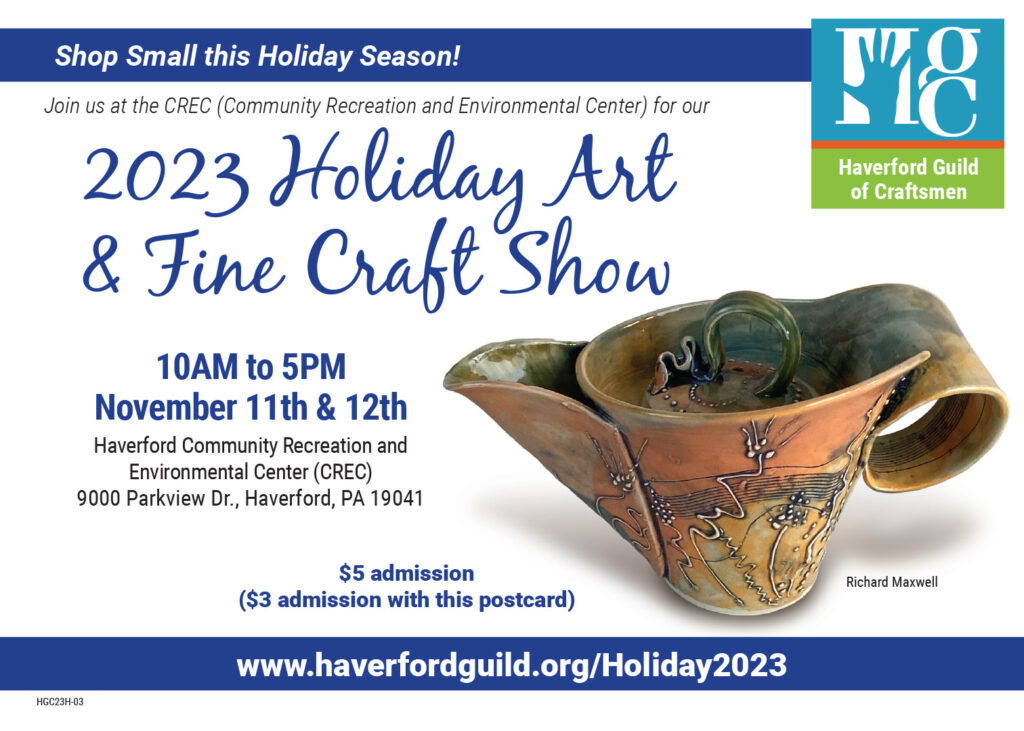 Here are our amazing artists!
---
November Updates
November and it's go-time for our 2023 Holiday Art & Fine Craft Show!!
But we'll have more on that in a bit…
As much as I love that we put on some high-quality shows, there is more to us than just doing shows. Many of our members love to do their craft –just because– and are not interested in shows. And that's awesome! To do any sort of art just for the joy of it is a wonderful thing!
And that's why we try to mix up our meetings a bit. Some months we do workshops and make-n-takes, other months we focus on an artist and their journey, and yes, we also do meetings focusing on different aspects of craft shows … and this month we're focusing on something completely different!
Come out this Sunday, November 5th @ 7PM to meet John Cross! John is an engineer by day – on nights and weekends is the lead build designer for a local theatre group, Methacton Community Theatre (https://www.methactoncommunitytheater.org/). While it's not the same type of show that most HGC members craft for, crafting for theatre still requires many of the same skill sets. Join us for a fun look into another side of crafting! This will also be a hybrid meeting, but…
John will be bringing some of his set pieces and props, so you will get more if can make this meeting in person!
For directions to St. George's and for more information on our upcoming meetings, you can always go to our Upcoming Meetings page here: https://haverfordguild.org/up-coming-meetings/
Remember, you do not have to be an active member to come to one of our meetings! Everyone is welcome to join us.
And of course our Holiday show is right around the corner!!! We still need volunteers and helpers! You can get more info and sign up here. If you know someone (14 and up) who can help artists load in and out, and possibly boothsit, they can sign up here!
Don't forget that our annual election will be in December, but we're looking for people to help us out both on and off the board! Please let me know if you might be interested!
See you soon!
Christine Wright, President
---
We have a Facebook group just for HGC Members!
This is a private group for the Artist Members of the Haverford Guild of Craftsmen to meet and discuss their work, marketing tactics and to give and receive general business and artwork advice. To join us, please go to: https://www.facebook.com/groups/hgcartistmembers/