Our October Meeting is on Sunday, October 13th at 7PM.
Booth Layout & Design Forum
As it (eventually) gets cooler, the fall/winter craft show season is heating up! It almost seems like there is a show – or several – every week. That's why we decided that this month's meeting topic is going to be a forum on booth layout and design. We'll have a group discussion on ideas for improving your booth layout, colors, lighting and displays. Have you done a lot of shows and you've got a system? Great! Please come and share your experience with us! New to shows, or have never done a show before? Great! Please come and bring your questions! Never sell at shows, but love to attend them? Great! Please come and share your perspective with us. This is going to be a fun and interactive meeting this month!
Everyone is welcome! You do not have to be a member to attend our meetings! We love having visitors and friends of the guild. For directions to St. Georges, click here! 
---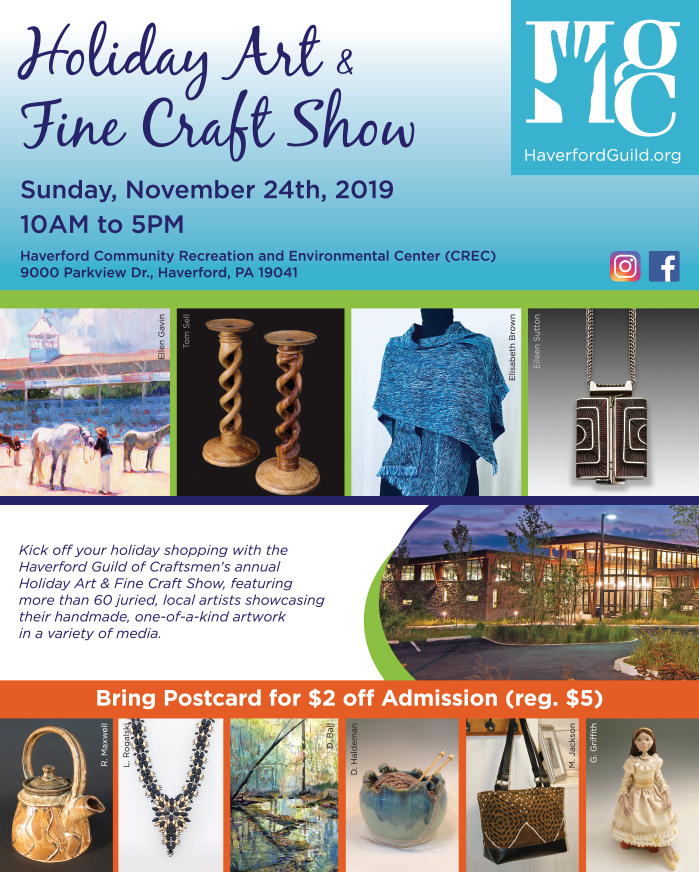 On November 24th we are having our annual Holiday Art & Fine Craft show at the CREC (Haverford Community Recreation and Environmental Center). This will be the perfect opportunity to get some holiday shopping done. And with over 60 amazing artists you can be sure to find unique gifts for yourself and others!
We are still looking for volunteers! If you would like to volunteer (or if you know someone who is not a member who would like to volunteer) you can sign up on Signup Genius here.
We are also looking for sponsors. If you have a business that you would like to promote, you can purchase an ad space in our booklet that will be distributed to everyone who attends the event, as well as exposure on this website. If you are interested, you can fill out the sponsorship form here.