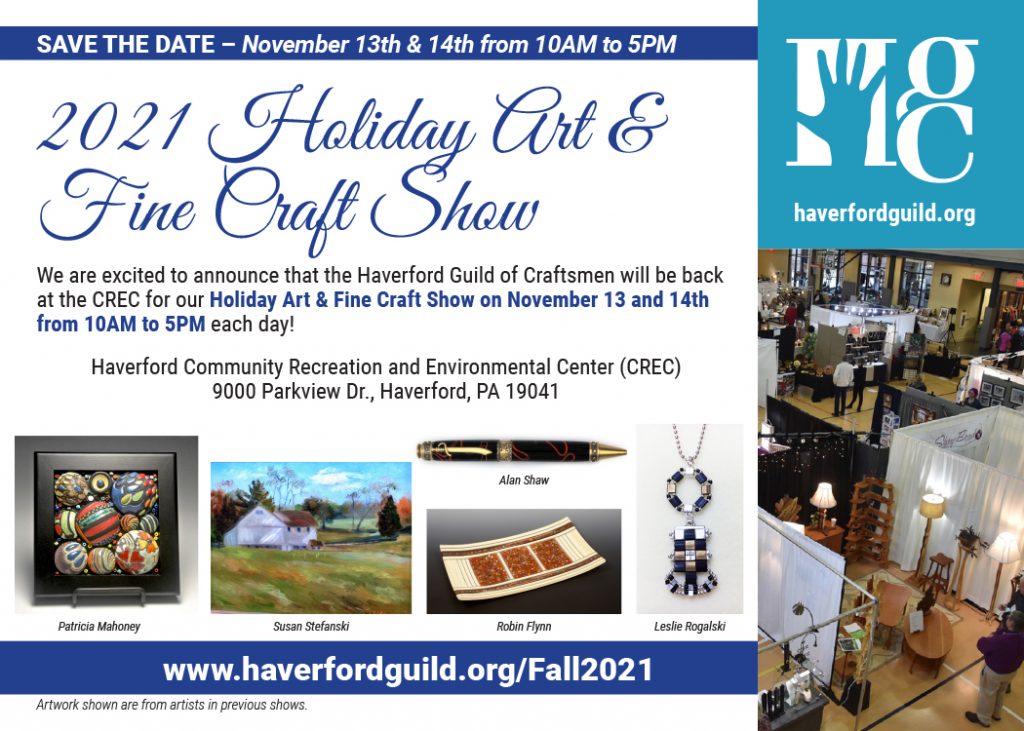 Applications are open for the 2021 Holiday Art & Fine Craft Show!
The Haverford Guild of Craftsmen Holiday Fine Art & Craft Show, a juried invitational event, is the showcase for some of the finest arts and crafts in the Philadelphia area presenting over 60+ fine arts and crafts exhibitors. HGC Fine Art & Craft Shows attract visitors from Philadelphia and its surrounding counties, New Jersey, Delaware and beyond. Our patrons represent an educated and affluent demographic with a taste for exceptional artwork and a sensibility for supporting local businesses.
For more information about applying, click here!
---
Please note: Due to the concerns with the COVID-19 virus, our meetings are now taking place via Zoom. If you would like to join us, please contact us here for the login information. We will post updates here and on Facebook as we have them. 
May 13th @7PM Meeting – Rhoda Kahler, On Galleries and Exhibitions
Our guest speaker will be Rhoda Kahler, a fine ceramic artist who regularly shows at galleries and has public installations. She will be sharing with us on her experience in working with galleries and institutions and on how to be a full-time professional fine artist. If you would like to see some of Rhoda's work, you can visit her website here.
Contact us here if you would like the login information.
Meeting ID: 826 0792 0950
Passcode: 138822
The Zoom Meeting will be "opened" about half an hour early if you'd like to log on for general chat, or if you think you might need technical help!
---
May Updates
May is here, and if you hadn't noticed the 2 inches of pollen on everything – stuff is seriously blooming!
Fortunately, it's not just the flowers that are coming out of their long hibernation. It looks like that as more people get vaccinated and infection rates in the area are going down, more events can safely take place including our own Summer Art & Fine Craft Fair at the Main Line Art Center this June!
Applications are closed as of May 1st and we'll get to see who will be a participating artist soon! But the planning still continues and I'd love it if you could consider being a volunteer for that show. We need Welcome Tent/Booth Sitters, people to help set up the booth spaces, someone to make a run to and from our storage unit and of course – lots of help getting the word out!
To signup to volunteer for the summer show, click here!
And of course, we're also planning the Fall show. The applications are still open for that show (you have until July 5th – but don't wait too long!), so please send the word out to anyone you know who would like to return with us the the CREC for a 2-day indoor holiday show!
Most importantly, as exciting as it is to see more and more people get vaccinated, and as things are opening up, please remember to still be careful. If I've learned anything from beadweaving, I've learned that the last inch is the longest. As much as we are itching to get out, now more than ever it's critical to be patient. Be careful, take good care of yourself and your health and I hope to see you on Thursday!
Christine Wright, President
---
We have a new Facebook group just for HGC Members!
This is a private group for the Artist Members of the Haverford Guild of Craftsmen to meet and discuss their work, marketing tactics and to give and receive general business and artwork advice. To join us, please go to: https://www.facebook.com/groups/hgcartistmembers/