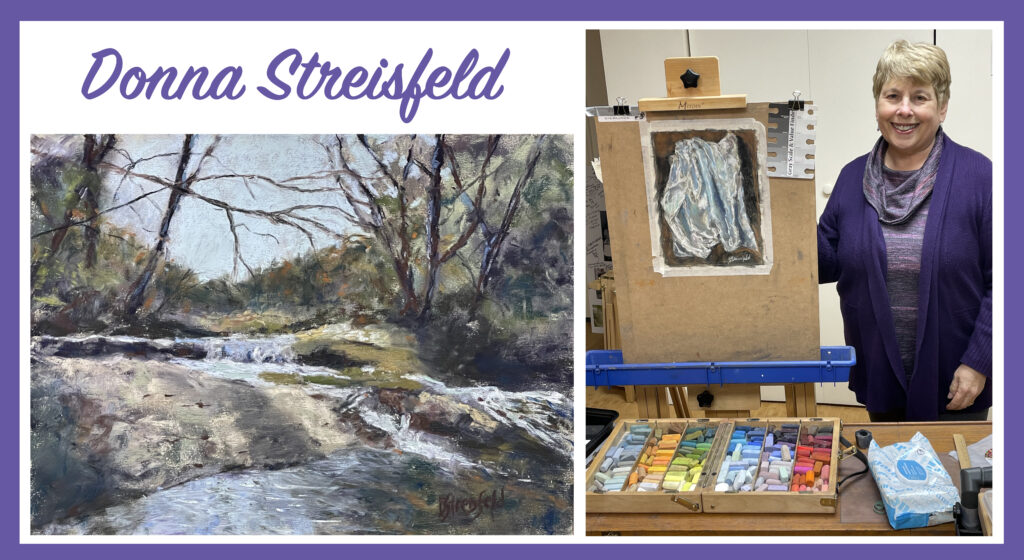 Pastel painter, Donna Streisfeld's life clearly revolves around music and art. Born in Queens, NY, she was a music major at Queens College. She went on to study music therapy at the University of Miami and also has a masters in Special Education. She is a Registered Music Therapist and a certified Reading Specialist. As a certified therapeutic musician, she has been working with patients at Bryn Mawr Hospital since 2015.
Donna developed a passion for pastel painting that was born out of the Pandemic, when her job was put on hold. Says Donna, "I have always enjoyed art and began painting in watercolor after a trip to Monet's home and gardens in Giverny in 2014.  I had been working as a therapeutic harpist at a local hospital when my job was put on hold due to the Pandemic.  I had taken a couple of pastel classes given in community art centers and enjoyed working with them.  I then signed up for an online course with pastel artist Alain Picard, a few weeks before the pandemic started and my hospital job temporarily ended.  That was when I truly fell in love with soft pastels!  I had the opportunity to paint everyday for the next two and a half years.  I love to create art from my travels in life to share with others."
In describing her art and philosophy, she says,"I love doing landscapes and portraits but have also explored other subjects as well.  I work primarily with dry pastels.  Sometimes I incorporate watercolor as an underpainting technique.  I sometimes use other mediums such as acrylics, oil, and oil pastels in conjunction with chalk pastels. Seeing color and shape emerge on a painting surface fascinates and excites me.  It brings me in touch with creative forces within and feeds my soul.  The 'process' of creating art is as meaningful as the end result."
Donna joined the Haverford Guild in the spring of 2021, and has participated in our last 4 juried shows.
In addition to our Guild shows, Donna's exhibitions thus far have included: Wayne Art Center Members Juried Show, Fall 2021, Philadelphia Pastel Society Juried Show 2021, in which she won an award, the National Juried Pastel Exhibit sponsored by the Philadelphia Pastel Society in Fall of 2021, and the Abington Art Center Summer Juried Show 2022.
Donna was featured in FASO's Fine Art Newsletter in January, 2023.
She is proud to say that she has been recently accepted into the Pastel Society of America as an associate member.
Donna will be the featured artist at Sweet Mabel, Fine Art and Crafts Shop in Narberth, PA through March and part of April, 2023.