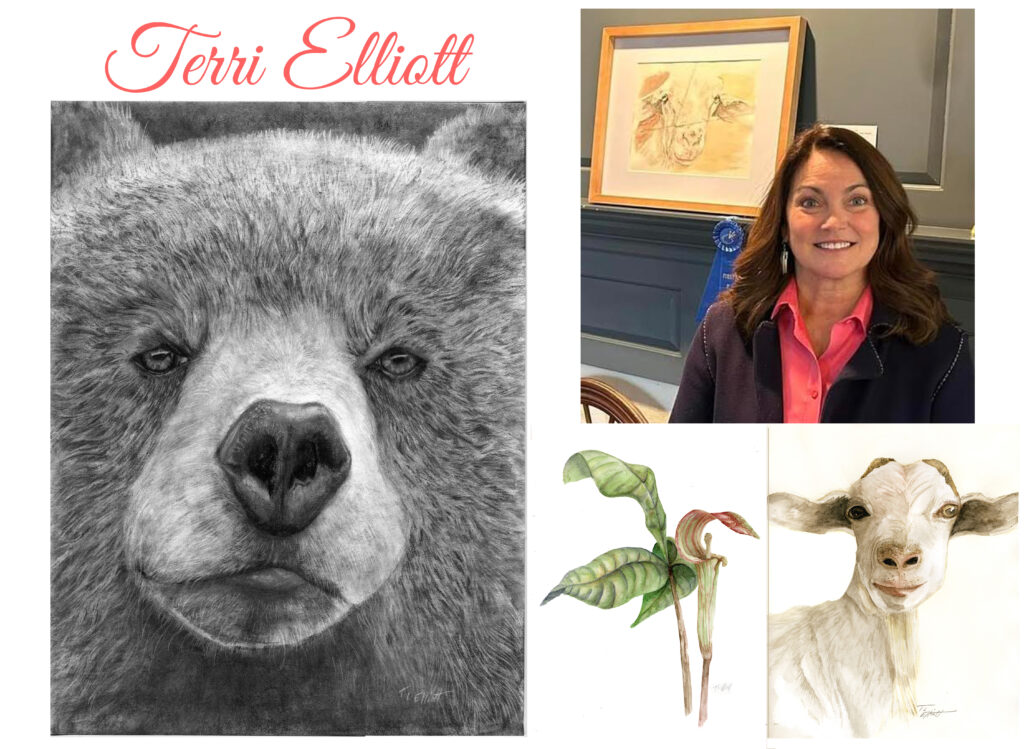 Terri L. Elliott is a watercolor and graphite artist.  Terri was born in central Pennsylvania.  Teaching was her first career.  After starting her family and moving to several states, she decided to begin her study of art.  Throughout those travels she studied in Connecticut, Minnesota, and Pennsylvania.  Terri is now living in West Chester, PA and has been a member of the Haverford Guild and The Delaware Valley Art League for over 5 years.
Growing up Terri would sit and observe her mother painting with oil paints.  She would see the blending and importance of color, as her mother would create a piece of art.  When exploring different mediums, Terri found herself drawn to watercolor.  The handling of watercolor paint and process is much different than that of an oil painter.  However, the process of creating and capturing the likeness of an object or image has been a shared passion between her and her mother.
Terri's art has a very organic feel and the love of nature and animals is apparent in her choice of subject matter.   Her paintings often display much detail.  The ability to capture the soul of a pet through their eyes, has lead her to become a successful pet portrait painter.
Terri also illustrated a children's book, A Peanut's Tale  A Duckling's Journey on Children's Lake .  The book is based on a true event from her childhood in Boiling Springs, PA.
Terri's work is currently on display at Kingsway Galley in Chester Springs and Old Mill Antiques and Interiors in West Chester, PA.  She also participates in many shows throughout the year, and annually in The Studio Tour and Foundry Day.
Art is always evolving and Terri is open to the new ways her art can be used and leads her.  It is a fluid growth, like the fluidity of watercolors.