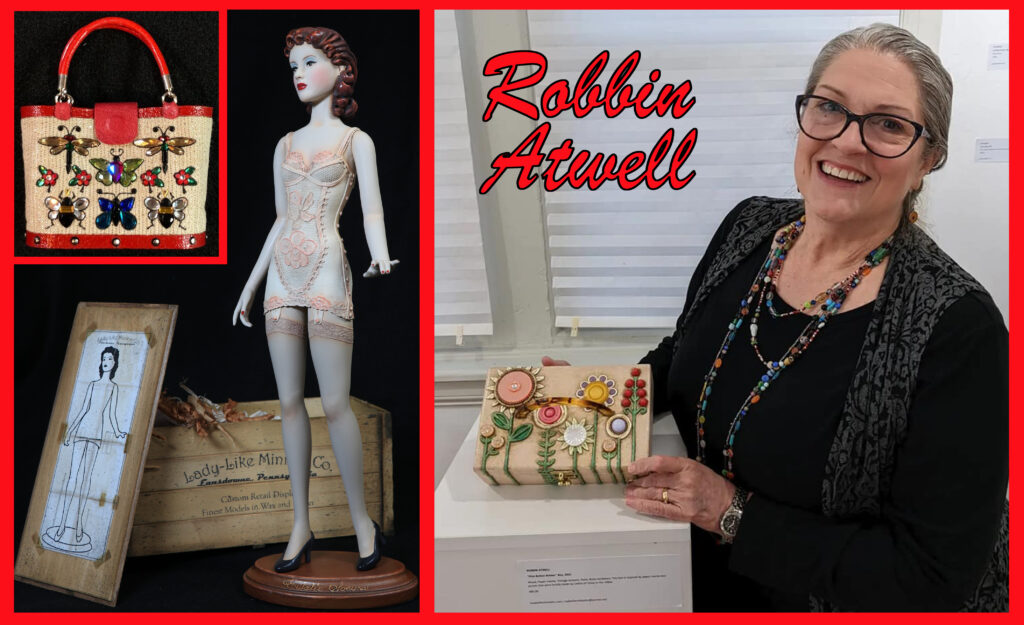 Robbin is a doll maker and customizer. To construct her dolls, she uses various materials including cloth, clay, resin and wood. She makes finely tailored doll clothes and natural fiber wigs. Her business is called "Mad Wife in the Attic".
Robbin was born in Huntington, WV.  Growing up, crafting, sewing and a love of dolls was a family tradition. Though her family moved out of state, she went back to WV to attend Marshall University to study weaving.
After college, she worked in clerical/accounting/insurance jobs and tried to make art on the side.  That never worked well…  Eventually, she decided to take a hiatus from work and focus on her crafts.  And… she never went back.
Robbin hasn't settled into one medium. Her art path has included hand weaving, fashion, drawing and painting, pottery, stained glass, paper mache and doll making. "I learn something that gets me inspired, and I'm off in a different direction. But I never abandon the old loves."  Doll making provides her with the unique opportunity to combine many crafts. "I've found that it is the perfect vehicle to combine almost every medium that I love: fabric, yarn, paint, fashion, clay, photography…  I've often managed to even incorporate metal and glass into my doll fashions.  The most wonderful thing about my dolls is that they don't just languish on a shelf–you must touch! I love being sequestered in my cluttered attic studio–when things are going well, time just stands still.  Thanks to the support of my patient husband, my dream-studio has become a reality, and being the "mad wife in the attic" is now a good thing."
Robbin is very involved in the artist doll collecting community. In addition to making her own original dolls, she is known as a "face-up artist" which means she paints the face on a blank doll that has been sculpted by another artist.  She also makes wigs and clothes for those dolls.
One of her most popular original doll projects was a miniature mannequin in the 1940s style, pictured here.
When asked about her work philosophy, Robbin says, "I grew up among family who brought creativity into their lives in practical ways such as quilting, making clothes, and woodworking. Those handmade items with all their attention to the finest detail are what define my values as a crafter. I love detail and complexity.  My crafts don't fall into a single category, but love of ornament and detail is the unifying characteristic.
I want everything I make to be as perfect as I'm able to make it.  I make what I like, and usually other people like it as well."
Robbin has been a member of the HGC since 2011.
Her current projects include paper mache boxes and miniature purses. She explains," A few years ago, I discovered Enid Collins–a purse designer from the 1960s.  Since then, I've been making miniature purses inspired by her folksy/retro style.  I've also been making paper mache boxes that incorporate some of my vintage buttons I've been collecting for decades."
Robbin works mainly on commissions. She was in an online exhibit during covid and then a recent exhibit  at the 20/20 house in Lansdowne called "Tiny Things" where her miniature purses and a paper mache box were displayed. You can find out more about Robbin and her work at www.madwifeintheattic.com