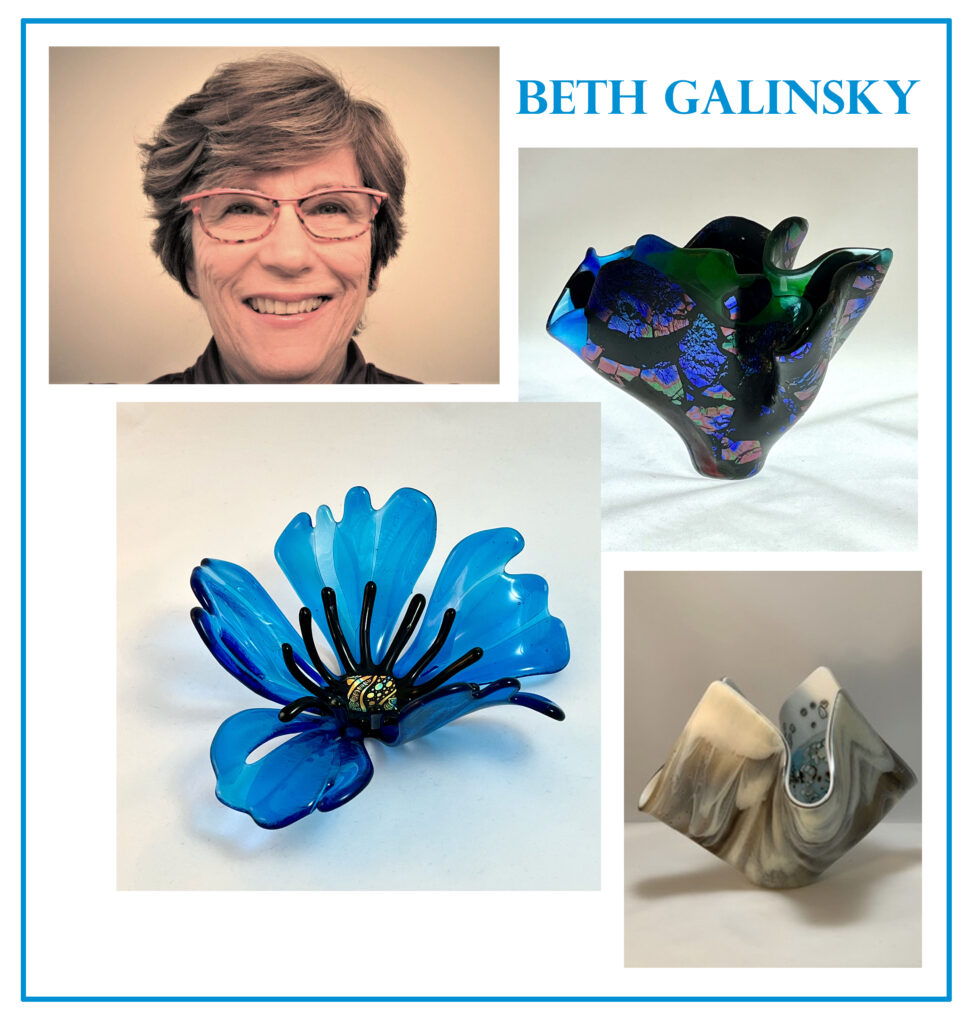 Beth was born in Washington, DC and grew up in the Maryland suburbs.  She has a BA in Political Science from Case Western Reserve University (Cleveland, OH) and a Masters in Social Work Administration and Policy from the University of Michigan.
Before starting a family, Beth worked in nonprofit organizations in Michigan. She moved to Philadelphia when her first child was a month old, had 2 more boys, and went back to work when the youngest was in elementary school. She worked as a grantwriter for nonprofit organizations, including Episcopal Community Services and the International Clinical Epidemiology Network. After 10 years at Temple University School of Medicine, she retired and started a new chapter of her life.
As a fused glass artist.
Since childhood, Beth has been involved with arts and crafts of various sorts and even took studio art in college. During grad school she took a weaving class in Ann Arbor and continued to weave for the next 20 or so years during her spare time. Ultimately she found the repetitive motion of weaving difficult and stopped. Upon retiring from Temple, she looked for a new craft to pursue. Knowing nothing about fused glass, Beth took a workshop at Main Line Art Center (MLAC) and became hooked! She took classes for 3 years at MLAC and then taught Fundamentals of Fused Glass for 2 years until COVID closed the Center. In addition, she studied with artists literally from around the world, in person pre-COVID and online since then.
Says Beth, "My philosophy is pretty simple. I like to see the world through glass eyes – figuratively speaking, that is! I often ponder how to articulate a vision, emotion or concept through the medium of glass. I imagine, explore and attempt to manipulate the multiple variables involved in fusing glass – heat, timing, chemical interactions, density, surface treatments, and such. I like to "play," trying new things to see what I can craft. I am a relative neophyte in the field but am grateful for the abundance of glass artists from all over the globe who are generous with their time and knowledge. I aim to continue on my path of discovery and creative expression."
Beth has been an HGC member for the past 5 years.
Beth's exhibitions have been through Main Line Art Center. In 2018, she received Honorable Mention for her piece in the Members Exhibition. In the summers of 2021 and 2022 she participated in the MLAC outdoor sculpture exhibits. In 2022 she was awarded Best in Show in Jewelry and Glass in the MLAC Members and Teaching Artists Exhibition.