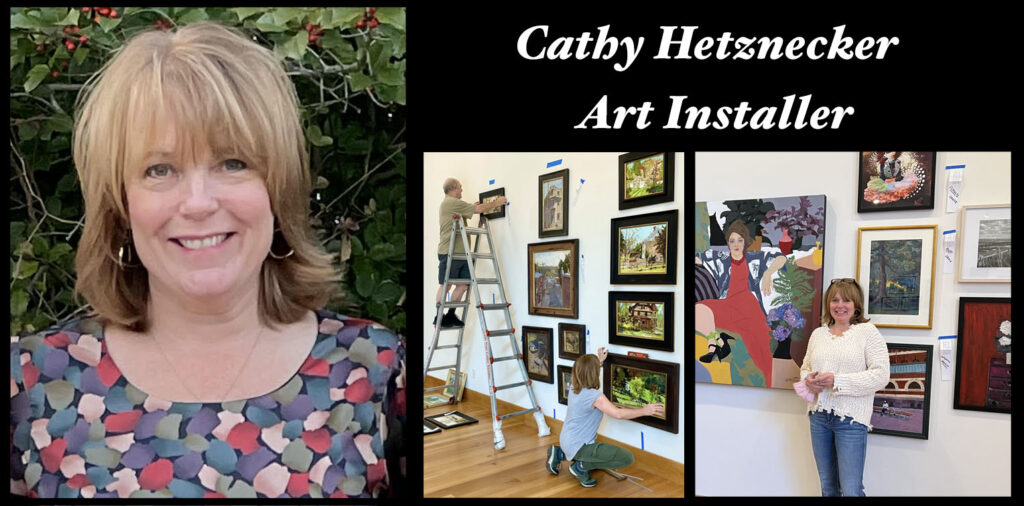 Cathy Hetznecker is one of the founders of The Haverford Guild of Craftsmen. In 2009, she partnered with Rudy Miller to create the Haverford Chapter of the PA Guild of Craftsmen. And for 6 years, she was the president and show coordinator of the HGC.
Cathy was born in Philadelphia and grew up in Bala Cynwyd.  She spent her foundation year of college at Tyler School of Art and then went on to the University of New Hampshire where she was a studio art major with a psych minor. She got her BA with a focus on ceramics.
After graduating, she came back to the Philly area and became the head floral designer at "Best Friends," a floral decorator in Manayunk. "Best Friends" specialized in doing floral decor for events which included providing specialty linens, lighting, trees, and all sorts of props for weddings and other occasions. Her work was featured in local wedding publications and magazines. During the 12 years she spent working there, Cathy continued her ceramics education studying at Beaver College with Paula Winokur.
By 1999 she had 2 young girls and working in ceramics became completely impractical. She began looking for something else to do with her hands. She discovered rag rug making through a class she took on vacation. This was an art form she could pick up and put down while being an at-home Mom. The immediacy of it was appealing as opposed to ceramics which had many steps.
Pretty soon, Cathy started doing shows and her rug making became a business. It was through doing an annual studio tour at Ilene Pearlman's studio that she was inspired to create an organization to gather and support other local artists and… voila! The Haverford Guild was born. It started as a grass roots group with monthly meetings and putting on annual studio tours. It grew from there. Cathy continued for the next several years to run the Guild, crochet her rugs and participate in HGC shows. She also taught workshops out of her home, at Haverford Township Adult School, Cloth and Bobbin, Main Line School Night, the Mennonite Heritage Center, and Summer Studio in Avalon.
In 2015 it was necessary for Cathy to go back to work full time. She got a job at Framer's Market Gallery as a Framing Consultant. Her experiences in the Framing business over the next 5 years, along with her keen sense of design, lead her to her present occupation. Today, Cathy is an Art Installer specializing in helping clients curate their collections, frame their pieces, design a layout, and install their artwork. Cathy says," It's a true privilege to go into someone's home and learn how they have acquired their artwork and to see the emotional attachment they have to their pieces. It tells the story of people's lives. It's so satisfying for me to make pleasing compositions out of my clients' artwork on the walls of their homes."
Additionally, there's a huge technical aspect to the work involving mathematical calculations, engineering, carpentry, and not to mention, getting up a ladder frequently. She does not use wire but hangs everything from d-rings. She learned these techniques from her collaborator and work partner, Glyn Daughn-Wood.
Cathy and Glyn are responsible for installing all the art shows at the Wayne Art Center, in private homes and businesses along the Main Line, Chestnut Hill, Chester County, Center City, and the Jersey shore. For Cathy, the work is creative, challenging and very satisfying.
As we approach the 13th birthday of the Guild, Cathy comments, "It is so great that the legacy we created has grown from our initial group of 12 artists to a membership of over 100, and to see how The Guild has evolved. It's heartwarming to see that we were able to create this thriving venue for local artists. "