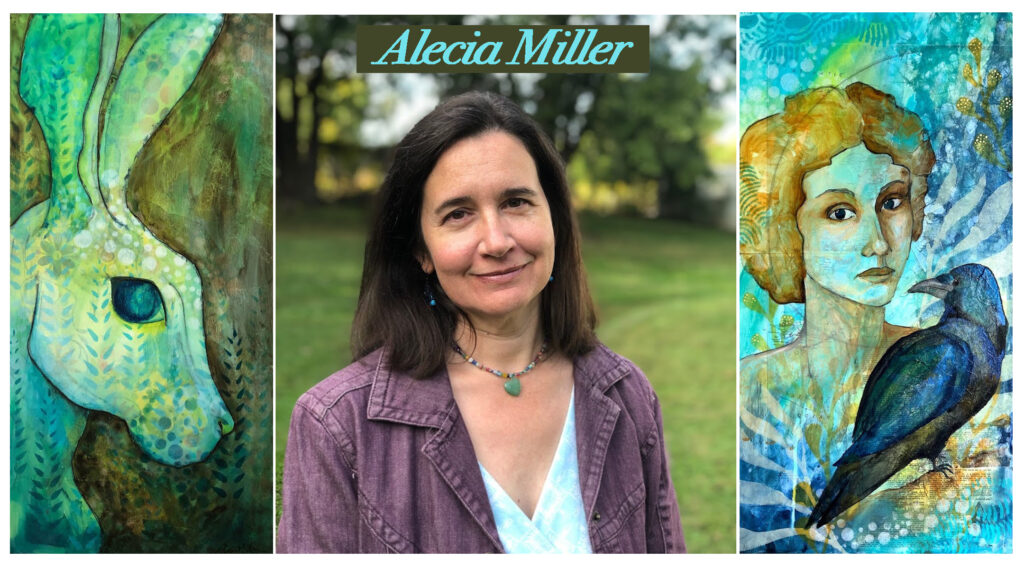 Born in Columbus, OH, Alecia moved around quite a bit as a kid, spending time in Georgia, Illinois, Ohio, and Florida before settling in PA. She went to Drexel University in Philadelphia and got her degree in Fashion Design. She has continued to take classes at art centers and study with various instructors, including a brief stint at Kutztown studying ceramics.
After college Alecia knew the Fashion Industry was not the right fit for her and ended up going the corporate route, spending many years as a Project Manager, while working on art on the side. For a few years she ran her own ceramics studio where she started really getting into texture and pattern. Upon moving back to Phoenixville in 2005, Alecia did not have the space for a ceramics studio so she started working in 2D and mixed media which allowed her to continue to pursue the work with texture and pattern that she had been doing in her ceramics work.
Around 2011 Alecia really started developing the style and process that she has now.
Alecia describes her work as  Ethereal Mixed Media. " My pieces tend to have  a light, airy feel to them due to my color palettes and working with fluid acrylic paints that allow background layers to show through as I add the details of my subject matter."
"When I am working, I tend to view my pieces as one would another individual. I have an idea of what it will be, build collage layers based on that, and slowly start building up layers of paint, shifting where I may have thought the painting was going. Sometimes things I thought were really important in the base layer get completely covered, hidden from view, but still important to the process and the piece. Just as with people, there are many things hidden underneath that you only get glimpses of, but you can find the more you get to know them, or the closer you look."
Alecia has been a member of our Guild for 2 years. She currently has pieces in the Flora and Fauna show at Steel CIty in Phoenixville and at the Faces Exhibition at Studio B in Boyertown. Coming up, she will be at  the Glenside Art Festival on April 22nd, 2023, the Chester County Studio Tour, and of course the Haverford Spring Show at the CREC in May.