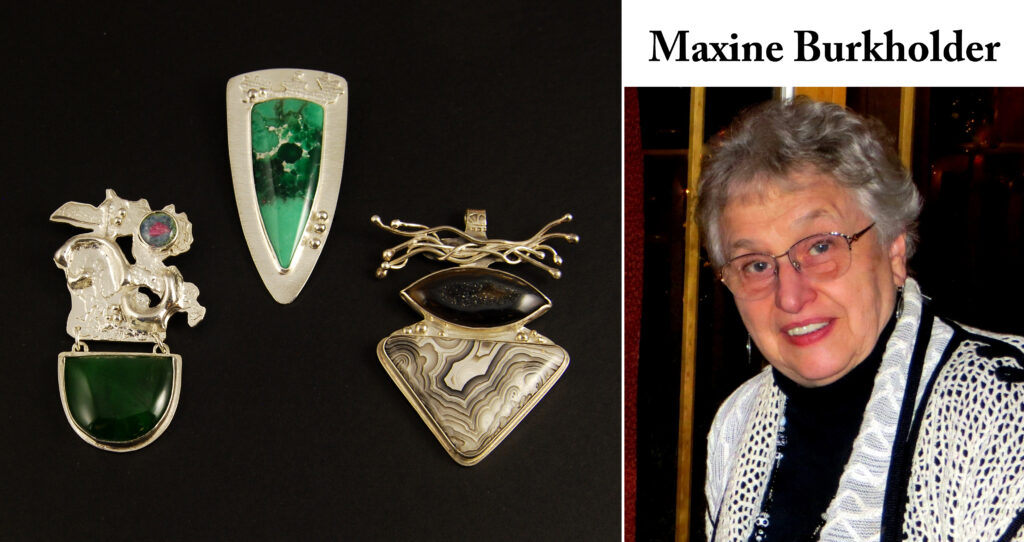 Jeweler Maxine Burkholder was born in Harrisburg but lived all over the US as her Dad was in the Navy, and the family moved where his jobs took them.  She graduated from Penn State with a BS in Chemistry. But she took every art course she could squeeze into her schedule.
Maxine was a chemist for McNeil Pharmaceuticals until her son was born, continuing to take art classes whenever she could get them. After the kids were in school, she went back to school and worked in accounting (after all, she had so many math courses). She is now retired, having been Controller for Upper Providence Township in Delaware County.
In her art life, she started as a painter doing watercolor. When she went back to work full-time, a friend introduced her to metals, saying, "You don't have to worry about them drying out on you if you don't finish the project."  Since she always liked rocks, this was a welcome new challenge.
Maxine approaches her jewelry the same way she approaches a painting.  She says, "I try for good design, color balance, uniqueness, and also– wearability.  I am now cutting most of my own stones.  Nature produces the most amazing things—I just present them the best way I can. I work mostly with silver and sometimes with gold. I prefer modern designs—asymmetric.  I no longer make bracelets or rings unless someone in my family wants them. Pendants and earrings are much more fun for me."
Having sewn most of her life, she is also an art quilter.  Maxine quips, "According to my husband, the weight of my stone collection balances the weight of my fabric stash so the house doesn't tilt!"
As a painter and a quilter, she has had her work accepted, and has won awards, in national and international juried shows.  As for her jewelry, she has only entered it in shows for sale and not competition. Maxine has been an HGC member for 5 years.
In summary, Maxine says, "Having to stay home during Covid meant I could work on a lot of projects without interruptions– although I really missed seeing our kids, grandkids, and friends."