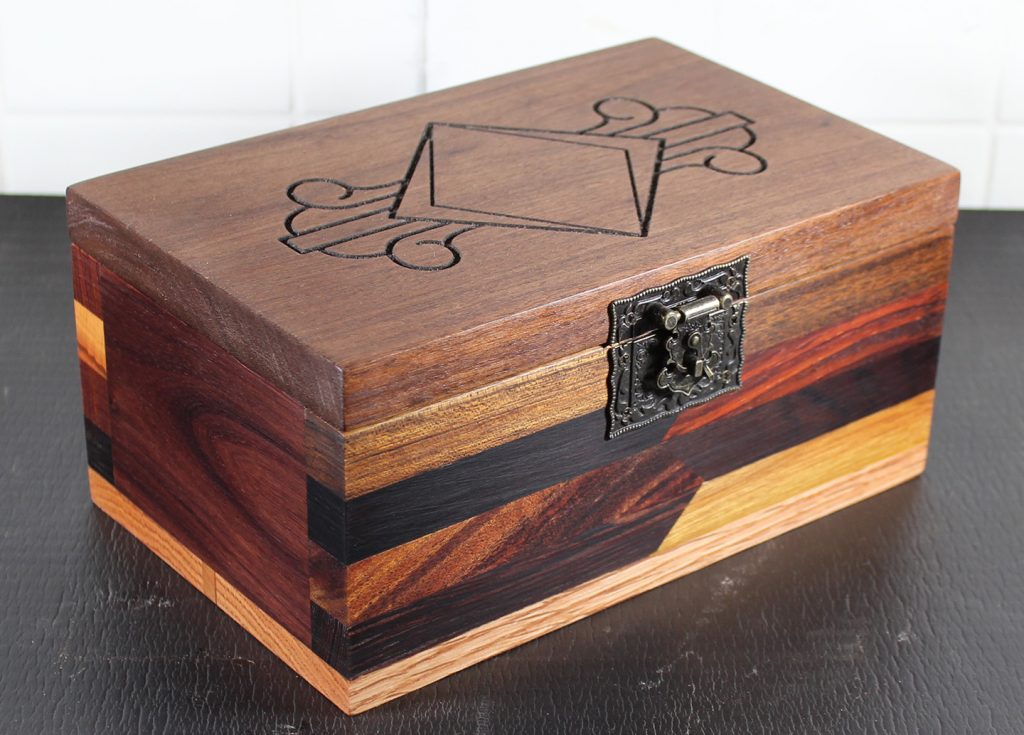 Sent in to the HGC by Leonard Bell
On Sunday, September 13, 2020, I attended my first Peer Review with the Haverford Guild of Craftsmen. Before I describe the session, I would like to provide some background to put this experience in the proper perspective and help those reading this to understand why I asked for a Peer Review and what my expectations were going in.
I am a self-taught woodworker. I design, build, and sell keepsake and memorial boxes. I strive to create something that is structurally sound and visually appealing. I have no formal training as a woodworker (if that is even a thing), or as an artist. My work to date is based on what I think looks good and customer demand. One in three boxes I build is customized based on specific customer requirements.
In 2016 I took what was a long-time hobby into an online business using Etsy. I have been moderately successful. In 2017 I tried my hand at local craft fairs. I discovered two things right away. First is that I totally enjoy meeting with customers face to face allowing them to touch and handle my creations. It is a completely different and rewarding way of doing business. The second thing I found is that not all craft fairs are alike. In many cases I found myself alone as the only seller present who designed and built what I was selling. Most of the other sellers were vendors who purchased at one price and sold at a profit. As much as I enjoyed the customer interaction, I clearly did not belong at these shows.
In 2019 I attended the Hagley Museum craft fair. I immediately recognized this was different, and better than the other shows I had experienced before. There were no vendors, only artists who designed and created what they sold. I could sense their pride, talent, and professionalism. I was captivated. As I wondered around the show, I came upon a table with a banner reading, "First State Craft Guild". I spoke at length with the people at the table and they told me about the Pennsylvania Guild of Craftsmen. To make this long story short(er), I joined the PGC and listed HGC as my local chapter. I attended the HGC 2019 holiday show which was impressive, and sadly the last show. (Editor's note – we will be back!!)
Since that time, I have been attending meetings and getting to know some of the other HGC members. I have been welcomed with open arms. I have learned a lot about the jury process and the photographic requirements, however there was still a question in my mind about whether my craft truly belonged in this environment. After much discussion with various members and reading about Peer Review on the website I decided this was the perfect way for me to have my work analyzed by a group of respected artists. I wanted professional feedback and validation that I was in the right place.
There was a group of jurors (five or six). I do not know if any of them were woodworkers. However, I already know other woodworkers and I have over the years benefited from their expertise and advise. I wanted my work reviewed by artists who saw my work through a different lens. Their feedback to me was about my use of color and composition. They also shared ideas with me about how I could improve the inside spaces of some boxes with cubby holes and shelves. We discussed how the latches and hinges I used could be better matched to the style of individual boxes.
All the feedback I received was well intentioned and extremely valuable. It is important to approach a Peer Review in the right frame of mind. If you ask a jury of artists for feedback, you need to leave your ego at home and go into the session like a sponge wanting to absorb as much as possible. In hindsight I recognize that some of what I heard was based on opinion which has significant value, but most important was the feedback based on artistic expertise, formal education, and experience. There are people who spend a lot of money on formal education. Here is an opportunity to get one for free. I highly recommend the Peer Review.