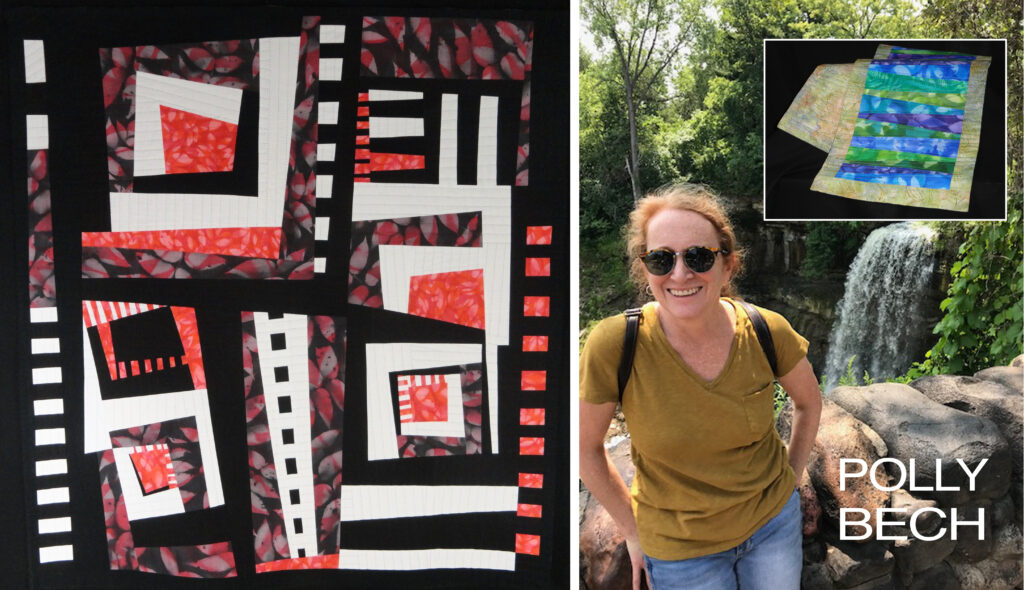 Art Quilter, Polly Bech was born in Philadelphia and grew up in Eastern PA. She graduated from Franklin & Marshall College, worked in a job printing silk-screened t-shirts in Saratoga Springs, NY, and then decided to go back to school. She was accepted into the Master's program in Art Education at Philadelphia College of Art, with a studio concentration in illustration. When she was offered a job in NYC, she left the program. In New York, she started out doing traditional graphic design, such as storyboards for videos. She learned how to do computer graphics on the job, and soon she was doing just that.
She continued doing computer graphics for about 8 years, beginning in 1984, moving from NYC to Philly, then to Pittsburgh, where her husband went to law school. It was in Pittsburgh, where Polly took a basic quilting class in 1988. At the time she was working at Carnegie Mellon University, creating computer graphics for their educational programs at the Software Engineering Institute. Outside of work, she did some oil painting and collage, but after she learned how to make a quilt, the quilting bug took over.
After her husband graduated from law school they moved back to the Philly area with their young son. A daughter followed a few years later, and now as a stay-at-home mom, she could quilt in her spare time, starting with traditional designs, then moving into making her own designs, and eventually printing her own fabric. Most of her current work is based on fabric, which she solar prints using leaves collected from her yard and during her walks.
She has exhibited her work with various art groups, including the Studio Art Quilt Associates, which she joined in the 1990's. SAQA is an international organization, so the exhibits are all over the world – in fact, Polly has a quilt in a show coming up in September in Strasbourg, France.
Polly has also participated in shows at the Wallingford Art Center, InLiquid in Philadelphia, the Gallery on Park in Swarthmore, and with the AIDS Care Group.
She was asked to be a part of the Hometown Collective about 10 years ago. For those shows she needed to make smaller items for a holiday sale crowd, so she started making table runners, solar-printed pillows, and various other small things.
She joined the HGC in 2016, and has been in several Guild shows.
Additionally, Polly, with her friend, the painter Melissa Husted-Sherman, have had several exhibits at the borough hall in Swarthmore.
Polly's philosophy is "Keep it simple. Trust my gut. Try not to over think it, and get out of my own way. (I am not always successful.)"
Says Polly, "While I relished the pioneering aspect of working in the computer graphics field in the 1980's, I also love the connection to the past that I feel when working with my hands, creating with cloth, needle and thread."
She continues," I quilt because it ties things together. I quilt because it involves many processes: it is a form of collage and design and construction, it can incorporate painting and printmaking, it pulls together ideas, lays them out and stitches them together. I can capture nature in the photosensitive process of solar printing on fabric, incorporating a time and place in the natural world into my art. A quilt does not just have surface design, the quilting stitches add depth, design on design. I quilt because it took the place of oil painting for me when I became pregnant and did not wish to breathe toxic fumes, and because when I stopped working as a professional computer graphics designer, quilting became an outlet for ideas. Making quilts ties me to a tradition, a tradition mostly female, of creating order out of scraps, out of necessity.
I quilt because it brings a tiny bit of order to my tiny bit of the world."