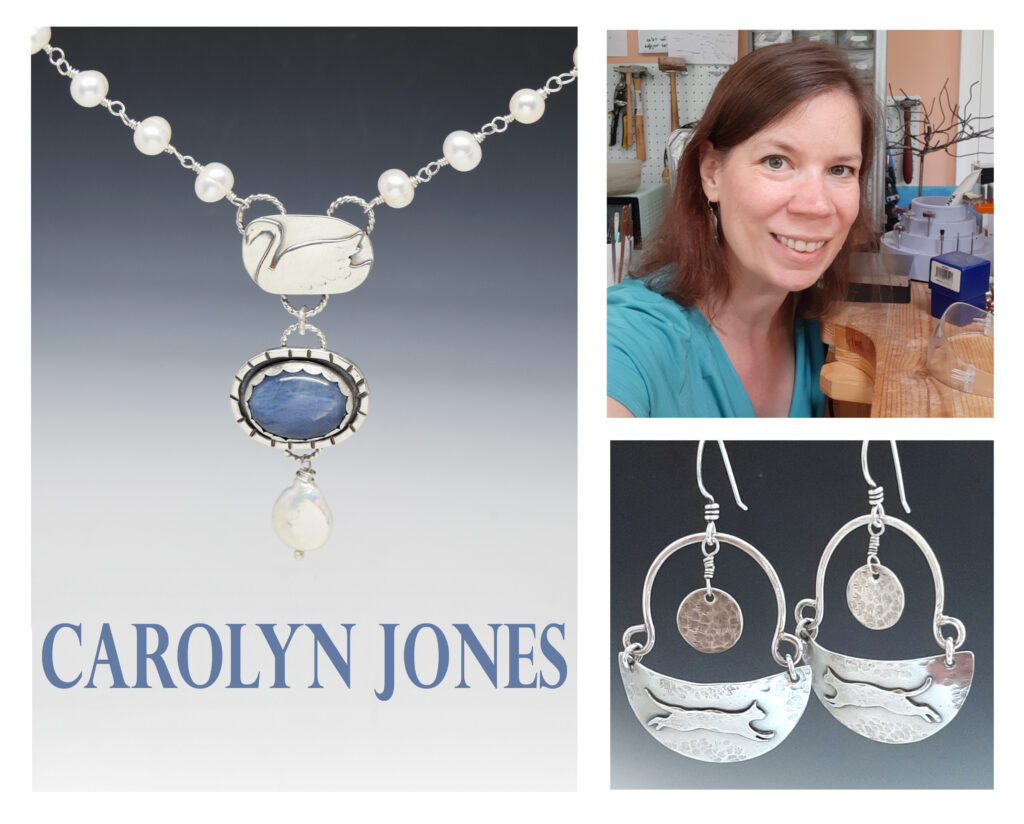 Born in Rochester, NY and educated with a Bachelors Degree in Political Science from SUNY College at Fredonia, Carolyn started her work as a jewelry artist in 2011. In her own words, here is her story:
"Life certainly has taken me down some unexpected paths. I've always considered myself a creative person. When I was in high school, I especially loved art class, spending as much time as possible, sketching and painting.
However, I drifted away from this in college and, after graduating from college, I found myself in the corporate world, working jobs that ranged from telemarketing, corporate newsletter writing and technical writing for accounting software.
I also started working on a graduate degree in international politics at the CUNY Graduate Center in NYC. During this time I became very ill and my Doctors told me I had to take a break from working, going to school and to just rest.
I had developed a chronic health condition that required me to pace my energy very carefully and to rest when I needed to, meaning my life in the 9-5 world was over.
Despite these challenges I got married, moved to South Jersey and became a stay at home mom. Life was pretty good but I still had limitations and it felt like something was missing. That thing was a creative outlet.
I found myself drawn to visiting the local art gallery and gift center in town, run by a wonderful woman. She urged me to take a 2 hour class on wire wrapping. I was skeptical but decided to give it a try.
Those two hours were all it took. I literally drove to Michael's the next day and bought cheap wire, basic wirewrapping tools and beads. My friends and family were gifted with some "interesting" pieces. Eventually, I got good enough that the
owner of the art gallery offered to have my work on consignment in her shop. Imagine my thrill when one of my designs sold! She also encouraged me to start doing small art shows and to sell online. She was a great motivator.
I kept pushing myself to learn more though and when the wire wrapping instructor offered a 6 week course on metalsmithing I signed up. Here was where I really found my love of jewelry making.
I learned how to saw, solder and clean up metal designs and I loved handling saws, hammers and the torch.
Since then, I've mostly learned things at home, at a slower pace, figuring things out on my own at the bench, reading books, watching YouTube videos or taking short classes at jewelry conventions.
My work is inspired by nature and animals. These are the things that have always brought me joy and a sense of peace, and I love using them in my designs. Yes, I am a crazy cat lady, so a lot of my designs feature cats.
But I also have designs with dogs, birds, horses, rabbits and other animals.
Most of my designs are one of a kind and I very much like using a very hands-on approach to creating. I saw designs out by hand from sheet metal, shape wire and give texture and details with hammers. My work has been described as eclectic, earthy, organic and original.
My philosophy is to make jewelry that I would love to wear. That way if it doesn't sell I'm still happy that I made it!"
Carolyn sells her work online and at many juried shows during the year, mostly in New Jersey and Pennsylvania. She loves the interaction with customers at shows.  A few of the shows she participates in include Rose Squared Shows in Montclair, NJ, PA Guild Shows in Ludwigs Corner and Wilmington, DE, as well as the Haverford Chapters shows, Wheaton in Milleville, NJ and Clover Market in PA and NJ. She also has her work in retail stores and galleries including the PA Guild Store in Lancaster and the Medford Arts Center in Medford, NJ where she won an honorable mention for her running horse bracelet in their equestrian exhibit in 2021.
Carolyn joined the Haverford Chapter in 2017 after she did her first show with the guild.  She says, "I really appreciated how helpful other guild members were to me. What a great group of people!"