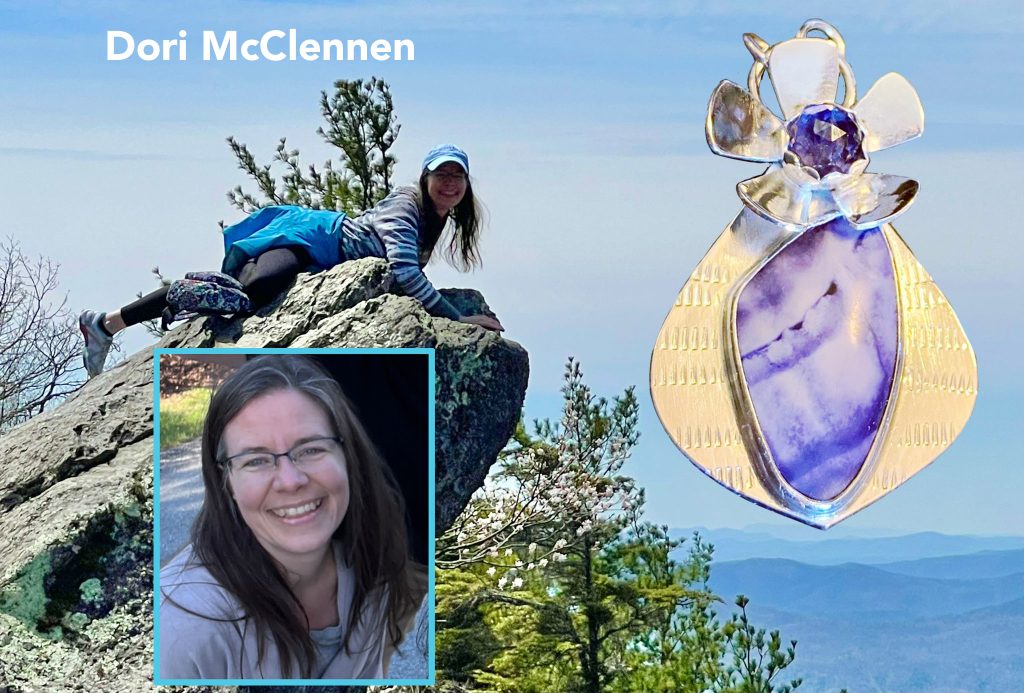 Jeweler Dori McClennen was born and grew up in Lycoming County, PA. She attended the University of Pennsylvania majoring in Education.
She taught middle school in Philadelphia…reading, writing and arithmetic and then became a stay at home mother before discovering jewelry metals.
17 years ago, she began her study of jewelry metals under Kim Boyle. Remembering her childhood love of collecting stones, it was a natural progression for her to love using semi-precious gems in her designs. Says Dori, "I'm not sure that I've met a gem that I don't like, and the ones I collect are a bit pricier than in childhood!"
Dori's work is hand fabricated sterling silver with semi-precious gemstones. She starts each piece with sheet, wire, and a rock for her inspiration. She tends toward flowers, curvy shapes, and sinuous lines. First, she sketches on paper around the chosen gemstones, then she builds the pieces from flat sheets of silver and silver wire. Dori makes her own embellishments using precious metal clay fired in a kiln, and/or by saw piercing them. The stones dictate the character of the piece and each piece is individual.
Dori is a teaching artist who loves to share her knowledge. She currently teaches for the Community Arts Center in Wallingford, PA, and Main Line School Nights at Lower Merion High School. She says, "I teach because I enjoy the interactions with other artists, and feel personally rewarded when witnessing excitement that comes with those fabulous ah-hah moments! I love it when my students finish a piece and have a sense of accomplishment and wear their work home."
A Haverford Guild member since 2017, Dori participates in HGC Guild Shows, The Wallingford Community Arts Festival, The Daylesford Abbey Show, and the Swarthmore Farmer's Market.