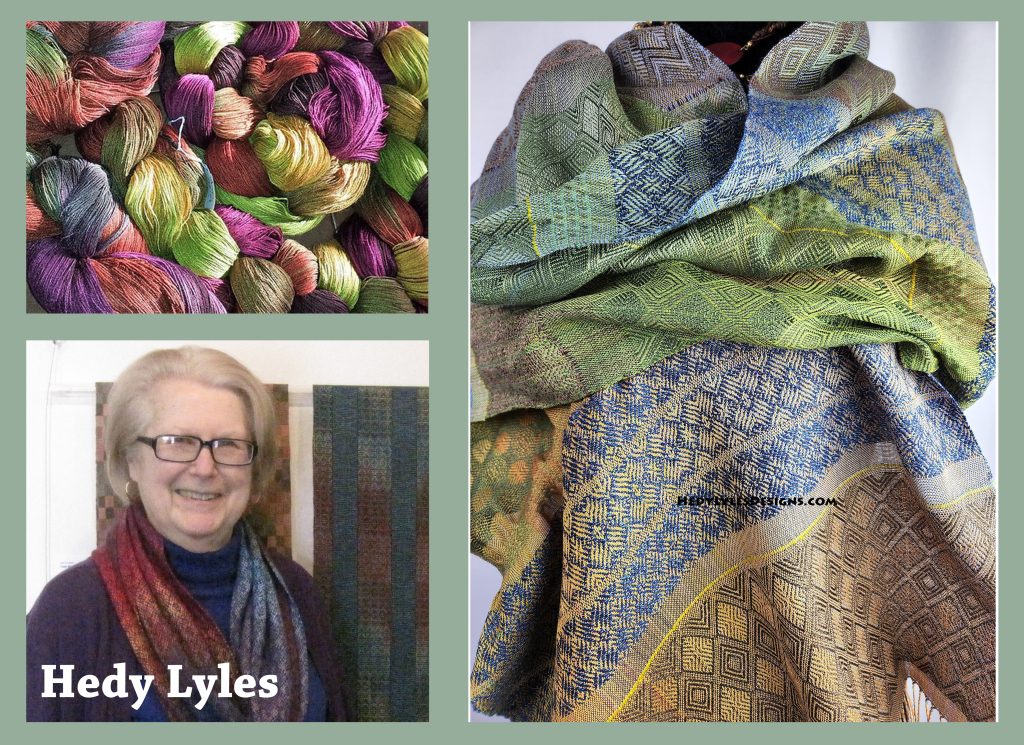 Award winning Fiber artist and weaver, Hedy Lyles, has worked with fiber and fabric in many forms throughout her entire life but found her niche when she started weaving in 2000.  The story of how she started weaving is an interesting one.  Hedy used to show dogs — Samoyeds to be specific.  This breed comes with lots of 'fiber'.  She started spinning it into yarn and knitting.  She then started spinning lots of other fibers, ending up with large quantities of handspun yarn.  One day, someone mentioned she would use up a lot more yarn if she learned to weave.  It was much faster than knitting.  So about 20 years ago, she started weaving. It all started with dog hair, but eventually her 'fiber of choice' became finer and finer until now she mainly uses very fine cottons and silks.
Hedy was born and raised in Philadelphia. She circled back here in 2007. But first, she went to college in Boston, then moved to Denver to go skiing (for 3 years). She met her husband there, and they moved to Montana. She studied with, and has been influenced by, many artists in the fiber community across the country and southwest Canada.
Says Hedy, "There was a very vibrant community of spinners and weavers in much of the northwestern US. This also included SW Canada, including BC and Alberta.  We were able to hold conferences and bring in teachers/artists from all over the country.  I traveled each year to as many conferences as I could.  I still did up until Covid.  An amazing amount of instructors have now moved to online workshops/programs."
Hedy describes her craft: "My primary areas of interest are weaving complex original designs with vibrant colors. I express myself creating complex designs and I am inspired by colors that are vibrant and alive. My original designs are constantly changing. Each piece is One Of A Kind."
Among Hedy's many accomplishments and awards; she is a 6 time recipient of the Complex Weavers Award at the Philadelphia Guild of Handweavers' Celebration of Fibers, most recently in 2022!  She won this year for the shawl pictured here.
She is also a 2-time winner of the Handweavers Guild of America Award and has had her work featured in Complex Weavers Journal, and Shuttle, Spindle and Dyepot 8 times between 2012 and 2022.  Hedy has been a member of the HGC since 2017 and became a PA Guild Master Artisan in 2019.