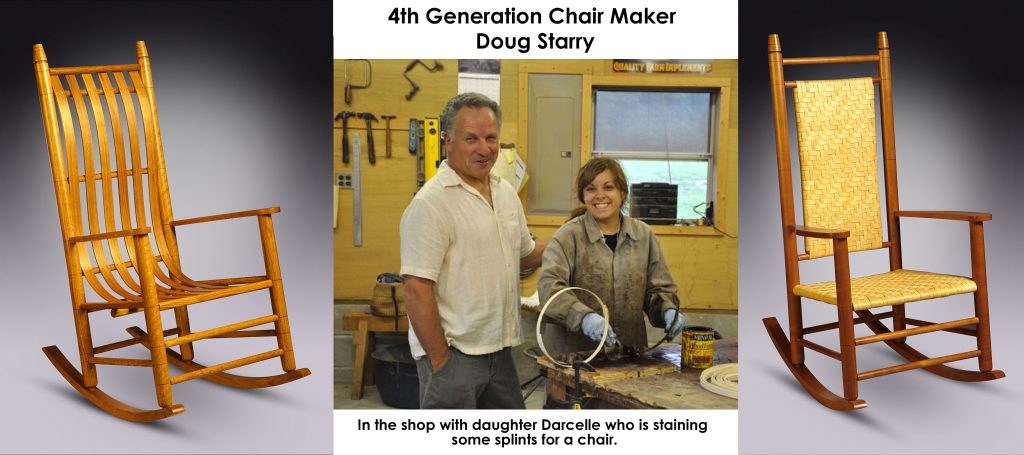 Chair Maker Doug Starry has been an HGC member for 5 years and is a Master Artisan. His chairs are in the flavor of the Arts & Crafts movement and are influenced by Shaker designs.
Doug was born in 1954 in Gettysburg, Pa where he lives and works today. He started apprenticing with his father at the age of 12. Here is his story.
"I didn't know that I wanted to be a chair maker.  Certainly, as a twelve year old, I was more interested in playing than working in the woodshop with my father.  However I found myself as an apprentice working with my Dad, a master craftsman, starting with the simple tasks in chair making.  I took over the business of chair making from my Father in 1985 and although I stayed with the original design I have done some tweaking throughout the years both in the design as well as the woods that I use.  Chair making has been in the Starry family for four generations beginning with Amos Starry in the late 1800's.  Many of the machines that I use to produce the chairs were those used by my father.
I have striven to stay true to the original design of the Starry rocker, using no glue in constructing the chairs but instead pressure fitting the chairs together and using only four nails.  This is accomplished by over-sizing the tenon to the hole and driving it together.  This is an old technique used by the Shakers.
I always hand rub the finish into the chair to protect it and to bring out the natural grain of the wood.  My chairs have come a long way from the original porch rocker to one that enhances the beauty of the woods that I use.  With forty acres, much of it wooded, I am able to use many of the trees from my own property.  I have found myself drawn to the beauty of walnut, cherry and ash woods in particular.  I am always amazed to watch the individual grain of a tree appear as I hand rub the finish into the wood.
The early Starry rockers were built as porch rockers.  Although I have stayed with the original design, I have done some tweaking and now produce a chair that is more suitable as an indoor chair. All the components of the rockers are hand-made and much of the wood is cut by me and air-dried.  I employ a four step finishing process with the final two being hand rubbed.  The rattan seats are stuffed with bailer twine for comfort, shape and durability.  All of my work is produced in a workshop built exclusively for this purpose.
Several families in Adams County were in the chair making business in the 1920's and 1930's, each adopting a specific design on the top of the back post (the top being called the finial).  When I took over the business from my father in 1985, I added a fourth ring to the Starry rocker finial indicating that I am the fourth generation rocking chair maker."