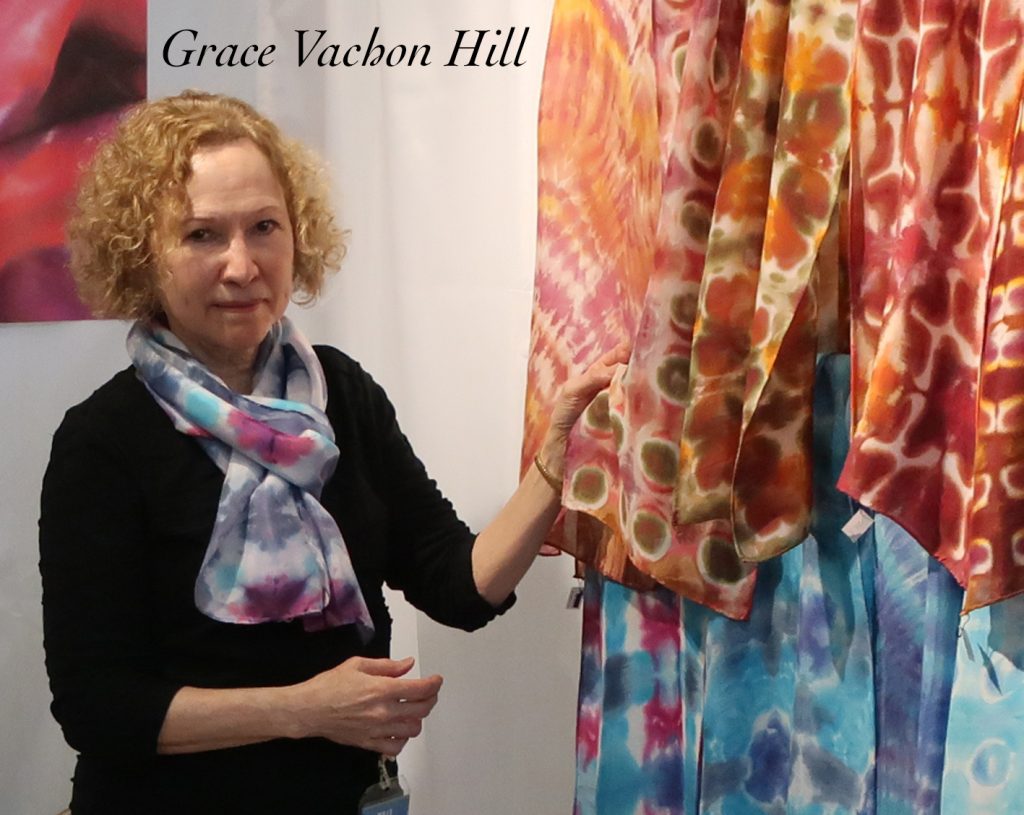 Grace was introduced to garment construction when she was 13 years old, creating a lifelong interest in textiles, making everything from her own outfits and tailored wool coats to dresses for her two girls as children and their beaded prom gowns. After taking a workshop in Shibori dyeing a few years ago, she was captivated by the interesting and unique patterns and designs that different methods afforded, mostly using arashi and itajimi techniques.  Shibori is an ancient Japanese art of constricting fabric in such a way that the dyes cannot penetrate the constricted area, leaving a white mark. Permanent Procion MX dye is chemically bonded to the fabric, in this case, silk and wool blend scarves.  A different method, discharge dyeing, takes color out of the silk, leaving sharp or ghostly images in the fabric.  A recent weeklong workshop with Ana Lisa Hedstrom, a renowned fabric artist, provided a great boost to her skills.  Other classes in indigo dyeing were helpful in developing an understanding of different dye effects on various fibers.
"I find fabric dyeing to be an adventure every time.  I never know the results until I press the wrinkles out of the fabric and see the final pattern. If it doesn't inspire me, I can over-dye it using a different technique and create layers of color.  It reminds me of watercolor painting."
After growing up in Wayne, Grace attended Moore College of Art and Design in Philadelphia.  It was a truly incredible experience which helped her develop her artistic skills in 2D and 3D design, with courses in sculpture, ceramics, photography, watercolor and oil painting, fine jewelry making and drawing.  After graduating, with a BFA in Illustration and graphic design, she enjoyed a full time job at TV Guide in the Promotion Art Department, then later in Philadelphia working for the Mueller and Wister Studio and Ford Byrne and Associates.  Grace was at the Delaware County Intermediate Unit as the graphic designer for 20 years and supervised the Print Shop there, doing work for the IU and the school districts by promoting their programs.
Grace joined the Haverford Guild after retiring from her busy career, which afforded the time and dedication needed to pursue her craft. Her husband, Jeff, built a studio attached to the house, creating a perfect place to work.
"I can set up my stained glass projects, do ceramics, make my quilts and dye my fabrics without ever having to break down my workspace. All I need is a few more lifetimes."