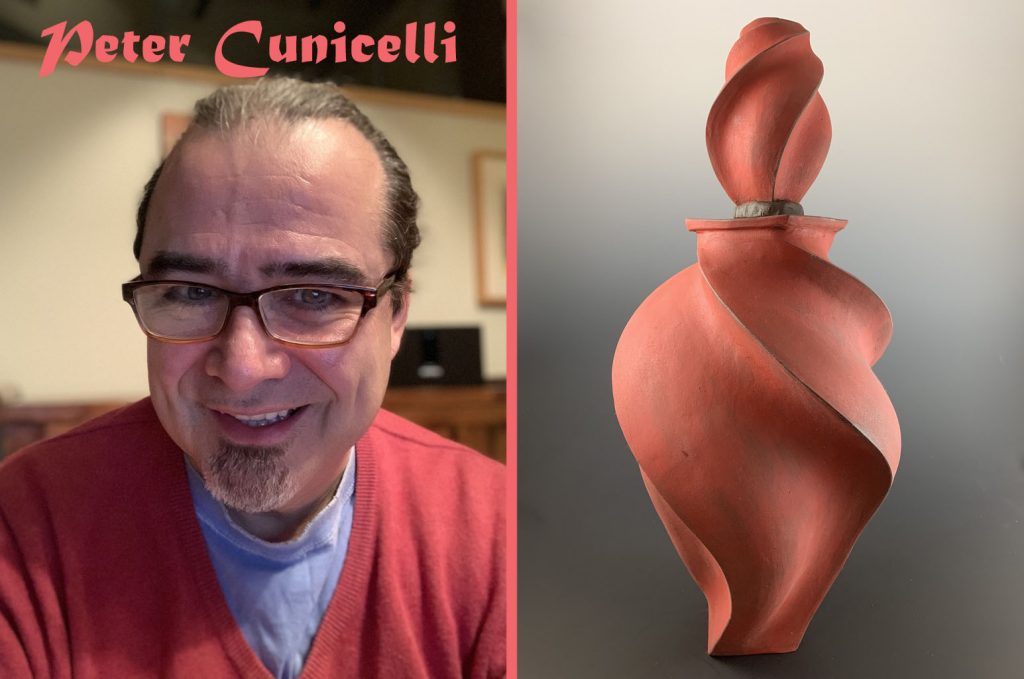 A Delco native, who is about to move into a new home in Philly's Fishtown, Peter started working in ceramics in March, 2000.
Peter does not have a formal education in ceramics, but has learned a lot from talking to other potters, and from his own experience. He's been a member of the HGC for about 5 years and is a Master Artisan with the PA Guild.
He has a full-time job in IT, which allows him the freedom and leisure of making ceramics at his own pace.
Peter makes hand built slab work of unusual forms. His philosophy is: "If it's not challenging, it's not worth it. Part of the challenge is to keep me interested in the form, but also, the difficulty of assembling a piece. I'm not a production potter. I might start 1-2 pieces in a day. More difficult forms may take 3-4 hours just to assemble. This kind of work keeps me coming back."
Thanks to InLiquid, his work has hit a wider audience. They have put his work in a number of local exhibitions, pairing him with other local artists.
He also does 2-3 craft shows a year. They would be the Spring and Fall Rittenhouse Fine Craft Shows and sometimes the Haddonfield Fine Craft Show. Peter says he would like to start showing his work in NYC. He was scheduled to do a show at Lincoln Center in June 2020, but of course, the pandemic put that goal on hold. He is looking forward to doing the Fall 2021 Rittenhouse Fine Craft Fair this year on October 8, 9, & 10.
As an ever-evolving artist, Peter recently decided to switch clay bodies from a brown stoneware to high-fire porcelain. Do to limited storage space, he didn't want to keep producing work that would just sit in the studio. Says Peter, " Porcelain is VERY challenging and has me frustrated to the point of sheer happiness! There's also the challenge of developing new glazes and getting the pieces fired. I'm also in the process of combining my home and studio. I move out of my condo in Center City on September 16 to a home in Fishtown and then move the studio by the end of October. I'm really excited about this. Working in porcelain has changed my process a bit. With the brown stoneware, I could start a piece and push through until it was ready to sit. I could be in the studio for 8-12 hours. With porcelain, I have to be slower. I can work on it where I get the top half formed. Then, have to set it aside to wait for it to set up and be hard enough to flip and work on the bottom. Having my studio in my home is going to let me work whenever I need to. It's going to be a really wonderful change!"