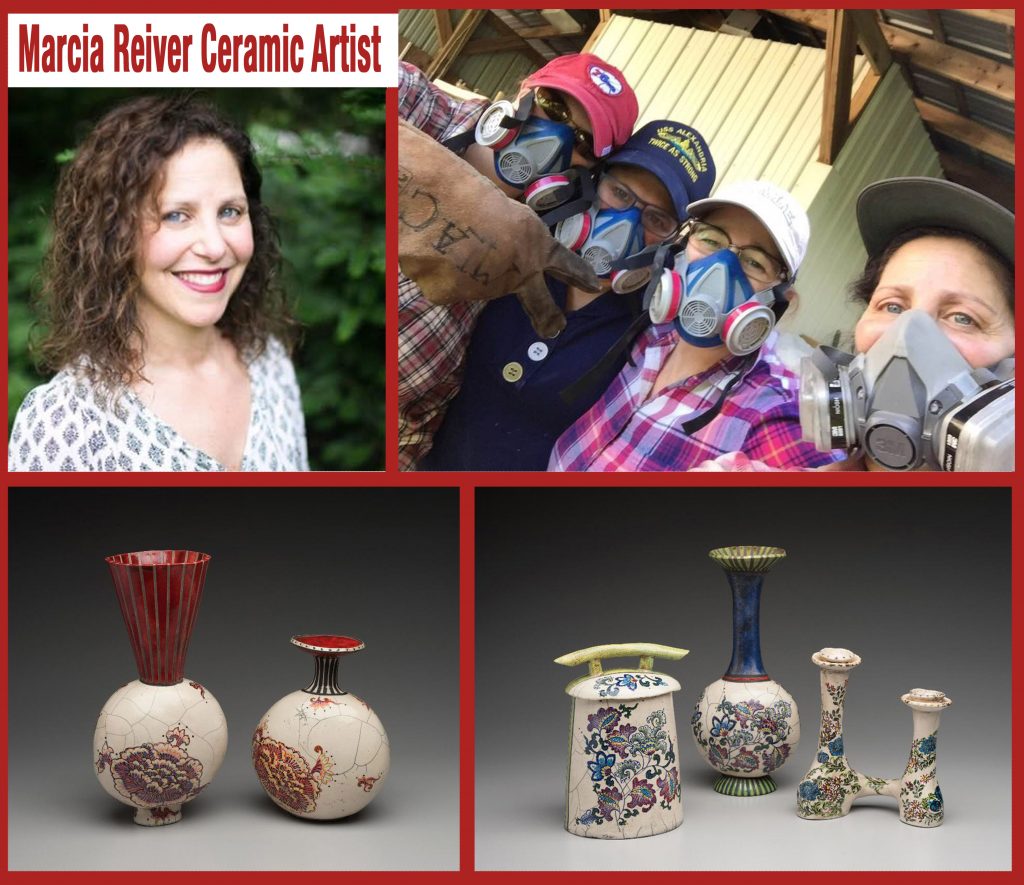 Marcia was born in New Orleans, Louisiana, and moved to the Philadelphia area when she was a baby.
She graduated from American University with a BA in Graphic Design, and went on to get her MS in Fashion Design at Drexel University.  She  worked in both industries and still has her hand in custom sewing when asked.
Marcia started playing in clay in college but stopped to follow her graphic and fashion design careers. Then came Motherhood and once her one and only baby was in preschool, about 2001, she started taking classes in clay at all of the local art centers: Main Line, Wayne and Community Arts.  She started out wheel throwing since that was a bit familiar to her, having done a little in college. Her biggest frustration was the glazing process which she calls the dip dip. You have to double dip your piece into two different glazes to get amazing results. Says Marcia, " Mine were all duds, except a few." Then a teacher told her about Raku and the rest is history. "I had never heard of this kind of firing before but was willing to try it. I tried it and fell in love. It fascinated me so that I became an expert myself. I've gotten so I can envision what my piece will look like before it's fired. Along the way I learned about hand building and found it fit me much better than wheel throwing. I found I could get more of the shapes I wanted just by patterning them. I used my flat pattern skills from making clothing and just switched from fabric to clay. I found I can repeat shapes and just modify their color or texture or details to become a different piece. It all just fell into place." Now she teaches beginning throwing classes, hand building classes for all levels, and runs a raku guild.
Marcia's work is inspired by her love of antiquities, (Art Nouveau, Art Deco, Arts n Crafts), Native American pottery, architecture, and fabrics.  Says Marcia, "I love to play with the viewers' eye. I love to play with foreground and background, similar to fabric patterns, to make the viewer look twice and want to touch a piece to see how it was made. Sometimes my pieces are textured and others are perfectly smooth. I never know how they will be designed. As I work the clay tells me what it wants to be and the designs emerge.
I want my pieces to not only be beautiful to look at but you'll want to pick up and touch them as well, not knowing if its texture or just a flat pattern."
Marcia is a PA Guild Master Artisan and has been with the Haverford Guild almost from its beginning.
Marcia has been published in 500 Tiles, 500 Raku, and Art Tiles.
She has received honors at shows for Best in Category and Unique Voice.
Currently, Marcia's  work can be found in the American Artisan Gallery, Carlisle, Pa., Regina Marie Designs and Gallery in Skippack, PA., and The Princeton University Museum Shop, Princeton, NJ. She exhibits in shows all over the country including RockArts, Rockville, Md., Rose Squared Show in Anderson Park and Brookdale Park, Montclair, NJ, An Occasion for the Arts, Williamsburg, VA, and One of a Kind Chicago, Chicago, Ill.