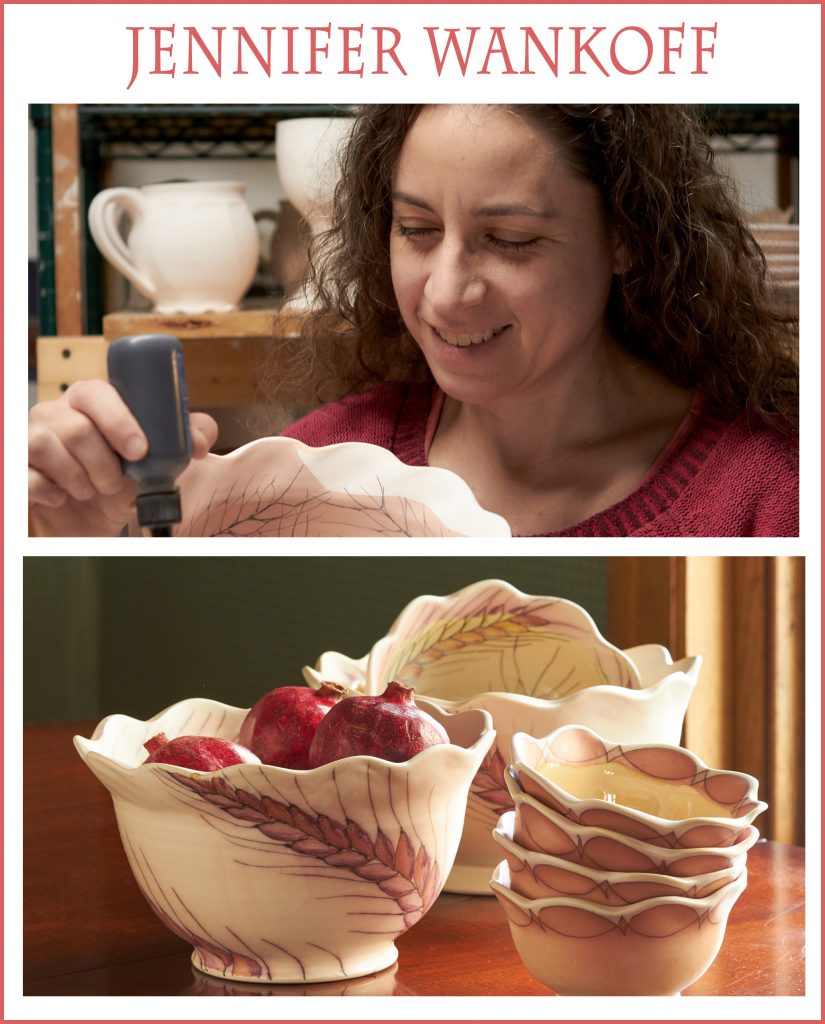 Philadelphia born Jennifer Wankoff has always been interested in making art. As an only child, it was a way to entertain herself. Says Jen," I remember drawing and making little books and I started getting into crafting 3d objects- I can remember making my own cocktail umbrella- we had one that I examined to figure out how to make it work."
Jennifer graduated from Muhlenberg College with a double major in art and psychology and was considering becoming an art therapist. But after an Israel trip which included a Kibbutz program where she began taking pottery classes, she decided to pursue a career in clay. The program at Kibbutz Kfar Hanasi in Israel was taught by one of its founders. Along with pottery techniques, her teacher infused the class with Hebrew and Jewish and Israeli traditions and history. She also assisted a Jerusalem based clay artist and volunteered with new Ethiopian immigrants. The Israelis immersed her in their diverse Jewish world of culture and folk art as well as their deep connection with the land and agriculture.
When Jennifer returned home, she found a job as the gallery assistant at The Clay Studio. She then went on to run the Claymobile Program – a clay residency program in Philly schools. While working, she continued to take classes and workshops taught by many great teachers and artists.
Jennifer describes her work as Handmade Judaica, ceramics for rituals and every day. Inspired by themes of Judaism, Israel, and the flora of Israel, her work is now a melding of Judaica objects and secular work. She throws on the wheel as well as hand builds, often pushing out in sections of six, like the six sided star of David. The resulting sections become a guide for glaze decorating inspired by Persian patterned pottery and Judaic iconography. Using a technique called glaze trailing over an initial coat of glaze, she outlines wheat, fig, or pomegranate, depicting the seven species of fruits and grains of Israel; and fills in her drawings with additional glaze colors.  Here's how she describes the process of making her segmented patterned pots: "I throw a cylindrical piece on the wheel, then push out a corner from the inside in a six section pattern. The piece is then revisited when it has hardened and the ridge that was created on the outside of the piece by pushing out is then sharpened with the edge of a flat metal tool called a rib. A handle may be pulled and attached. The piece is then fired for the first time in the kiln with a batch of work. When I go to glaze the piece that is a multi-step process as well, but to simplify it, the piece is dipped in a base glaze. As soon as it can be handled, a pattern is trailed over the top of the freshly dipped piece with a combination of glazes in a bottle with a hollow needle. The shapes that result are filled in with additional colors of glaze, some of which are left empty to reveal the base background glaze. This results in a multi-colored piece. The chrome and tin combination in the decorating glaze cause chrome to migrate across the piece in the glaze firing which adds an airbrushed blushing to the swatches of color."
A Master Artisan and an HGC member for 6 years, Jennifer says, "Designing both Judaica and secular pottery that people can interact with daily in the home is my passion, but it has been especially rewarding to make ritual pieces to be used weekly for Shabbat and throughout the year for holidays. I enjoy crafting objects that reflect my love of Jewish culture and honor the earth and its beauty. Whether drinking a cup of coffee from my mug or saying prayers over candles with my candlesticks, I hope my pottery brings its owners moments of beauty and appreciation of the ritual."
Jennifer recently had a solo show at In Tandem Gallery in Bakersville NC. She currently has work at The Clay Studio, the NMAJH (Jewish Museum in Philadelphia), and the gift shop at the Jewish Museum in NY.  She wholesales at many galleries and synagogue gift shops, including Cedar Creek Gallery in Creedmore, NC, Dandelion, and Uncommon Goods.
Jennifer was interviewed for a podcast with the American Handcrafted and it is on her website! http://www.jenniferwankoff.com/links
www.jenniferwankoff.com
https://www.instagram.com/jenniferwankoffceramics/