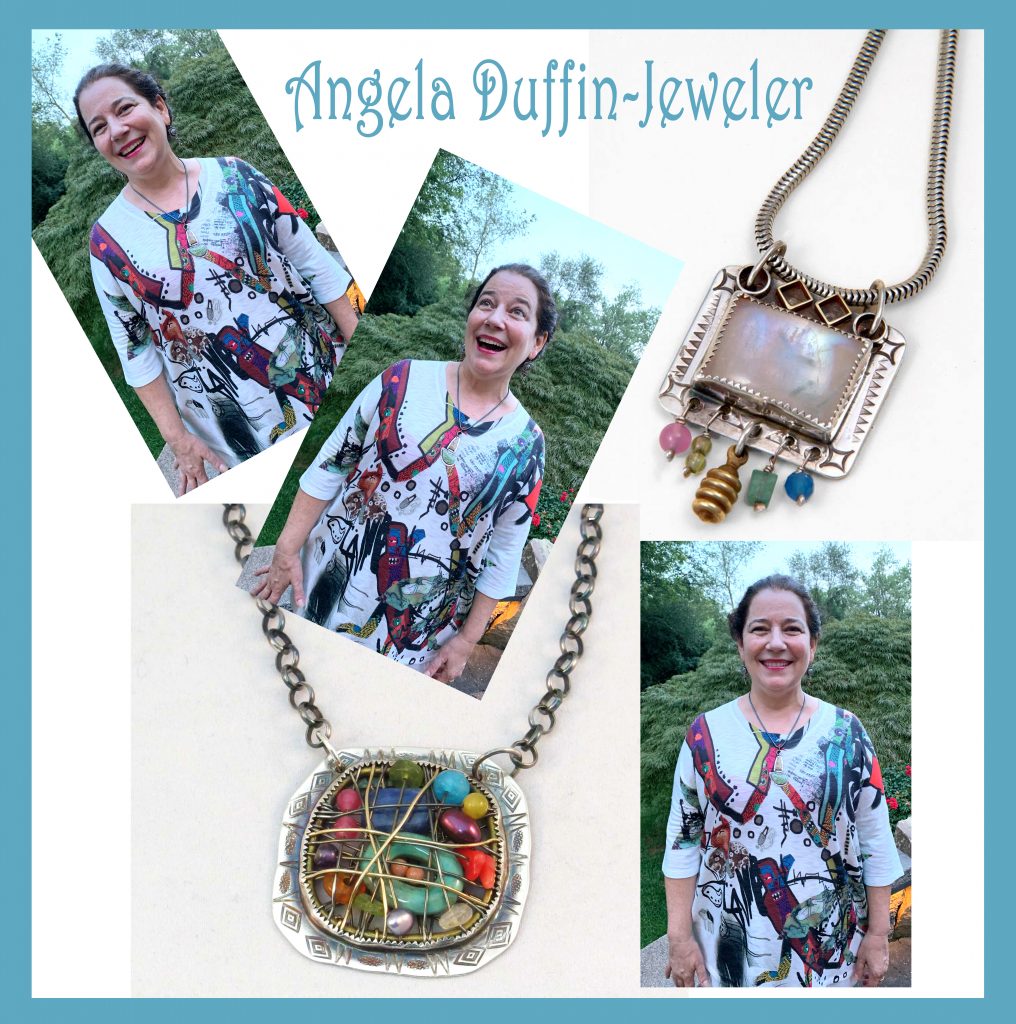 Born in Mt. Airy, artist Angela Duffin has been selling her jewelry in area shops and galleries for over 30 years! The Haverford Guild is lucky to have had Angela as one of the 12 original signers of our Guild's Charter in 2009.
As is the case with many artists, Angela's path to jewelry was an evolution. Ever since she was young, she worked in textile arts, crocheting, knitting, doing embroidery, needlepoint, and rug hooking. Her Mother taught her kids to sew, and in grade school, Angela got on the train to Center City, and took classes at the Singer Sewing Store. She made her own dresses and clothes in high school and college – always working with her hands. Handwork appealed to her.
Angela started out studying Interior Design for 2 years at Drexel U and then spent 2 more years at Philadelphia College of Textiles and Sciences, getting a Bachelor of Science Degree in Textile Design. It was a weaving class she took at Drexel, which introduced her to the artistic approach of tapestry, which led to her study in print, knit and woven fabric at Textile. It was there that she started hand weaving on her own floor loom, doing her work-study at school in the knitting studio and hand-weaving studio. Says Angela," There's something really special about creating something someone can wear." At Textile, she won the first prize for knit fabric design in the JP Stevens Competition.
She found work in retail at "The Little Nook" gift and craft shop in Chestnut Hill. She made shawls and scarves, which she sold to the Nook and other stores.
Her focus was simple form. Flat fabric, with complex designs, mixing textures and colors together in the warp, with a lot of layered detail. That was her thing. She would add ribbon and metallics in the warp for interest. Angela now carries that aesthetic into her jewelry. It seems simple, but when you get close, you see a lot happening.
Working at the craft shop, she met artists who worked in many mediums. She became inspired by a jeweler she met, who used textile arts in her jewelry. Angela began working for her in her nearby carriage house studio in Mt. Airy.
Then another jeweler took Angela on as an apprentice and she learned metalsmithing on the job! The jeweler taught her, and generously encouraged her to use her studio and her tools.  Angela took advantage of these opportunities and eventually made so much jewelry that she started selling it at the Nook. Finally, she set up her own first studio in her parents' basement.
In describing her work, Angela says she responds to beautiful gemstones. Shopping for gems is like going to a candy store. The stone often inspires the metal work, the shape, the stamping, even the form – whether it will be a ring, a necklace, etc. Her process is spontaneous. She doesn't plan out the design ahead of time, but lets the gemstones inspire her. The metalwork is also dictated by the stone. Sometimes she creates woven pieces with wire, which reconnects her to her weaving past. In her jewelry, you can see the influence of textile- in the texture, the color, the different levels, and in the overall aesthetic. The other important aspect of creating jewelry, is that it has to be properly engineered so that It is wearable. It has to be comfortable, it has to lay properly. Angela wants each piece to be unique. She makes things that she would like to wear. Therein lies the art.
For Angela, it's all about making "something handmade and beautiful that someone can feel special wearing. I like being able to do that for others."