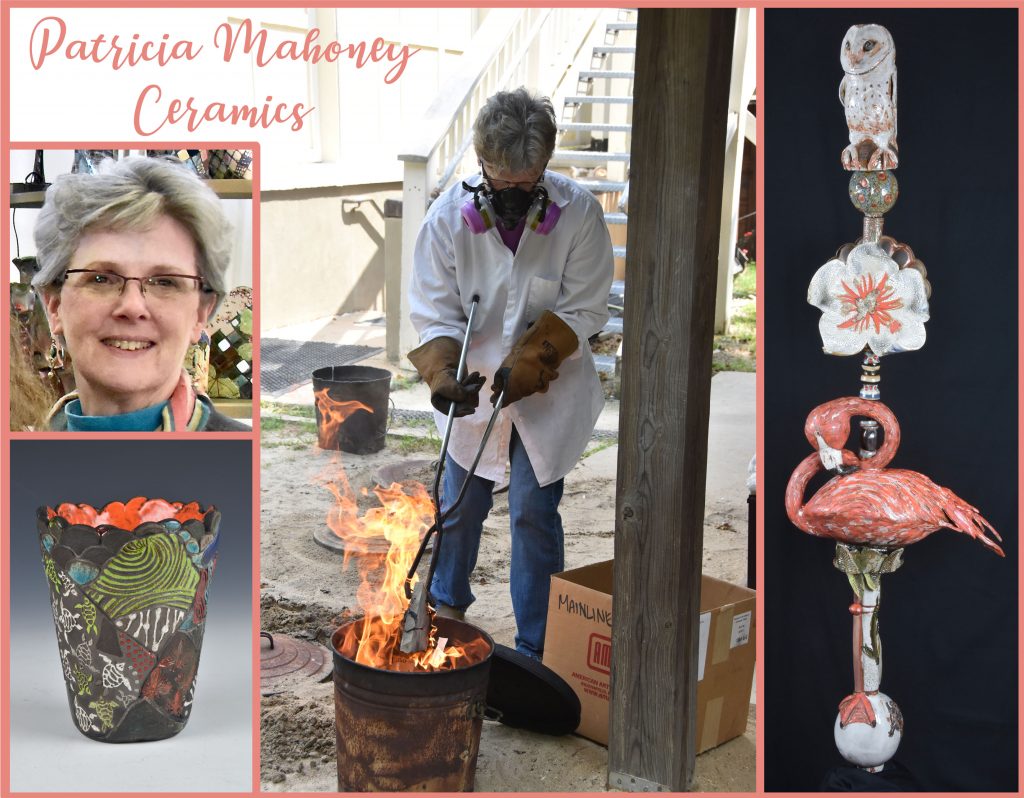 A local girl, Pat was born in Darby, PA and grew up in Newtown Square. She received her BS in Art Ed from Moore College of Art with a minor in painting.
Pat student taught at Friends Central and did some substitute teaching there.  She also did college recruiting for Moore for a year traveling up and down the Eastern seaboard. But in the late 70's, art teaching jobs were hard to come by, so, after a multi-month long cross-country road trip, she turned to work in the restaurant business until the mid '80s. However, the pursuit of art was never far from her mind. When a back injury kept her from waitressing, she began making jewelry, sourcing her materials from the retired tailor whose shop was downstairs. His shop was stacked with boxes of buttons and notions, which she could help herself to. She made chunky button and bead jewelry, which she sold at house parties and local shops in Philly for a couple of years.
Pat later spent a decade working in the rug and floor covering business, all the while constantly taking classes at Moore, Fleisher, Haverford and Lower Merion night schools in jewelry, stained glass and paper making. After her son was born, Pat started catering a few nights a week. One of her biggest gigs was at –where else- the Philadelphia Museum of Art.  In 1996, Pat, along with a partner, put their experience and creativity into starting their own Catering business called Staffing Associates. They did event planning and staffing for large parties and had a successful business for over a decade. Finally, in 2006, Pat realized she missed having the time to pursue art more in-earnest. The time was right. She started taking classes at Main Line Art Center doing stained glass. It was there that she finally "found her people." She met mosaic artist Carol Stirton-Broad and decided to take her class, which inspired her to make tiles and ceramics.
All of Pat's work is handbuilt and handpainted and one of a kind. Her work constantly changes. It swings back and forth between being purely sculptural and functional. Her work in raku has been of brightly colored pieces that were modular and worked together.  She may start out with one idea, but then it goes in a different direction. Says Pat, "The clay tells you what it wants to be. Through experience, you learn to listen to what the clay is telling you…Every piece I make is hand-built and glazed.  I continuously experiment with under and over glazes, masking, sgraffito, photo silkscreen, and mixed media, introducing natural forms like bark, leaves, seeds, nuts, plus wires, and plastic. I enjoy the interplay of light in, around and going through my pieces with natural and modern themes. I try to work with the idea of groups of pieces being similar, but different."
Pat loves playing around with different techniques and mediums. A believer in reinvention, she is currently forcing herself to try new techniques, opening herself to new possibilities. Her latest pursuit is wood-firing, a high fire process which produces earthen tones. She's been making Japanese tea bowls, saki cups and vessels, using the pinch method and mixing sand and granite chunks into the clay. This new venture is producing work that is more earthy, a departure from the high chroma raku work she has done for years.
Pat has shown and exhibited with The Pa Guild of Craftsmen, The Haverford Guild,  Moravian Tile Works, The Community Arts Center, Main Line Art Center, the Wayne Arts Festival and more. As one of the original 12 signers of the HGC charter, Pat has been an active member through the years. She served on our board as Treasurer for 5 years.  And she was the very first person to jury into our Guild as a Master Artisan!
Pat says she does her work for her own amusement but hopes that others will appreciate it. Indeed, it is a thrill to watch Pat's journey as she continues to experiment, grow, and evolve as a ceramic artist.