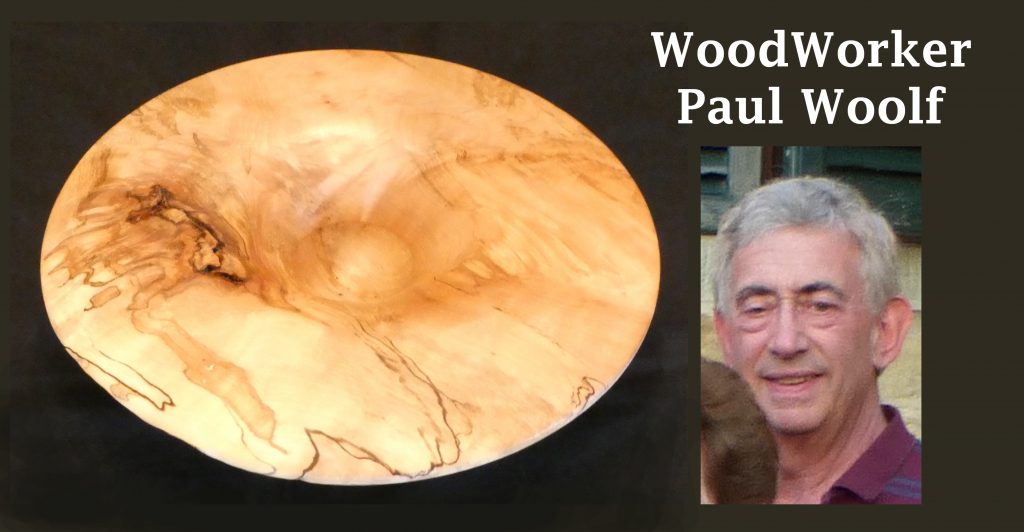 Wood Turner Paul Woolf was born in New York City. Highly educated, he had an impressive career in the field of Endocrinology. After retiring in 2011, he started exploring wood turning as an avocation, reinventing himself as "BowlsbyPaul." Here is his story.
After graduating in the first class of Delaware Township High School, now Cherry Hill West, he attended the University of Pennsylvania, graduating in 1964. Paul went on to further his education at the NYU School of Medicine where he met his wife-to-be in Biochemistry Class.
After graduating in 1968, he did his internship and residency in Internal Medicine at Bellevue Hospital through 1971, after which he did a fellowship in Endocrinology at the University of Rochester School of Medicine. Towards the end of the Vietnam war, Paul served as a Lieutenant Commander in the Navy Medical Corp. He was stationed at the Portsmouth Naval Hospital where he was a staff endocrinologist. He then returned to the University of Rochester School of Medicine, ultimately becoming a Professor of Medicine in the Division of Endocrinology.
In 1995 Paul started the Executive MBA Program at the Simon School of Business Administration of the University of Rochester, receiving his degree the next year.
In 1999 he was recruited to the Crozer Chester Medical Center to be its Chairman of the Department of Medicine, serving in that capacity until his retirement in 2011.
In his words, "As I was approaching retirement, I told my wife I wanted to try turning.  I had never done anything like this previously, and she asked how I would know that I liked it, a natural question.  After covering myself in wood chips from classes in turning at Woodcraft, I was hooked. Having a garage build in the 1920s that is useless for current sized cars, I converted part of it into my workshop."
His collection of work consists of hand turned bowls, plates, platters and vases made from native American woods including: apple, box elder, cedar, cherry, oak, hickory, poplar and walnut.  They may be turned from solid blanks or alternating strips of different woods and grains, yielding intricate and fascinating shapes and patterns.  He uses the wood's grain, as well as knots, cracks & inclusions, to enhance the natural beauty of each of his pieces.
Says Paul, "I want the wood, its grain, color, and imperfections to enhance the beauty of the design of each of my pieces.  Seemingly simple alternating strips of different woods, which in a solid block is nothing special, yields fascinating swirls, loops and circles in patterns that are baroque in appearance.  I let each raw block "speak" to me as I turn.  At least half of the time, the finished piece is different from what I set out to do when I started.
Paul, who joined the HGC about 4 years ago, has exhibited at the summer and holiday shows at the Wallingford Community Art Center. There, he received second place and honorable mention awards for his bowls.  He also participates in the HGC shows. In addition, his work has been shown in the Turning Point Gallery in Media and in the Museum Shop of the Memorial Gallery in Rochester, New York.
Paul Woolf, Endocrinologist, Professor, Veteran, Renaissance Man and Artist, says of his calling, "I find that taking a non-descript hunk of wood and turning it into something of beauty is incredibly satisfying. There are times when you never know what you will find until the gouge enters the wood. The fun is then to bring out the beauty inherent in that piece of wood.  There are times when I miss the mark and others when I am amazed at what I created. The beauty of turning, as in other crafts, is that there is always another chance to achieve something special."