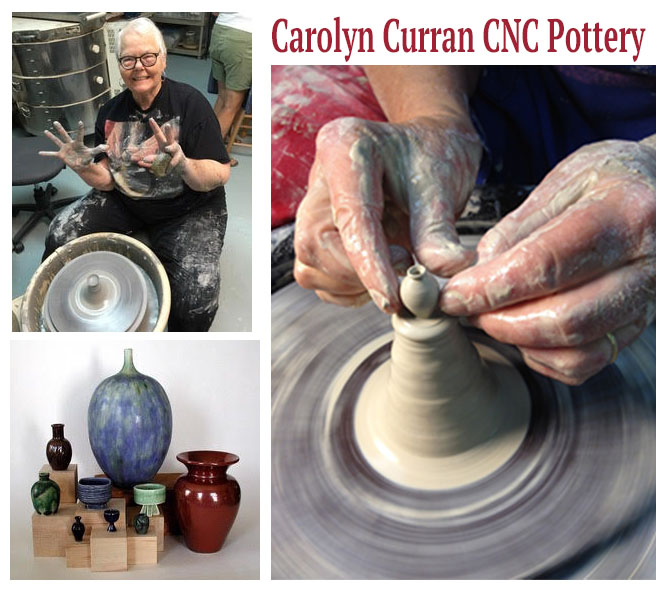 A Fellow of the International Guild of Miniature Artisans since 1998, Carolyn is probably best known for authentic mini replicas of traditional pottery from many different cultures.
Born in Mineola, NY on Long Island, she lived in Glens Falls, NY for 40 years, then 14 years in New Bern, NC.  Carolyn relocated to this area in October 2019.
Carolyn was majoring in French literature at Pembroke College at Brown University, but after she came back from her Jr. year in France, she  switched to Art History, taking courses in her Senior Year at Rhode Island School of Design.  The RISD courses made her realize she should stop taking the advice of those who said "art can be an avocation".  She received a scholarship to Pratt School of Architecture two years later but circumstances put her on another route.  When Carolyn and her husband moved to upstate NY with  2 small children, it became evident that architecture was not going to work  for her situation. In 1968 she took a 6 week adult ed course in pottery and was hooked!  With a kick wheel made from a kit, a tiny second hand kiln and a LOT of books,  she  began her career as a self taught potter.  CNC Pottery was established in 1971. Her learning with a very small kiln, and a chance encounter with  a shop owner wanting  1" scale miniatures led to her specialty of small scale and miniature pottery.  Though she works with both big and small pots, the minis have been her mainstay since 1976.   Past customers have  included  the  Museum shops of the Smithsonian, Museum of American Folk Art, Bennington Museum and other museums  as well as collectors of full scale decorated stoneware and other traditional pottery. She is currently making 1" scale red ware miniatures for Landis Valley Museum in Lancaster.
Says Carolyn, "I have become most known for my researched mini replicas of historical prototypes, but contemporary work of my own design is just as important to me. In recent years while living in North Carolina, I was building and firing small kilns and doing other offbeat pottery firing.  I have been able to do a bit of offbeat firing at my son's metal fabrication workshop (billcurrandesign.com) in Philly. More than anything else, I enjoy experimentation and "artistic play", and I would have to say that these have been the heart of my philosophy and my work throughout the years."
Carolyn's exhibitions include the  Annual shows of IGMA and juried miniature shows across the country.  In 2000, she had a one person show at LARAC arts center in Glens Falls, NY, and received a decentralization grant from NYS for a project involving glaze ingredient use of natural materials from Warren County, NY.  More recently, she was a part of a year long traveling exhibit of "Badassemblage: Bottle Forms and Breasts" for BadAss themed exhibition in Yonkers, NY.   In 2020, she had 3 pieces in the "Tiny Favors" show at the Clay Studio in Philadelphia.
Carolyn joined the Haverford Guild early in 2020. Then covid hit. She is looking forward to the day when she will have a chance to finally attend meetings and meet our members in person.