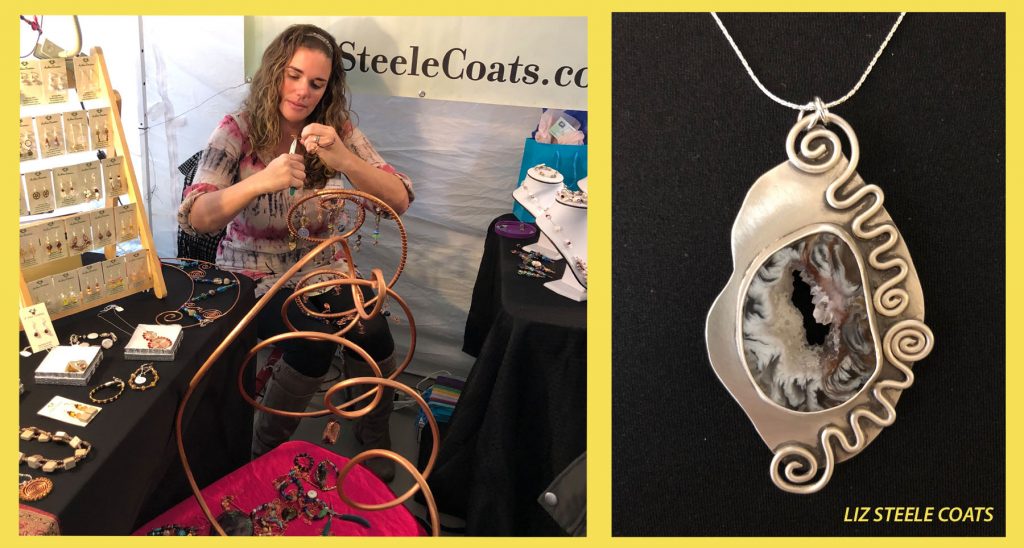 Liz Steele Coats is an art teacher, sculptor, jeweler, and mixed media workshop director who, as you can see, has a passion for a variety of artistic media. As a creator, an arts advocator, an art festival organizer, and a mother, these different hats have allowed for her artwork to take flight in several directions.
Liz was born in Philadelphia, Pennsylvania. She received  her undergraduate Art Education degree as well as her Master's in Art Education from Tyler Art School.
Liz taught Fine Art full time for 10 years and ran her Art company, A New Creation, LLC,  part time while teaching. She currently teaches Metal Sculpture, Printmaking, Animation, and Graphic Design part time for a high school, and runs "A New Creation" full time, while working around the schedule of her two amazing sons, ages 9 months and 4 years! The boys help her at Art Festivals and watch her as she creates pieces in her home studio in Lansdowne.  Liz exhibits and sells her work at 20+ juried shows and festivals each year and currently sells in 10 stores and galleries in Pennsylvania, New Jersey, and Maryland. She loves doing outdoor music and art shows despite the elements as the atmosphere tends to be energized and full of vibrant new faces! In addition to all these activities, Liz, the wife of a pastor,spends a lot of her "spare time" running outreach programs and free Art Workshops for the community near their church in Lower Providence, PA.
Liz describes her work as whimsical, fluid, and creative. In addition to her jewelry, she makes beautiful copper mobiles which incorporate her jewelry and jewelry making techniques. She loves working with copper and sterling silver in her jewelry and sculpture pieces. She also enjoys finding ways to "upcycle" and turn the old into new, inspired creations!
Liz had been a member of the HGC since 2016. We are so happy to have this vibrant, energetic, creative woman sharing her gifts with us, as she did recently when she conducted a Copper Mobile Make and Take Workshop at our meeting. Her generosity of spirit comes through in her ability to articulate and share her knowledge with those she is teaching. Her philosophical goal is to educate the world in the arts and spark a passion and appreciation for the arts in people of all ages and backgrounds. If anyone can do it, she can!
A full listing of Liz's shows and galleries can be found on her website: www.LizSteeleCoats.com