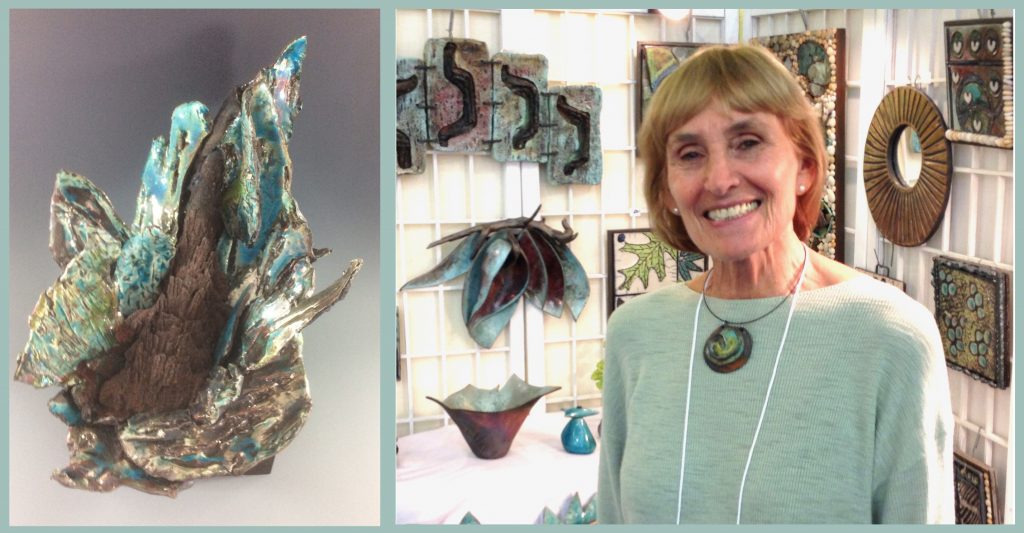 Helge was born in Koenigsberg, Germany, now Kaliningrad, Russia, in the midst of World War II. Her mother had to flee from the Russians to West Germany with three little children under the age of three, Helge being the oldest of eventually four siblings. Despite illness, horror, and hunger, they survived those very difficult, terrifying times.
The remainder of Helge's childhood, growing up near Hamburg, was happy.  At school, in addition to academics and learning three languages, Helge had participated in the art curriculum which consisted of weaving, sewing, ceramics, and basketry. There, Helge developed a love of the arts.
However, being the daughter of a physician, Helge set out to become a doctor. In medical school at the University of Heidelberg, she met and fell in love with the American man to whom she has been married for 53 years. They moved to the US after medical school and the birth of their two children. Helge loved raising their children and discovered that a parent is a teacher. Having found her true calling, she abandoned medicine and became an art teacher. She taught art full-time in the New Jersey public school system for 25 years. All the while, she took courses in fiber, metals, jewelry, and clay.
After retiring in 2008, she began to focus on clay. She continues to be a hand-builder rather than throwing on the wheel. Pinching represents for Helge the most intimate way of working with clay. About her work, she says, "I like to take a piece of clay into my hands and see where it might lead me. Often there are ridges and grooves in the surface that suggest the beginning of a piece. Most of my work is related to forms from nature with its myriad of inspirations. Be it a dry leaf in the fall, a seed pod, a smoothly worn rock, a piece of weathered wood changed by the seasons…..it all incorporates nature's unmatched designs- treasures that I like to look for during walks in the woods, on mountains tops, on desert paths, and along deserted beaches or river beds. I like to capture the essence of these inspirational objects in my work, not by copying them, but by recreating them as a spontaneous gesture with an expression of my own, showing their relatedness to the earth."
"In recent years I have begun to incorporate found pieces of rusty iron into my work. I fell in love with the beauty of rusted surfaces. Their colors, textures, and patterns created by the exposure to the elements through the passage of time, intrigue me. It is the process of aging in a beautiful way….. Also, what was the purpose of these found objects in their prior life? I find it exciting to include them, thus giving them a new identity with a brand new future and destiny."
She finds the Raku method of firing a perfect match for her work. Her beautiful explanation of the process sums up its importance to her:
"Raku requires the pieces to be removed from the fire with long tongs in a glowing red-hot state, immediately to be placed into a container filled with combustible matter that is allowed to burst into flames, which are then smothered by a tight lid creating a smokey, reduction atmosphere inside. The ensuing, shimmering color results are created by the intimate play of fire and smoke and finally, the chill of cold water that quickly cools down the hot pieces, often creating wondrous crackling textures on the glazed surfaces. The unpredictable magic and the never-ending surprises of this technique, appeal to me on a visual and philosophical level. I love the juxtaposition of the rusty iron and the shimmering blue-green hues of the glazes. It is a raw and unadulterated beauty without frills that I strive to achieve. By fate, so to say, each piece is delivered from fire and smoke with a unique appearance after surviving multiple variables and challenges of the process. And just as it is fate in real life that we must accept as gracefully and gratefully as possible, I accept my pieces with humility, sometimes more happily than at other times…… And not to forget, there is always lemonade that can be made from lemons…."
Helge is a long standing member of the Haverford Guild, a Master Artisan of the Pennsylvania Guild of Craftsmen, a Professional Artist Member (PAM) of the Main Line Art Center, and a member of the Wayne Art Center. She has been juried into many shows, including the HGC annual shows, the Perkins Center for the Arts in Moorestown, New Jersey, in City Hall, and at the Cosmopolitan Club in Philadelphia, among others. At MLAC she had a solo show in the Welcome Gallery, and has been the recipient of the MLAC Pincus Prize and the Plaza Award. She has a piece in the permanent collection of Rowan College's Beitzel Gallery and a second consigned for the University Center.
Helge's biggest accomplishment was her acceptance to the juried international shows "Innovations" and "Craft Forms" in 2017 at the Wayne Art Center where she now sells her work in the Gallery Shop.
A remarkable woman and artist, Helge says she is proud to be part of the "team of caring and talented artists" who make up the Haverford Guild of Craftsmen.  She is someone who inspired us and lifts us up, and, in return, we are so very proud that she is a part of our HGC community.