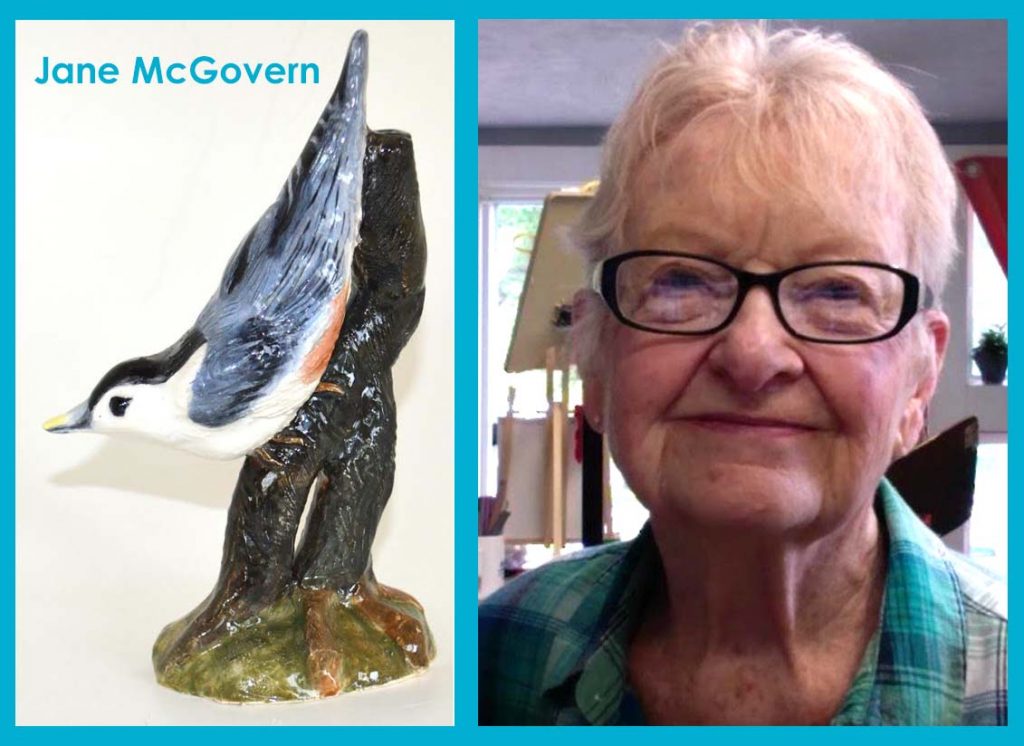 Jane is a Philadelphia native and has been a member of the HGC for the past 10 years. Though she started out as an accountant, her yearning to be an artist was to become her true calling. Jane was managing her tax accounting business between 1972 and 1983 and all the while, she was attending art classes nightly at Tyler School of Art. After selling her business, she majored in art at Rosemont College while working part time for a company as a graphic artist. After getting her bachelor's degree in Fine Arts, in 1989, her job became a full time position and she stayed at her graphic design job for 10 years. Being the true Renaissance woman that she is, she felt the need to bring words into her art so she took creative writing studies at Widener for 6 years as well.
As a fine artist, Jane started as an oil painter and then slowly drifted into other mediums, ultimately landing on creating ceramic sculptures. Jane describes her work in clay this way. "My work is multifarious because I use diverse mediums. At first I wanted to do something utilitarian. Modeling clay into useful forms excited me. I love the process of designing, sculpting, bisqueing, glazing, and firing my artwork. Seeing the finished product, though it may sometimes be unpredictable, is a delight. I learned how to sculpt birds, bunnies, hares, mice, chipmunks, etc. It's gratifying to think someone is enjoying their coffee in one of my cups, or takes pleasure in looking at an upside-down nuthatch on their mantel."
Jane's philosophy is to always be learning, to do her utmost to find new improved ways of producing a ceramic sculpture that expresses how she sees and feels about the subject, yet also pleases others. And should anything she creates touch or help someone in a good way, then, she feels she has been blessed beyond expectation.
Jane and her work have certainly been as asset and inspiration to our Guild. Jane shows her work at the Main Line Art Center, Haverford Guild of Craftsmen Fine Art and Craft Shows, and the Community Arts Center.