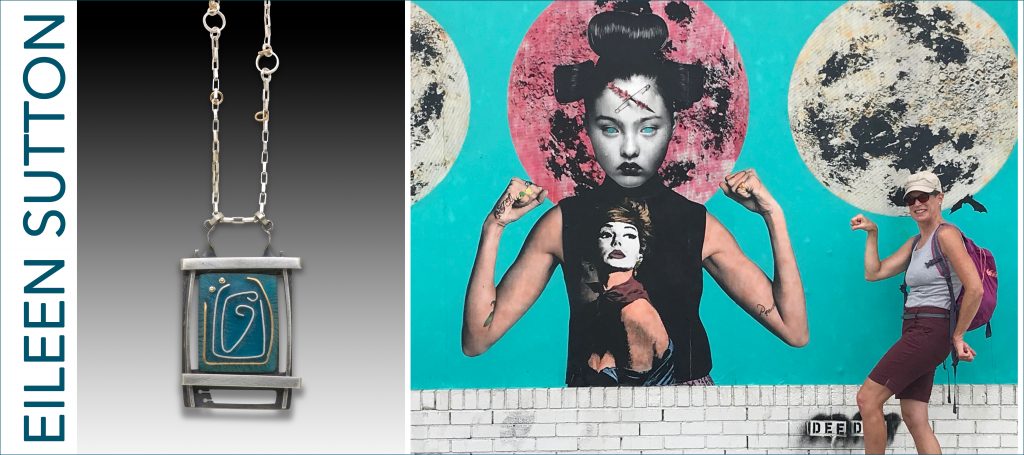 Eileen was born in 1960 on the North Shore of Long Island. Luckily for her, her public high school had a great  Art and Crafts department. A large studio had ceramics at one end and metalworking at the other end with an adjoining wood shop. It was her teacher there who suggested she apply to Tyler School of Art where she had the best four years studying metals and getting her BA. Eileen's connections with graduate students from Tyler led to a shared studio space after college. But it wasn't just any old studio space. It was the carriage house studio of the late and great Olaf Skoogfors, a pioneer in the field of art jewelry. It was with these other artists and Olaf's widow, Judy, that this group of artists created one of the earliest Open Studio shows in the area. The Open Studio Exhibition and Sale in Judy's beautiful home in Germantown became an annual tradition for many years.
Since this auspicious beginning, Eileen has become known for her colorful resin work inlaid into mostly constructed silver. Until her last year at Tyler, she worked traditionally with precious stones and metals. Then, a workshop in casting resin got her hooked, and the rest is history. For her, the best part about the materials is creating her color palette and always finding new ways to work within the process. Eileen gets her inspiration from plants forms, the carving of clay techniques used by modern ceramicists, and modern architecture.
Eileen has been part of the American Craft Council shows for the past 30 years (with a few years off to raise her kids.) She shows in a variety of retail shows, mostly up and down the East coast and received a best of show award at the Richmond VA Craft + Design show. When the new DeYoung museum reopened in San Francisco 15 years ago, she was happy to be represented in their fine museum store and has continued to sell her work there ever since. In addition to selling her work online on her own website, and Artful Home, her work has been purchased by 50+ galleries throughout the country.
Eileen became a Master Artisan of the PA guild 8 years ago. She joined the Haverford Guild 9 years ago, and considers it a "good solid community with caring people."
Eileen's philosophy is to live and work on simple terms. To work hard, try to give herself enough time away from the bench (which is easier said than done), and pay attention to details. In her words,  "I am an avid go outside kind of person and spend many hours riding my bike around to see the world around me. Many miles on the bicycle allows me to sit down and pay attention at my bench! Whether it's my kids, family, or friends, I feel it's important to be in the moment and set a good-looking table for dinner!
I love doing shows and exhibitions because I love connecting with people. I have been working more than 30 years solo in the studio, so the human exchange is really important to me. I have been fortunate to meet and know people who appreciate what I create."
Website: http://eileensutton.com/
Artful home: https://www.artfulhome.com/artist/Eileen-Sutton-Precious-Metalworks/1011