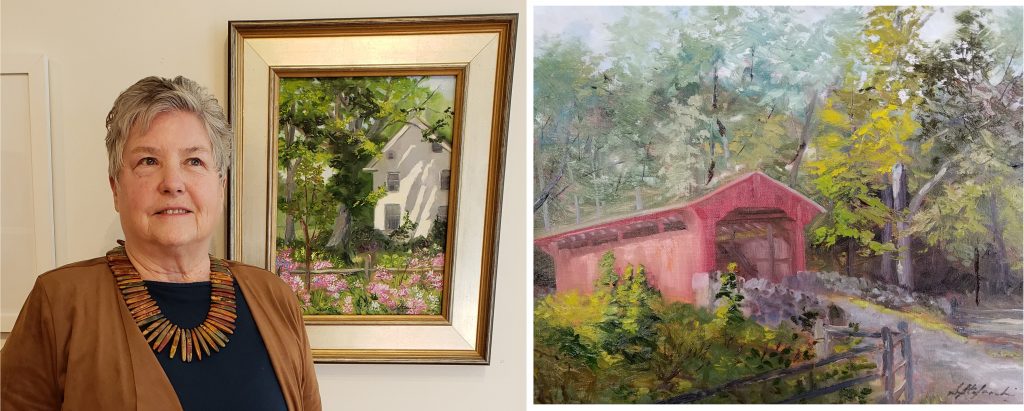 Award winning artist, Sue Stefanski, is an oil painter whose work is widely known throughout Haverford Township and beyond. She has been a member of the Haverford Guild of Craftsmen since we began in 2009 and is a juried Master Artisan.
Sue's painting journey began in 1999. After raising her family, she was working at Villanova University where she decided to take an art class. She was smitten and has been blissfully painting ever since. She describes her work this way. "Painting has made me see the world differently, paying attention to shadows and colors like never before. I am more aware of my surroundings and most drawn to painting outside. Fields, streams, flowers in the landscape, and shorelines call me to take brush and knife to canvas capturing light, air, space. I get lost in the cool and warm colors, the soft and hard edges of my representational, slightly impressionistic work." For Sue, painting is spiritual and serene and promotes a feeling of contentment and joy to be shared with others.
In addition to the many juried and invitational shows she does throughout the year, Sue has had solo shows at galleries including the Great Wayne Frame Up , Thomas Moser Gallery, and Villanova University, resulting in several commissions, one of which was to paint Irish landscapes to cover the walls of a Philadelphia restaurant.
Sue loves doing benefits that help people. She has been invited to participate in the Land Art Events Plein Air which benefits the Brandywine Conservancy and in October she will be painting for Brandywine Plein Air benefiting Children's Beach House. Sue will also be showing a piece with the ARTsisters at the Henry Gallery at Penn State Great Valley, sales to benefit the New Day Project raising awareness against human trafficking.
Currently her work can be found at Granite Farms Estate through April 30.
Sue is represented by North End Trilogy, Barnegat Light, NJ, Frame Station Gallery, Berwyn, Berwyn Art and Photo Gallery, Berwyn, PA, and Second Look Gallery, New Castle DE.
In addition to the HGC, Sue is a member of ARTsisters, and the Delaware Valley Art League.
In summing up her philosophy, Sue says, "I thank God when I get up, go to bed, and in-between. There is so much wrong with the world, but I would rather focus on the beauty." Luckily for us, this busy and talented woman prolifically spreads that beauty all around through her artwork.