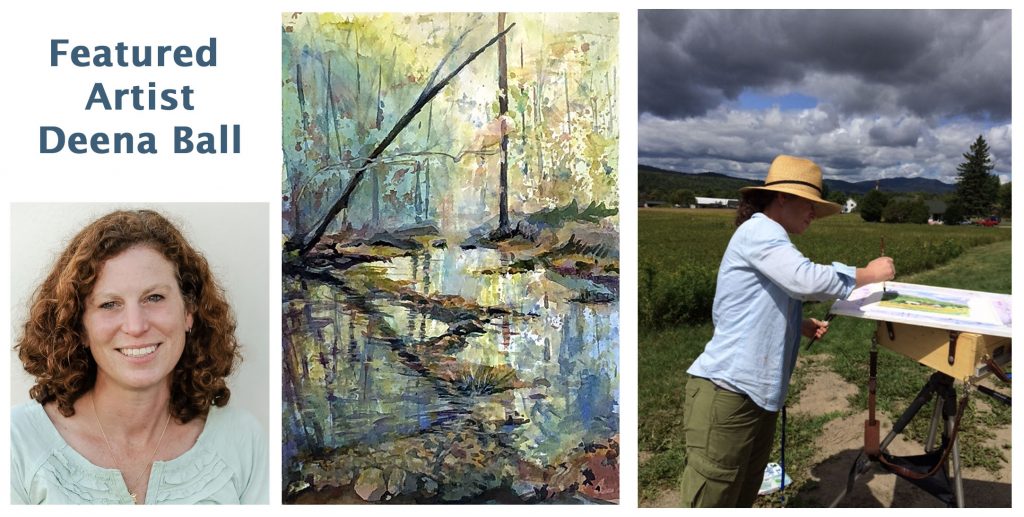 Deena Ball is one of the busiest and hardest working artists I know. On any given day, if she's not in the classroom teaching her craft, she can be found painting en plein air. A prolific painter, she constantly experiments with new techniques. She is widely known for her watercolor landscapes which she exhibits extensively throughout the region.
Born in California and raised in New England, Deena graduated from Colby College with a Bachelors in Studio Art and Art History with a biology minor. She did post graduate studies at Tyler and PAFA. For thirty years, she has been painting and teaching art to people of all ages. Her resume of juried shows, invitationals, and awards are too numerous to mention here, but you can find an impressive listing on her website: https://deenasball.com/
She has been a juror for many art shows, an artist in residence, and is a Master Artisan with the PA Guild of Craftsmen. Deena has been a member of our Haverford Chapter since its inception.
Deena's love of nature, science, and art comes together when she paints outside. She paints to help others see, respect, and conserve the beauty in our natural world. She explains her philosophy here: "Art is all around us, and we are all artists when we open our eyes to the beauty in our surroundings. Throughout my thirty plus years of teaching experience, that is the message that I strive to impart to all of my students. Through my own work with experimental watercolors, I present the viewer with the beauty and fragility of our natural landscape. In my paintings, I am constantly testing new materials and techniques, incorporating textural elements such as gesso and trying different types of paper. In the classroom, whether working with paint, clay, or recycled materials, I encourage students to engage in outside-the-box thinking and reimagine how their materials might be used to create art. I have experience teaching the full range of art mediums, including printmaking and graphic design, but I am most at home teaching drawing and painting. I enjoy teaching a wide range of ages, from toddlers to adults, and I have experience working with specialized populations including adults suffering from traumatic brain injuries, students with autism spectrum disorder, and disadvantaged youth. Students depart my classes and workshops with not just a pretty object in hand, but a greater appreciation of the visual subtleties in their environment and confidence in themselves as creative individuals."
Deena is the Recipient of two Project Stream Grants from the Pennsylvania Council on the Arts for the project, "Farm to Table Plein Air: Bringing Art to the Table," LandArt Events. She is the Founding Partner and Artistic Director of LandArt Events, a non-profit corporation, which partners with organizations to promote public engagement in both conservation and the arts. LandArt Events provides artists with the opportunity to paint the beautiful countryside near Philadelphia while bringing awareness through art of the incredible resources of open space and sustainable agriculture in our region. This year, LandArt Events will put on three Farm to Table Plein Air food and art benefits for local collectors and foodies: Farm to Table Plein Air with the Brandywine Conservancy, Harvest Gathering with the Community Arts Center, and Tyler Arboretum Invitational. www.LandArtevents.com
Deena Ball is truly a passionate painter, an inspiring and energetic teacher, and a leader in the arts community. I can think of no better way to summarize her story than with this quote from the artist. "A painting is a dance between controlled anticipated marks and random surprises. When the dance goes well, when pigment and water flow just right, the painting comes to life. Each painting is a souvenir of a moment, a moment spent observing and thinking about the world that surrounds us."