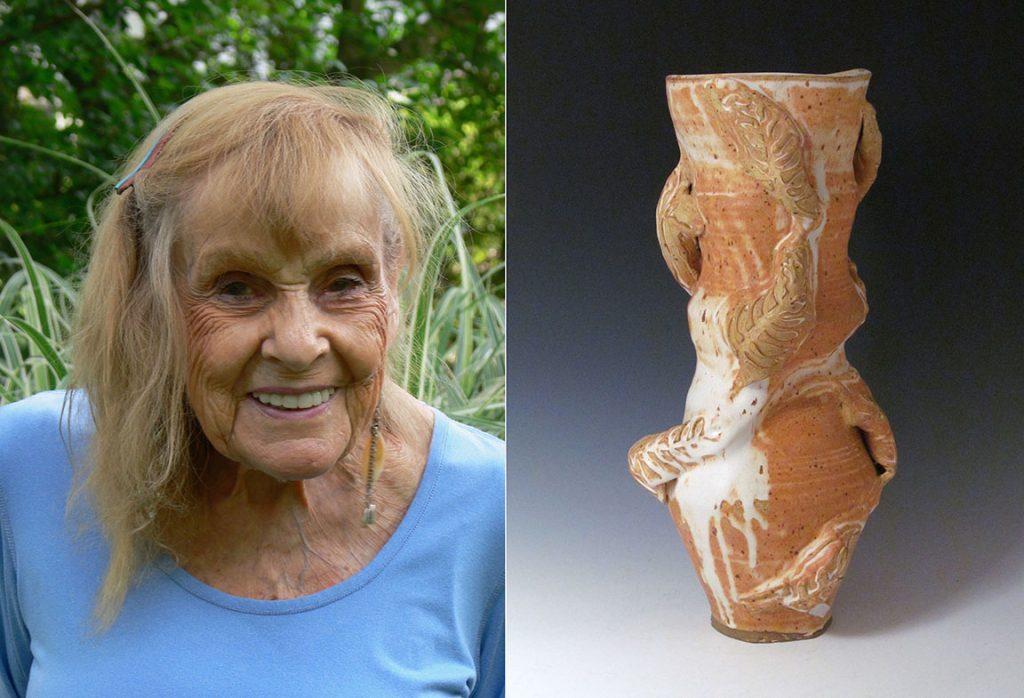 Lucy Edwards is a self described free spirit whose work in clay consists of sculptural and functional organic and animal forms in stoneware with a variety of earthy glazes including raku, pit fired and smoked. Always experimenting and inquiring, Lucy asks herself the question, "What if…" and then follows the process. The resulting piece is usually a well mastered vessel or sculpture, often, with an element of surprise.
A long time member of the PA Guild of Craftsmen and a juried Master Artisan, Lucy is one of the founding members of the Haverford Guild of Craftsmen. Her curiosity is childlike and her enthusiasm is contagious. To know her is to experience a woman who is vibrant, folksy, inspiring, energetic, independent and boundlessly creative. In addition to being a gifted artist, Lucy is a musician who plays the guitar and banjo.
Lucy was born in Long Island, NY and has a BA from Bard College. Later, she spent 2 years at the Chicago Art Institute studying painting and life drawing. It was when her journey took her to Topeka, Kansas and Washburn University, where she took her first wheel throwing clay class, that the world of ceramics opened up to her.
Eventually, she settled in this area and for years ran art and music programs for kids in preschools in Ardmore, Germantown and West Philly. She set up her studio both in her Bala Cynwyd home and at her river studio, Loafer's Glory at 306 River Road in Gladwyne,PA.
Lucy lives and breathes her art, which seems to pour out of her. She has exhibited widely throughout Pennsylvania as a painter, a mixed media artist, fiber artist and potter. She has taught at Main Line Art Center, Wayne Art Center, LBI Foundation for the Arts, Wallingford Art Center, and numerous and ongoing workshops at Loafer's Glory. Lucy is currently teaching a hand building "Intuitive Ceramics" course at Wallingford Art Center, where she can be found most every day of the week exploring her craft and sharing her knowledge with fellow craftspeople. Ever searching in clay, to discover the answer to the question, "What if…"