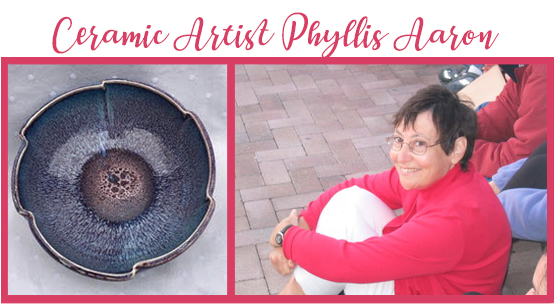 Ceramicist Phyllis Aaron was born in South Philadelphia. She has a degree to teach Hebrew School from Gratz College, a BS in elementary education from Temple U., a Masters degree in English plus 27 credits from Temple U. and is PA Board certified to teach elementary school.
Her extensive teaching career includes teaching Hebrew School for 8 years at Beth Hillel on Lancaster Avenue, 3rd grade for 8 years at Westbrook Park School in Upper Darby, and 4th and 5th grades at Perelman Jewish Day School on Haverford Avenue for 25 years.
She started taking classes at Mainline Art Center when her sons were small. She soon switched to Wallingford Art Center because they fired the gas kiln more often and had more glazes to work with. Phyllis found that working with many different teachers was very helpful as she learned many techniques to use while throwing clay. If one technique didn't work for her, she would try something else until she found what did work.
Phyllis loves working in porcelain. "The clay is buttery smooth and the glaze colors pop, but using porcelain has challenges because the clay lacks the grit, or grog, that allows the potter to produce larger pieces without the clay body collapsing. I fire my work in a gas kiln to cone 10 which allows the glazes to run into each other. Each piece is unique even when I use the same glazes as the heat and fire of the kiln interact in different and exciting ways. My pieces are functional and are dishwasher, microwave, and oven safe. I strive to produce pottery that is useful, enjoyable to use, and unique in some way whether it is darted, carved, or just thrown. I have just begun carving some of my pieces which it a different direction for me as they are not really functional but more decorative."
Though she does a lot of her work at home, she continues to take classes at the various art centers in the area where she enjoys the camaraderie and give and take of ideas of other potters.
"I find that working with clay is only limited by one's imagination and so my inspiration for my creations comes from many sources including nature, pictures, and works by other potters. I like to try to make different shapes and then add my own creative touches to make it my own. This is reflected in the work that I submit for our shows."
Phyllis joined the HGC several years ago as an emerging artist. Back when the Guild was doing studio tours, her first show was at Murray Callahan's house. There, she received help from Helga Speth and Kate OHara in presenting her wares more artistically. Rich Maxwell has been instrumental in helping Phyllis to produce her latest and most successful set-up. Says Phyllis about the Guild, "It is great having such a kind, helpful, and caring community to help one to grow."
Phyllis has served on our Board as Treasurer, and is currently the publisher of the Gazette.