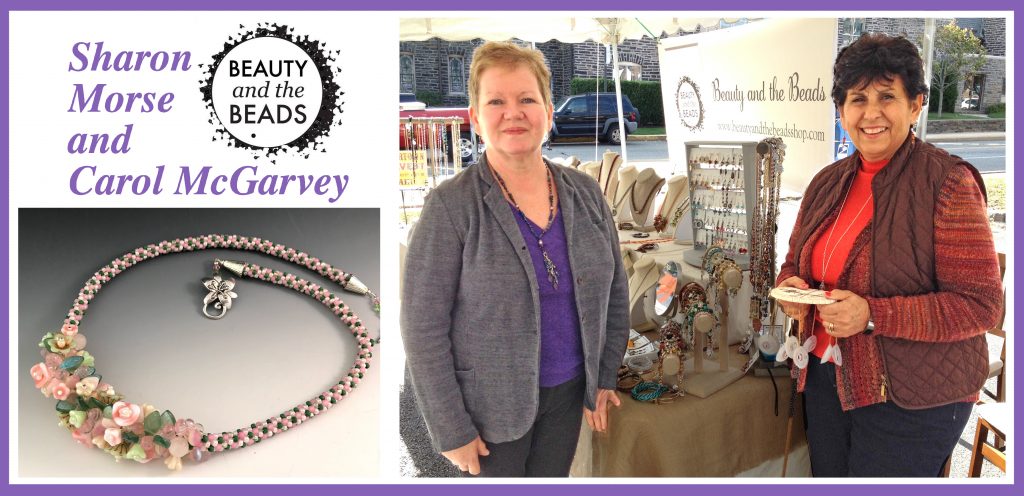 This month's featured artists, Carol McGarvey and Sharon Morse, were born on different continents, and practiced professions in different walks of life before becoming next door neighbors and eventually forming their jewelry business, "Beauty and the Beads".
It all began in 1986 when Sharon Morse moved in next door to Carol McGarvey in Havertown, PA. Their children grew up together and were both a part of the UD Summer Stage Shooting Stars. The parents quickly formed a great circle of friends -some who happened to be crafters. "Beauty and the Beads" started as an offshoot of this group – ladies making jewelry together – sometimes following the same patterns but other times designing their own creations. In 2005, their kids performed in the show "Beauty and the Beast" (thus their name ) and they became an official business with 5 jewelry designers. Since 2014, they have been a team of two.
Carol has lived in Havertown all of her life. She earned a Bachelor of Music Education from Immaculata University, and did her post graduate work at Temple. She was a music Teacher for 40 years – from general music in the classroom to private piano to choir and band director, handbell director, school musical director to Director of the Music Department before retiring. She also held an Administrative post for the last 18 years – as Middle School Director. Along the way, Carol was always part of a craft group or attending classes to learn how to create new things, from knitting and crocheting to painting and woodworking.
Sharon was born in Frankfurt, Germany. and came to the United States when she was 3 years old. She was educated at Temple University and the University of Florida, getting a Bachelor's Degree in Administration of Justice and a minor in Psychology. Always interested in art, she took several oil painting classes at Temple.
Sharon started off working at Equifax as an investigator. Her desire was to join the FBI, but family life took priority. She worked at Provident Mutual Life Insurance Company as a Medical Benefits Specialist and developed their customer service department. After her son, Jeremy, (her pride and joy) was born, she decided to become a realtor and has been a full time realtor for over 30 years. Sharon is part of the Gail Kardon Team at Berkshire Hathaway Home Services, Fox and Roach Realtors in Haverford. She has always loved art and considered majoring in it, but she also loved criminal justice and the legal system. Sharon has been dabbling in a wide variety of arts and crafts since she was a young child from oil painting, watercolors, pottery, and woodworking before settling on creating jewelry.
Both Sharon and Carol have been active members of the HGC since 2014. In 2016, they became co-vice-presidents of our board. Sharon went on to serve as president and show chair in 2018. Carol served as treasurer for the next 3 years and continues to serve as co-treasurer. Says Sharon, "I have really enjoyed the Guild, the members, and the Guild's mission. Art truly enriches one's life." Carol agrees, "I enjoy working with the HGC board members. They are always up for a challenge, interested in what is best for the entire guild, trying to make things better for all in the art community."
About Beauty and the Beads as told by Sharon.
"We began by working using many different jewelry techniques from bead embroidery, stamping, bead crochet, and stringing, to metal smithing. We have taken courses in all of these jewelry methods. Although we work individually on our creations, our designs compliment each other's work. Our business has been successful because we have stylistic differences and color preferences which means that we have more to offer our clientele.
Several years ago, we were introduced to the art of Kumihimo braiding. Since that time we have researched and pursued the mastery of some of the intricate braided patterns that are indicative of this technique. Kumihimo is the ancient art of Japanese braiding dating back to 8000 BC. It was originally woven with silks and other fibers by the Samurai. We are part of the American Kumihimo Society and have taken courses with the most famous Japanese American Kumihimo master, Makiko Tada. Kumihimo has become our specialty and has been well received by our customers. We have become proficient using the Marudai and portable disk when braiding. There are over 400 published Kumihimo patterns at this point. We are constantly working to build our portfolio of patterns."
The two energetic, passionate, and multi-faceted women share their philosophies:
Carol: "I am always open to new ideas and learning new things. I have been taking clay and metal clay classes so I can start making my own beads and pendants to add to my Kumihimo braids. I love being involved in the world of artists and the arts."
Sharon: "My philosophy is to try to excel in what I am doing. I love learning and creating new pieces of jewelry. I have been taking classes in Kumihimo. I also have been taking classes in PMC clay in order to add silver clay pendants to my kumihimo designs. I recently started taking classes in bead sewing and bead embroidery again to create pendants to coordinate with my kumihimo necklaces. If I could have been a professional student, that would have been the perfect career for me. "
Carol shares a funny Kumihimo story, saying, "Sharon likes this story!"
Carol was enticed by an article in a beading magazine about the history and process of Kumihimo braiding. Carol and her family were taking a Meditteranean cruise in the spring of 2017. Armed with all the materials needed to start her first necklace, Carol decided she was going to teach herself to do this on the 8-hour flight. Learning to do Kumihimo was not as easy as she had thought. Carol was frustrated by her inability to have the beads lay straight, strings not get entangled, and the tension was way off.
While in a bathroom in Istanbul, Turkey, Carol ran into a woman with a beautiful Kumihimo necklace on! Excitedly, she asked the lady if she had made the necklace and was she traveling on the Ruby Princess. The lovely lady from Minnesota said yes and offered to help Carol learn the ins and outs of a beginner Kumi student. She then told her how to proceed and who to contact to learn more! Carol came back and taught Sharon and Voila…. Here we are today!