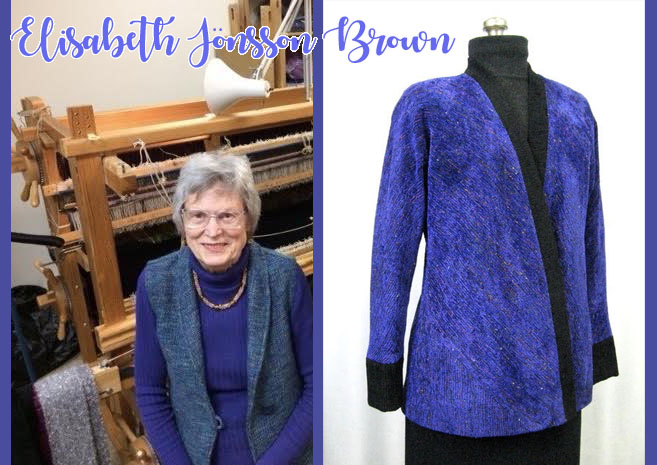 Elisabeth is a handweaver and designer of women's fashions: coats, jackets, vests, shawls, scarves and hats. Influenced by her Swedish background, her designs are classic and meticulously tailored.
Elisabeth's studio is in the Riddle Valley Industrial Park at 2 New Road in Aston, PA.
Elisabeth grew up on a farm near the town of Eslöv in the very southern part of Sweden. There were many talented crafts people in her family and she was introduced to weaving and other handcrafts at an early age. She went to nursing school in the university town of Lund where she graduated in 1964. After working two years as a registered nurse, Elisabeth got the urge to see the world and planned to come to the US for one year. However, before leaving Sweden, she met an American from Philadelphia who was on a holiday in Copenhagen. She had already received a position in San Francisco and had her California nursing license so she was committed to go. But after three months there, she followed her heart and came to the Philadelphia suburbs where she married Wayne in 1968.
While continuing to work as a nurse in a surgeon's office in Bryn Mawr, she spent a lot of her free time with her favorite craft which at that time was Flemish tapestry weaving. She gave classes at different places. After she had a Glimåkra loom shipped over from Sweden, she got busy producing shawls, skirts and jackets. She took sewing and tailoring courses to improve her skills. Soon, friendly ladies gave her shows in their homes and she became a regular at the Devon Horse Show for several years selling her garments.
In 1980 she started selling to women's speciality stores along the east coast. Some of the stores included Nan Duskin, Dorothy Bullit's, and Evelyn McGill. In time these kinds of stores disappeared so she tried craft shows and did well.
Over the years honors have come to Elisabeth. In 1985, she was named a master weaver by the Pennsylvania Council of the Arts. In 1995, she was accepted into juried status by the Pennsylvania Guild of Craftsmen. She has also received several awards from the Philadelphia Guild of Handweavers.
Elisabeth has been a member of the Haverford Guild since 2014 and very much enjoys the comradery.
She and Wayne have been married for 51 years. He is also an artist.
Last year they sold their house in Rose Valley and moved into Riddle Village in Media which is only 10 minutes away from her studio, where she goes most every day. Elisabeth feels very lucky to be able to continue to create and pursue her interest in weaving and garment making which results in the production of high quality, beautiful, wearable art.