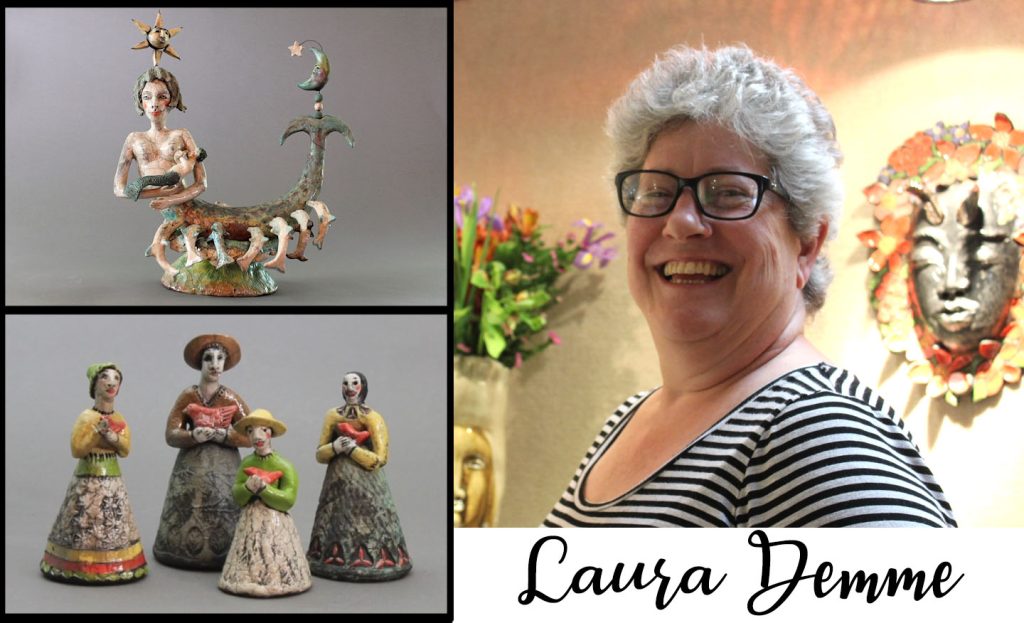 Laura Demme is a multi-faceted artist, working in painting, collage, poetry, found object, ceramic, and concrete.
Laura was born in Norristown, PA.  When she was 6, her family moved to Mexico.  She grew up in Mexico City until the age of 12, then moved back to the U.S.  Her mom was an artist and craftsperson who allowed her children unlimited opportunities to look at and create art.
Laura wanted to be a textile artist. In high school, she studied weaving and other types of fabric art. She designed and sewed her own clothes and worked in a fabric store throughout high school. She also taught sewing to kids.
Educated through travel, Peters Valley Crafts School, and two years of art school, she began her textile career by showing her one-of-a-kind clothing and soft sculpture in NYC at Julie's Artisans Gallery. She participated in the American Crafts Council Shows in Rhinebeck, NY, and got work placed in galleries across the US. She taught creative crochet classes in her house and at yarn shops nearby.
Living in New York City from 1978 to 1992, she worked as the crafts project designer for Hearst Publications, Vogue Knitting, and other needlework publications. She worked for various design houses, yarn companies, and others as a free-lance knitwear designer, teacher, fashion forecaster, and fabric designer.
Upon marrying and moving to PA, Laura needed a change in medium. She began working in clay, attending classes at various art centers in the Philadelphia area.
She joined the Pennsylvania Guild of Craftsmen in 1997 and was juried in as a Master Craftsman in Ceramics in 2000. She joined the Haverford Guild in 2011. Her many shows include the Guild Shows, the Yellow Springs Art Show, and the Montgomery, Chester and Delaware County Studio Tours. As a member of the Potters Guild, she participates in their twice yearly shows. She has shown her ceramic and fabric dolls in the American Craft Council shows in Baltimore and shows her work in various galleries and juried shows like Craft Forms.
As a teacher over the years, she has taught Knitwear at Philadelphia College of Textiles and Science, decorative painting, hand building ceramics, and concrete sculpture and casting at local Art Centers.  Currently, Laura teaches ceramic hand building, raku, and alternative firings at the Community Arts Center in Wallingford.
Says Laura," My joy and curiosity in making art comes from constantly exploring new techniques, materials, pushing the boundaries of what has been done and the possibilities of what could be done. I enjoy the challenge of going over the line and making new forms, surfaces and discoveries. My work encompasses intangibles and how to express them.
I work from many inspirations and try to bring happenstance and the accidental into my practice, allowing the materials to inform me and guide me. I love the unexpected results of atmospheric firings and the influence of process. I try to inspire a sense of wonder in my pieces.  As an artist, I am in awe of the genuine and the authentic in Art. I hope my work conveys that."