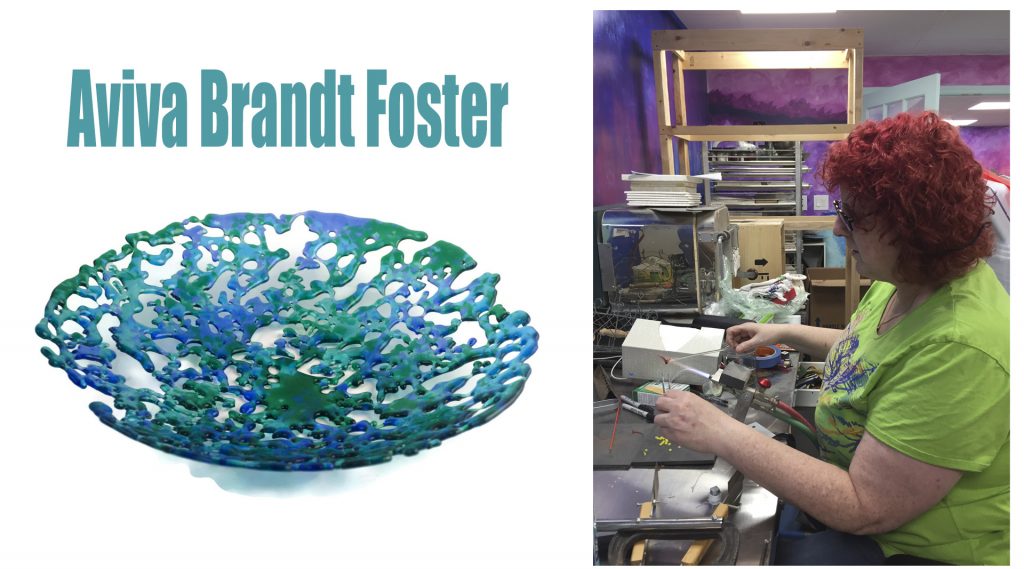 Aviva moved to Pennsylvania from Oregon 2 years ago. About 2 weeks after arriving here, she attended the PA Guild's Chase Show and immediately joined The Guild. Not long after that, she joined the Board of Directors of the Haverford Guild and has been serving on our Board ever since.
Aviva was born in Chicago, and graduated with bachelor degrees in journalism and religion from the University of Iowa in 1989. She worked as a reporter and editor for The Associated Press for 15 years in bureaus in West Virginia, Washington and Oregon. After she went on maternity leave in 2004, she never went back.
In 2010, the Family art business, Foster's Beauties, was born. At the time, Aviva was working in wearable fiber art, primarily brooches and hair pretties. Foster's Beauties also includes her husband's woodturning and her daughter's pyrography. Aviva manages the business.
Although she had played with stained glass many years before, Aviva found her way to fused glass purely by accident. She was looking for a fun place to throw her daughter an 8th birthday party and decided to splurge on a fused glass party at a glass studio that had just opened up nearby. The kids had a blast, but she wanted a shot at it too and signed up to do it again as a sort of Moms' night out experience soon after. Aviva was immediately hooked. A few weeks later, she found a used kiln on Craigslist and invaded her husband's woodshop, turning  part of it into a glass studio. She studied glass through workshops and solo experimentation, being lucky to live 15 minutes from Bullseye Glass Co.'s factory in Portland, OR, where she took many classes before moving to PA.
In Oregon, she participated in numerous juried shows each year between 2015 and 2018. Here, she has so far juried into the Main Line Art Center's Professional Artist Membership. Her hopes of continuing her show schedule here in PA have been temporarily dashed by the Coronavirus.
Aviva describes her work as COLORFUL!  "I believe in embracing the rainbow, and it shows in my work. I don't believe in limiting my palette." She primarily makes functional pieces — bowls, platters, vases, trinket dishes — with a smattering of sculptural pieces and wall decor. She often incorporates torch-worked elements and/or graphics that she screenprints onto glass using enamels or powdered glass.
Aviva turned to art as a form of therapy and self-expression when chronic illness limited her life. Glass has the ability to go into the flame or the kiln and heal itself, and working with glass has a similar healing power for her. Says Aviva, "When I am mesmerized by molten glass on my torch or finding the perfect colors, patterns and textures for a fused piece, it distracts from pain and brings only pleasure (despite the burns and cuts that go hand-in-hand with working with glass!)."
You can see Aviva's work in the brand new HGC online store @ https://shop.haverfordguild.org/vendor/fostersbeauties/