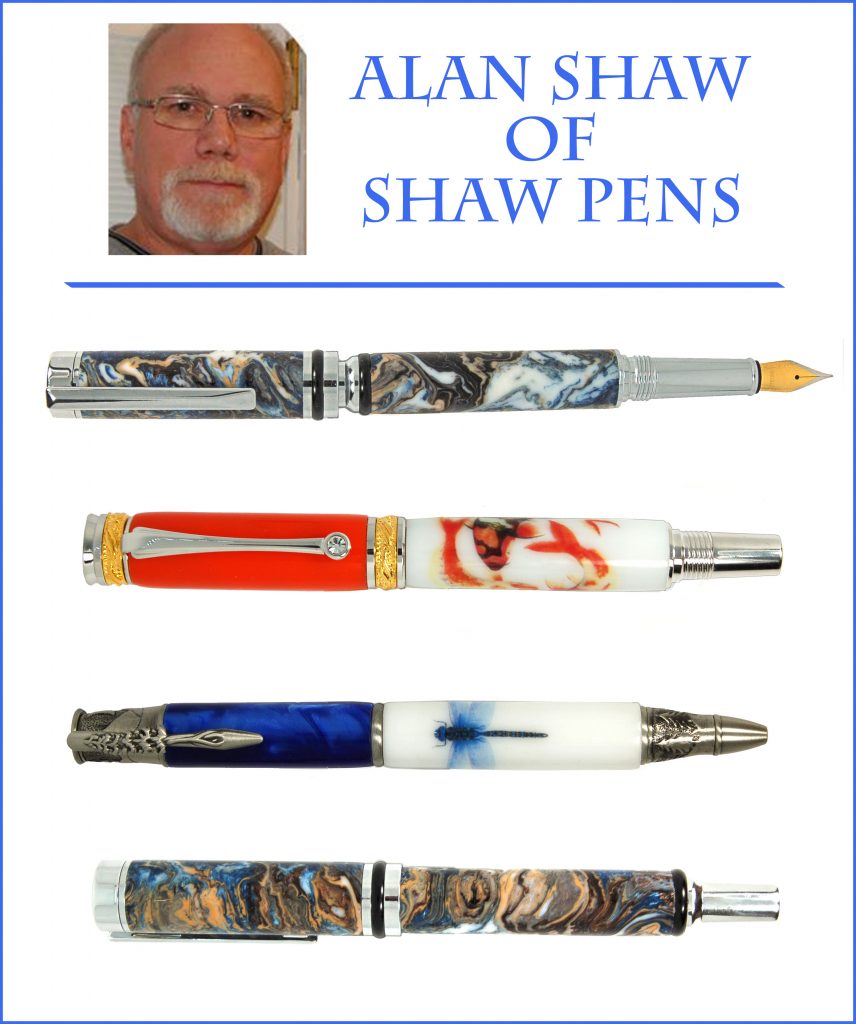 Master Craftsman, Alan Shaw tells stories through pen making. Through this profession, he has met people from all walks of life- truck drivers and Presidents. In fact, he has met three US Presidents: George H. W. Bush, George W. Bush and Barack Obama.
Here is his story: Alan's Dad was a pilot during the Korean War and Alan was born on March Air Force Base in Riverside, CA. He graduated from Haverford High in 1974 and went on to graduate from Delaware County Community College in 1977 and  Drexel University in 1986 with a BS in Computer Science.
Alan spent 23 years in the computer industry as a software engineer, specializing in  manufacturing and distribution.
In 2002 his yearning to collect pens led him to pen making. He spent 4 years learning the craft. In 2006 Alan turned his hobby into a business and eventually was selling his pens in 45 retail stores and an online store.
In addition to retail, and fine craft shows, he exhibits  at pen shows. Yes, there are shows just for pens. There can be anywhere from 150 to 700 vendors at a show. The larger shows, such as the Washington, DC super show can attract as many as 100,000 people from all over the world. Pens sell from 5 dollars up to a million dollars!
Alan describes the process of making a pen.
"For me there are two steps in creating a pen."
#1. The Design work. Alan has 5 to 10 pen designs in the works each year.  His designs are done 'old school' by hand with pen and paper. His detailed designs go to his supplier who scans the designs into their CAD/CAM system. The hardware is either cast or turned on a CNC turning center. If cast, they 3d print the pen out using casting material.  Then the cam file is sent to manufacturing to be machined or to casting for lost wax casting.
Alan then takes the proto-types back to his shop to make the pen, with his own materials.  Once the pen is finished and everything is functioning correctly, the pen goes back to the manufacturer for production. A 3,500 unit run is made for each pen style.
By this time he knows what the theme of the pen is going to be, the material type, and color for the barrel. If laser engraving is required he does this in house.  If an image is applied to the barrel he uses a clear label that Shaw Pens and Avery developed together and he prints using a laser printer.  Both engraving and images are clear coated using 18 layers of liquid polymers.
#2. Machining the barrels.  Alan cuts the material to length using a chop saw and drills the barrels on his drill press. Then he glues the brass sleeves in the barrel material.  When the barrel material is cured, he squares the ends of the blank using an end mill, then more shaping, wet sanding and final buffing. Then the pen is ready to be assembled. If the pen is a fountain pen, the nib is tested  and adjusted to ensure that  the ink flow is smooth and the nib is not scratchy.
Alan joined the Haverford Guild a few years ago, serving as our vice president for a year. In 2019 he became a Master Artisan with the PGC.  Alan describes his work as "Functional art and art that you can carry in your pocket. My work is based on history or science and I love telling stories through my work." His advice: " If you love what you're doing, it is not work. Produce the best work you can."
He met President George H.W. Bush through the National Constitution Center for which he created a ' Founding Fathers' pen.  Through George H.W. Bush, he met with George W. Bush at the White House to do a Pen set for him. Then through the White House, he met Barack and Michelle Obama and created a pen set for President Obama.
Alan is now working on pen sets commissioned for both President Biden and Vice President Harris.