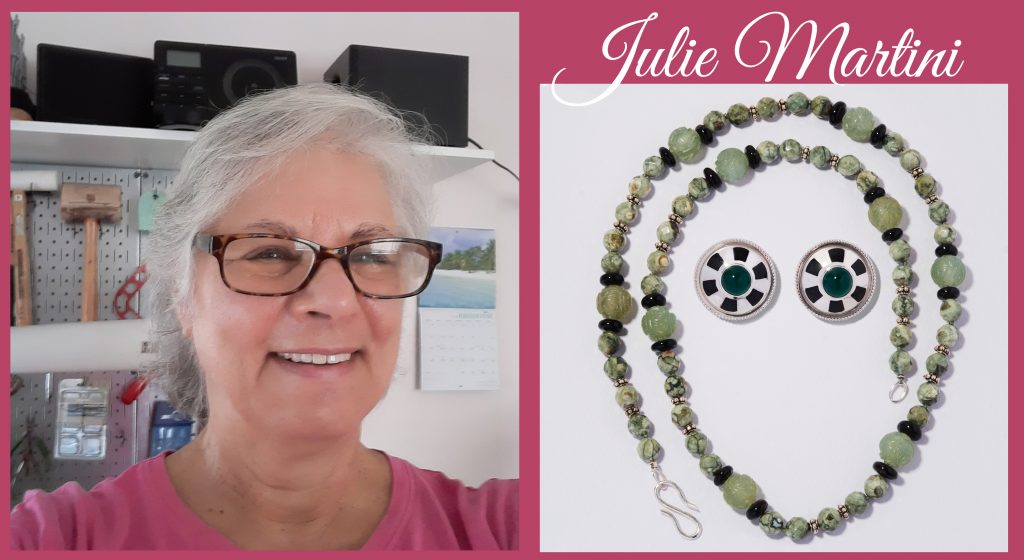 A headhunter once told Julie that because she had so much experience in so many different fields, she couldn't be categorized as a single type of worker. Hers is the story of a woman with diverse experience and interests.
Julie Martini's love affair with jewelry started 50 years ago when she snuck into a metalworking class in high school.  She figured that the metalworking class would be a fluff course since her program was filled with high stress academics. Her metalworking teacher, Mr. Wolf, gave Julie her first stone, an 8 x 6 mm oval tiger-eye and told her to learn how to set it.  That summer, she found the Crafts Students League, and the rest is history. Well, sort of…
Julie was born in Durham, North Carolina and raised in Queens, NY.
She attended City College of New York ("CCNY") twice.  The first time, when it was a free school, she spent 7 years as a "professional" student, accumulating well over 300 credits.  Eventually graduating with a B.A. in English literature, Julie went to work in the jewelry industry for manufacturers of the type of fine jewelry you would see at Macy's.  She eventually ended her career in that industry as assistant plant manager at ArtCarved, a manufacturer with 40% market share in the engagement and wedding ring market.  When ArtCarved moved to Texas (and then disappeared), she returned to City College after a decade in the jewelry industry, to get her Bachelor's of Engineering degree in mechanical engineering.
In engineering school, she had assumed she'd become a metallurgist, given her work as a jeweler (who played with combining metals), but she fell in love with thermodynamics.  Upon graduating, she relocated to Philly and worked in the power industry both on the nuclear and fossil fuel sides. When Philly fell into a deep recession, she and her family moved to New Jersey where Julie eventually ended up at Lucent. She was a member of the technical staff in the Wireless Division, a very heady time, whereby all the infrastructure for cell phones was being built out.  Once Lucent accomplished that, it fell into decline, and Julie's 8 years there ended.
During her 40 years working in corporate America, Julie continued to refine her skills as a jeweler.   She studied at the Crafts Students League in New York City, and then apprenticed at Tambetti, Inc., a very high end jewelry atelier.  While she worked, Julie continued to practice her craft, refining her skills and finding her voice.  She has continued to work part-time as a bookkeeper in order to support her jewelry habit.
Julie moved back to Philly 2 years ago and joined the HGC shortly after, now she is editing the Guild's Newsletter. She is a Master Artisan with PA Guild. Julie describes her work as "very romantic," loving the beauty and grace of curves.  On the other hand, she loves building hollow forms, using roller printed metals, inlaying with unusual materials, and mixing up materials with different textures. She loves using upholstery cords in her work but stopped because it's hard to clean the metal with the fabric.  Says Julie, " I am old-fashioned and use silk for stringing beads.  I love materials that are under-sung, so to speak, like occluded stones and natural stones like agate and jasper.  And I am understated, bling I am not.  My jewelry is subtle, classy but not flashy.  I aim to be noticed and oooohed over."
In Julie's  practice as a jeweler, she hopes to leave this world prettier than she found it. In summing up her philosophy, Julie states "I love pretty things; I have striven to live amidst pretty things and to behave in a way that is gracious and accepting."
Julie's exhibition schedule has been halted by the Covid crisis and she is looking forward to resuming it again when the pandemic ends. Meanwhile, she has shop in the new on-line Guild store.
https://shop.haverfordguild.org/vendor/jmorfe/