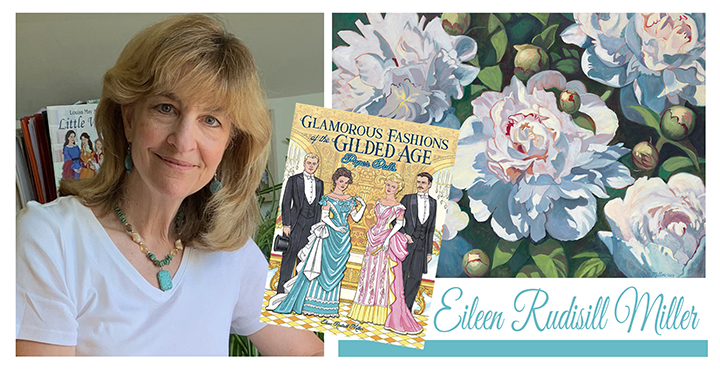 Eileen Rudisill Miller who is known to almost everyone as "Rudy," is an accomplished illustrator, product designer and painter. Rudy grew up in York, PA and then moved to Philadelphia where she trained as a fashion illustrator and painter at Moore College of Art and Design.
She began her career as a fashion illustrator working for department stores in advertising.
Later, she was hired by The Franklin Mint when they were looking for a fashion illustrator to create doll designs. There, for 14 years, as a Senior Product Designer, she helped create the designs of countless dolls, figurines, and other collectibles.
Since 2002, Rudy's been the owner at E.R.Miller Designs and continues her work in product design, illustration and painting.
In the last decade she has become internationally known for her paper doll artistry, and has illustrated over 50 paper doll books and coloring books for Dover Publications and Paper Studio Press.
According to Miller, "Creating paper dolls combines passions and interests that I've had since I was a small girl. To me, there's nothing better than a Sunday afternoon with a good movie and drawing and designing paper dolls in my studio. I went to Art School to study life drawing, painting and fashion illustration and have made a career doing all of these. How lucky am I?"
In addition, Rudy 's paintings have awarded her Master Artisan status in the HGC.
She continues to paint and show her work in galleries, cafes and art shows throughout the area. She truly believes that living with original art lifts the spirits.
In 2020 she started a gift box business called ArtLove Crate. She curates these boxes, with her own work and the work of other artists that she knows and admires. Being a member of the HGC has given her a large pool of talent to draw from. Though it's been a tough year to start a new business, she is pursuing her vision for this project in the hopes that as it becomes successful, she will be able to continue to commission work from her fellow artists, and in doing so, will help benefit their small businesses as well as her own.
Rudy is currently the Secretary of The Haverford Guild of Craftsmen which she co-founded eleven years ago with her friend, Cathy Hetznecker.
website: http://www.ermillerdesigns.com
Paper doll shop:  http://www.etsy.com/shop/PaperDollsbyERMiller
Gift Boxes: https://www.etsy.com/shop/ArtLoveCrate