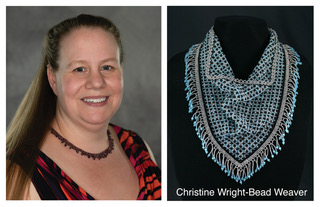 Jewelry maker and graphic designer Christine Wright has been a member of our Guild for only a year and a half. But she hit the ground running, taking over the position of Board President almost immediately after joining us. She has tackled that position with energy, enthusiasm, smarts and good humor. She nearly single handedly redesigned our website and mounted a very successful Fall Show in 2019 at what we hope will be the first of many shows at our new home, the CREC in Haverford Township. Now, of course, she is steering our Guild through the pandemic, keeping things alive with board meetings and general membership meetings on Zoom. And because our shows are cancelled, she is spearheading a committee to build an online store for our HGC members.
Christine was born right here in Delaware County and is a graduate of the Kutztown University Communication Design program.
Christine started her graphic design career as an in-house designer. First, in the telecommunication industry, then as a publisher of safety and quality newsletters, posters and business book summaries. She rounded out that part of her career at an education company that specialized in helping under-privileged and educationally challenged kids succeed. Employment at each company ended in layoffs during economic downturns, all when she was still south of the age of 40. So, in 2012, Christine started her own graphic design business and today she and her husband are business partners of a successful graphic design company called WrightBrain Design, LLC.
Meanwhile, she'd been bead weaving since the age of 13. Eventually, in 2013, having discovered the lore of doing craft shows, she started taking her beading more seriously, refining her style and finding her voice. Today, she typically does 12 to 15 craft shows a year. (Pre covid, of course.) Though mostly self taught, Christine says,"In the late '80s and '90s I didn't know anyone else who did what I did seriously (I didn't even know it was called beadweaving), but I was fortunate enough to later find some Facebook groups that led to real-life friendships with other beaders. Because of that connection, I was able to really learn and grow from the people who I was privileged to get to know. That said, I'm not allowed to open up anymore businesses."
Christine describes her bead work as both complicated and simple, fun and formal. The patterns themselves can get pretty complicated, looking somewhat like lace. Other times, she keeps it simple, because it can be nice to have a piece that has clean lines and minimal design. But her work is also simple in terms of materials. She typically sticks to 2 different sized seed beads (and sometimes bugle beads) as her primary source material. From there she enhances the design with gemstone beads, crystals, cabochons or other odd-but-interesting beads and elements.
Furthermore, Christine says, "My work can appear to be very formal – "special occasion only" kinds of pieces. But even those can be worn casually, especially since the fashion police has thrown out most of the rules. But I also have a very fun and silly side that is usually seen in the earrings I create. I've made toilet paper, chickens, Christmas trees, pumpkins, ghosts, and a whole lot more in the "silly/fun" category right along with the more "normal"  styles of earrings."
Christine's philosophy is, "It seemed like a good idea at the time.  Well, at least the idea is that you won't know if something will work until you try. And if it doesn't work, but you learned something in the process, then you've still had at least a measure of success. I guess you could also say that my philosophy is that the journey is actually more important than the destination. Sure, the destination is nice and all, but if you didn't learn and grow along the way, then what's the point?"
Christine is working on becoming a Master artist and is very happy to be a part of the HGC and such a great community of artists. We are fortunate to be the beneficiaries of the time, talents and vision of such a gifted and generous woman as Christine Wright.